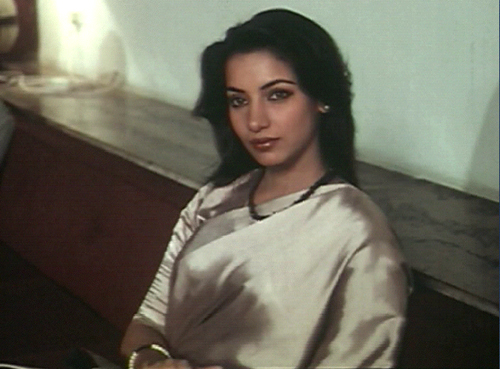 ARTH
("value, significance, wealth, meaning")
1982, Hindi, 138 minutes
Directed by Mahesh Bhatt
Produced by Kuljit Pal for Anu Arts
Story and screenplay: Mahesh Bhatt and Sujit Sen; Music: Chitra and Jagjit Singh; Lyrics: Kaifi Azmi; Art Direction: Madhukar Shinde; Cinematogaraphy: Pravin Bhatt

An example of the "middle cinema" of the 1970s and '80s—low-budget films aimed at educated, middle class urban audiences, that try to position themselves between the "art" and mainstream cinemas, by adopting an ostensibly "realist" mode, though generally with a few songs (as here) worked into the diegesis—ARTH offers the conventional tale of a love triangle provoked by a two-timing husband but resolved, in the film's most significant move, by the women. Though several soap-opera-like plot twists strain the credulity of the realist fabric, the film is rescued by its unusual denouement and by the fine performances of its two female principals.

Pooja (Shabana Azmi), who grew up as an orphan, thought she would find the stable and secure home she craved through marriage to Inder Malhotra (Kulbhushan Karbanda), a producer of TV ads. But after seven years of marriage during which Pooja fails to conceive a child and the ups and downs of Inder's freelance career cause repeated shifts of residence, Pooja learns that they must vacate yet another flat. Her bitterness toward Inder turns to adoring joy when, a few days later, he presents her with the keys to a spacious suburban apartment, and a wad of rupees with which to decorate it. The catch is that Pooja has to spend increasing amounts of time alone, while Inder is off in beachfront hotels in Goa making (among other things) glitzy ads with movie star Kavita Sanyal (Smita Patil) who, it turns out, put up the dough for the apartment.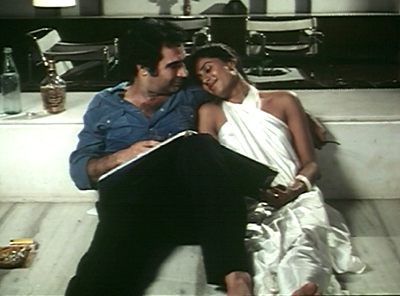 For a time, Pooja is happy feathering her nest with middle-class knick-knacks, and she also acquires a plucky maidservant (Rohini Hattangadi) who brings along a daughter and her own tales of an abusive, alcoholic husband. But eventually Kavita's obsession with Inder demands his full time attention, and Pooja is thrown into a crisis, and finally onto the streets. There she is helped out for a time by a beefy but amiable young singer, Raj (Raj Kiran), who is similarly struggling to make it in the big city, and who woos her with easy-listening ghazals (sung by the king of that genre, Jagjit Singh, with lyrics by the well known poet Kaifi Azmi, actress Shabana's father). Raj seems like a potentially pleasant alternative to Inder, but Pooja's married friends keep sagely insisting that her errant spouse—even after delivering divorce papers—will eventually be back at her door, repentant. But which consummation is more to be wished?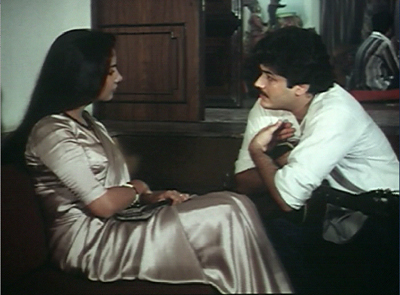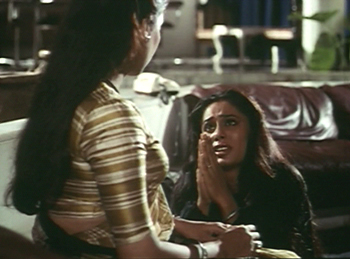 Pooja is the center of the film, and Azmi brings great depth and subtlety to the role, conveying both the fragility of innocence betrayed and the determination of a woman who is slowly discovering her own inner strength. Patil is likewise effective as the Other Woman, despite the (doubtless directorially-mandated) histrionics of several Lady Macbeth-like mad scenes, due to her guilt over having wrecked Pooja's marriage. These excesses notwithstanding, the final encounter of the two rivals is remarkably powerful, evoking, despite Pooja's anger and revulsion, their subjective kinship through their common lose-lose situations with Inder. Locations give a realistic sense of upper-middle class ambience, as well as such plausible Bombay sites as a Parsi charitable home for single working women.
The film's ending may not surprise you as much as it did Indian audiences in 1982, when it was an exceptionally bold move, but it is still worth waiting for—so don't read the DVD box, which blandly gives away every last detail. If nothing else, the film should encourage anyone to want to see more of the work of its two talented actresses, who were reputedly professional rivals. Azmi has since appeared in numerous mainstream and "parallel cinema" productions, but Patil's career (including such notable roles as Sonbai in Ketan Mehta's 1985 MIRCH MASALA) was cut short in 1986 when she died, at age 31, of complications following childbirth.
[The Sky Entertainment DVD of ARTH is of high quality and provides subtitles for both dialog and songs.]