The authors of this site sometimes receive requests from novice viewers who would like help in making initial selections from among the (now more than 100) films discussed here.  As it turns out, several years ago we were both asked to prepare "top ten" lists of Hindi films for the catalog of a film distributor.  Although we protested the impossibility of actually making "top ten" selections (too restrictive!), we both came up with lists of films that are certainly among our favorites.  These lists (which overlap in places, and also exclude some classic films that would surely be on most fans' "top ten" lists) are given below.  All but a few of these titles are also discussed further at the website.  Enjoy!   -  PL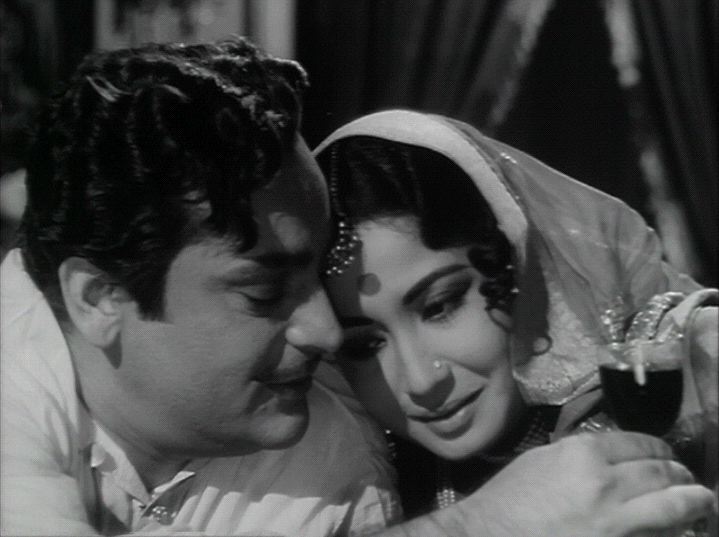 Sahib, Bibi, aur Ghulam
Philip Lutgendorf recommends:
Ten Indian popular films that are not-to-be-missed (I have not included such beyond-top-ten classics as Mother India, Mughal-e-Azam, Pyaasa, Sholay, etc.):
1) Shri 420 ("Mr. 420," 1955, Raj Kapoor)
Though many prefer the darker Awara (1951), this brilliant comedy—a kind of Indian Modern Times—is my personal favorite Kapoor film.
2) Sahib, Bibi, aur Ghulam ("Master, Wife, and Servant," 1962, Abrar Alvi/Guru Dutt)
Guru Dutt's Pyaasa (1957) and Kaagaz ke phool (1959) are must-see masterpieces, but this dark meditation on class and gender is equally brilliant.
3) Pakeezah  ("The Pure One," 1971, Kamal Amrohi)
A decade in the making, this quintessential courtesan film features an unforgettable performance by Meena Kumari.
4) Dilwale Dulhaniya Le Jayenge ("The True Lover Will Take the Bride," Aditya Chopra, 1995)
A smart, innovative take on the Indian diaspora with wonderful songs.
5) Guide (1965, Vijay Anand)
The Anand brothers' version of R. K. Narayan's novel showcases Dev Anand, the incomparable Waheeda Rehman, and Rajasthan in technicolor.
6) Jagte Raho ("Keep Awake," 1956, Sombhu Mitra and Amit Maitra)
A homegrown Theatre of the Absurd masterpiece that bitingly satirizes the urban middle class.
7) Dil Se ("From the Heart," 1998, Mani Ratnam)
Weird, flawed, and disturbingly brilliant: a lavish musical about terrorist suicide bombers in a dis-integrating India.
8) Deewar ("The Wall," 1975, Yash Chopra)
Even more than Sholay (also 1975 and another must-see), this dark update of Mother India (1957, and ditto) helped create the Amitabh Bachchan superstar phenomenon.
9) Teesri Kasam ("The Third Vow," 1966, Basu Bhattacharya)
A bittersweet drama of small towns and little people, boasting marvelous performances by Raj Kapoor and Waheeda Rehman.
10) Jai Santoshi Maa ("Hail Mother Santoshi," Vijay Sharma, 1975)
This cheaply-made "mythological" became an unexpected hit and launched the career of a new Hindu goddess.  It's actually smart, funny, and arguably empowering to women.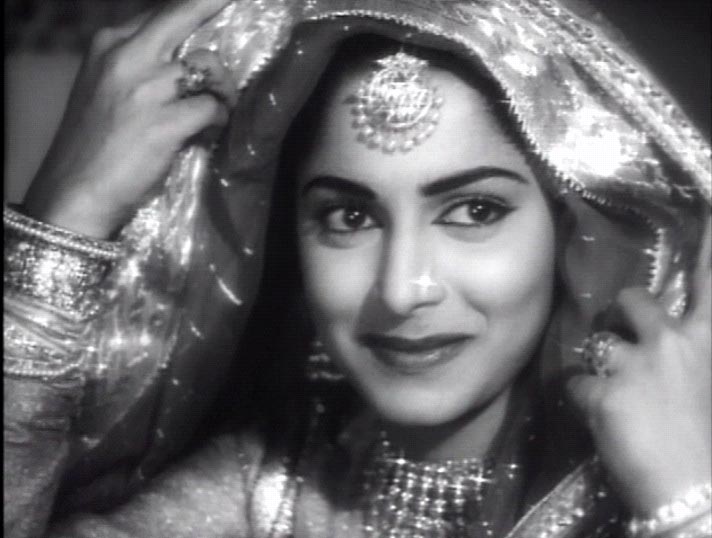 Chaudvin Ka Chand
Corey K. Creekmur recommends:
Not a "best of" list - though the first three entries would certainly qualify - but a selection of key films that are also favorites.
1) Pyaasa  ("Thirst"," 1957, Guru Dutt)
A world-class masterpiece starring and directed by one of Indian cinema's key figures, this melodrama about a poet's struggles in a prosaic world defines Hindi film's golden age.
2) Devdas  (1955, Bimal Roy)
The tragic Bengali story of a self-destructive lover has been filmed dozens of times, but Roy's realistic and restrained version starring the great Dilip Kumar feels definitive.
3)  Awara  ("Vagabond," Raj Kapoor, 1951)
The most romantic film starring Hindi cinema's most romantic couple, this film featuring Raj Kapoor and Nargis as lovers divided by class and law was a huge hit in China and the USSR.
4)  Muqaddar Ka Sikander  ("Alexander the Conquerer," Prakash Mehra, 1978)
An unofficial remake of Devdas, this heartbreaking film demonstrates why superstar Amitabh Bachchan's "angry young man" dominated Hindi cinema for a tumultuous decade.
5)  Satya  ("Truth," Ram Gopal Varma, 1998)
The most powerful and compelling example of recent Bombay noir, this violent saga includes a dazzling performance by Manoj Bajpai as a charming gangster.
6)  Hey Ram!  ("Oh, God!," Kamal Haasan, 1999)
A bold and complex film that opens old wounds - including Partition and Gandhi's assassination - to challenge contemporary nationalism, directed by and with a South Indian legend.
7)  Hum Aapke Hain Koun..!  ("Who Am I To You?," Sooraj Barjatya, 1994)
Neither big fat Greek nor monsoon weddings can match this Hindi blockbuster, an unapologetic fantasy of family, faith, and food that serves up one hit song after another.
8)  Dil To Pagal Hai  ("The Heart is Crazy," Yash Chopra, 1998)
A prime example of Bollywood as pure pop: a high-tech musical in which Western fashions and consumer goods extend rather than undermine traditional Indian values.
9) Dil Se ("From the Heart," Mani Ratnam, 1998)
The most audacious and complex of this director's controversial juxtapositions of politics and popular formulas, featuring leading man Shah Rukh Khan in an unsettling role.
10) Chaudvin Ka Chand  ("Full Moon," M. Sadiq/Guru Dutt, 1960)
A late, neglected film from Guru Dutt: a "Muslim social" that should rank with Rear Window as one of the cinema's most subtle investigations of the dynamics of looking.