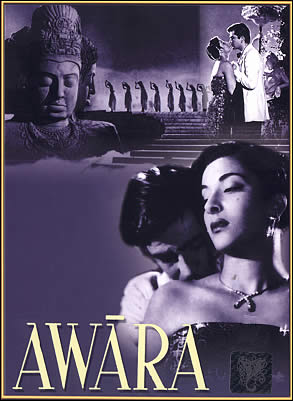 AWARA
("The Vagabond")
(1951), B&W, Hindi, 170 min.
Directed by Raj Kapoor. Lyrics by Shailendra and Hasrat Jaipuri.
Music by Shankar-Jaikishen.

This much-discussed film was Kapoor's first to feature his trademark Chaplinesque character "Raj/Raju" ("little Raj," though the homage to Chaplin is less pronounced than in the sunnier SHRI 420), here a hapless "vagabond" (avaaraa) who, as the film opens, is on trial for the attempted murder of a pillar of society, Judge Raghunath (brilliantly played by Prithviraj Kapoor, R. K.'s real-life father). He is defended by a beautiful young lawyer, Rita (Nargis), an orphan who also happens to be the Judge's ward. Her interrogation of the latter leads to a long flashback that occupies most of the film. Its opening segment evokes the Ramayana, with Judge Raghunath (an epithet of Rama) abandoning his pregnant wife Leela (Leela Chitnis) because he wrongly believes she has been raped during a brief abduction by the robber Jagga (K. N. Singh), and the Judge's conviction that the "seed" of a criminal necessarily seals the fate of his offspring (ironically, we learn that Jagga only became an outlaw after being wrongly convicted of rape by the same Judge). Leela raises her son in the Bombay slums, slaving to send him to school so that he may become a lawyer and judge like his father, but with Jagga always hovering in the background, intent on luring him into a life of crime. As a schoolboy, Raj falls in love with the carefree Rita, despite the class gulf between them, but Judge Raghunath (a friend of Rita's father who takes an instinctive dislike to the "wayward" boy) contrives to separate them. Jagga and the Judge's struggle for Raj's soul – a variation on the nature-vs.-nurture debate, with resonances of caste ideology – continues when Raj and Rita reconnect after twelve years.

The film, generally considered one of Kapoor's finest, is notable for its darkly surreal sets, especially the Judge's baroque-deco mansion, and for its remarkable dream sequence, which echoes this architecture in an evocation of heaven and hell. Despite its ultimate vindication of patriarchy and capitalism, the film became an enormous hit in the U.S.S.R. and, thanks to Chairman Mao's reputed fondness for it, in China (to this day, millions of middle-aged Chinese can hum its title song).