BABUL
("Father's house")
(1950, Hindi, 142 minutes)
Directed by S. U. Sunny
Story and dialogues: Azm Bazidpuri; Lyrics: Shakil Badayuni; Music: Naushad; Art direction: V. Jadhavrao; Director of photography: Fali Mistry

This operatic fable spotlights the early Dilip Kumar in a DEVDAS-like fable of an ill-fated poet-hero loved by two women, yet able to attain neither. Ashok (Kumar) comes to the idyllic Madhuban—a (literally) model village, often represented by an obvious tabletop mockup—to serve as its postmaster, a job that seems to require little beyond sending an occasional telegram. This leaves him plenty of time to lounge around his bungalow in natty suits, smoke cigarettes, paint, and compose soulful Persianate love songs—all markers of urbanity and (here) modernity.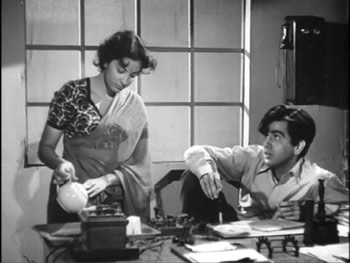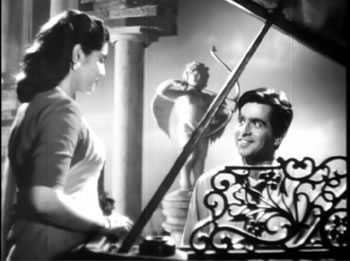 He is loved from the first by Bela (Nargis), the simple but spirited daughter of the former postmaster, who prepares his meals, teases and amuses him, and dreams of longterm domestic bliss as his wife. Her hopes are nurtured by Ashok's gift of gold jewelry (sold off by a poor neighbor) suitable for a bride, but then are dashed when he takes a shine to Usha (Munawar Sultana), the haughty daughter of the local Rajput zamindar (landowner), who inhabits a hilltop mansion done up in high Indo-deco style. Usha, who drives a big foreign car and sports an urbane wardrobe, seems more a match for the dashing young postmaster, and when she falls in love with his singing and arranges for him to give her music lessons (at a grand piano in a boudoir adorned with a statue of cupid and paintings of famous lovers of the past), the two seem headed for a lifelong duet.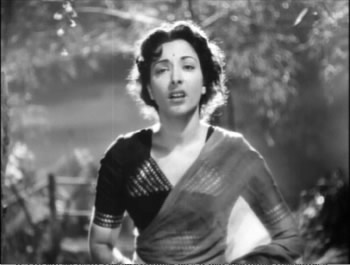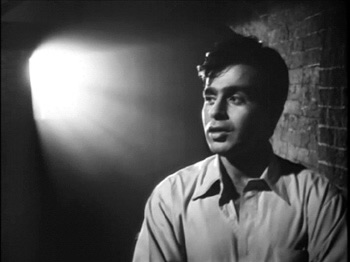 But the heartbroken Bela intervenes, revealing to Usha her own (misguided) belief that Ashok has already professed his love for her; this causes Usha (in a surprising show of class-transcending compassion) to renounce her love for Ashok in favor of Bela's prior claim, and to accept a pending proposal from the aristocratic son of one of her father's cronies. As Usha's wedding approaches, both she and Ashok lapse into depression, while Bela exults (despite recurring nightmares of a black-veiled rider coming to carry her away); a happy ending appears increasingly unlikely, and happily the director makes no last minute attempt to manufacture one.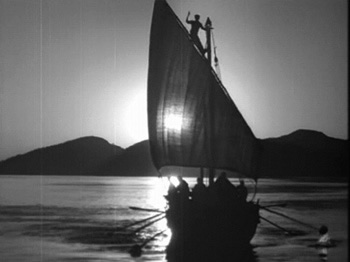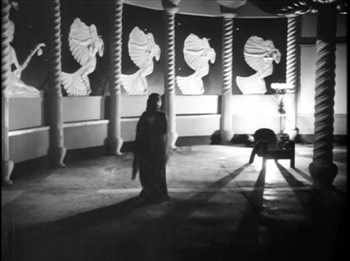 There appears to be no moral to this story, apart from the fact that Fate can be Cruel (and urban boys should be careful about what they say to rural girls?). The many tropes present—the dispirited DEVDAS-type lover, the rivalry between two women who respectively suggest "tradition" and "modernity," the sacrifice of personal happiness in order to maintain family honor, and a ludicrous and greedy munshi (the manager of the zamindar's estate) and his family thrown in for comic relief—appear to be peripheral to the director's main agenda, which is the evocation of romantic mood. Though the soundstage sets are sometimes hokily theatrical, the cinematographer achieves great things through atmospheric lighting, especially during night scenes, creating hauntingly beautiful effects suggestive of German expressionism (incidentally, Fali Mistry was the guru of V. K. Murthy, Guru Dutt's brilliant cinematographer, and it shows). A score of fifteen musical numbers, mainly devoted to the joys and pains of love, makes this essentially a ghazal anthology in which brief dialogs serve largely to connect and frame each successive lyric. Especially notable are the thrice-refrained Chod babul ka ghar ("Now you must leave your father's house"), which evokes the vidai(leave taking) songs performed when a newly-married girl departs from her maternal home and village, the lovesongNadi kinare ("On the bank of a river") performed by Ashok and Usha backed by a chorus of dramatically-picturized boatmen, and their mournful duet-in-separation Duniya badal gayee ("My world has changed").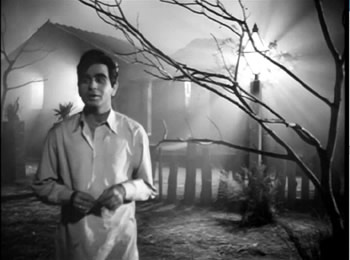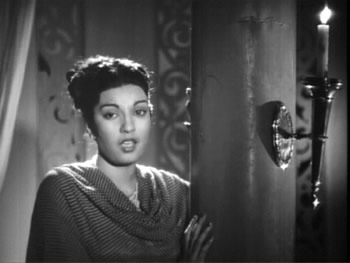 Nargis is pleasing in an ingénue role, but Sultana's character, though initially vain and shallow, proves to be the more complex, and she renders it effectively. Kumar, well enroute to earning his twin 1950s titles as "King of Tragedy" and "Darling of Millions," delivers his usual stellar performance, exuding charm and sensuality while still managing to seem like the boyish Postman Next Door.
[The SKY Entertainment DVD of BABUL is of good quality and has decent subtitles for both dialog and songs. There are a few gaps where the print appears to have been broken, however.]