BAIJU BAWRA
("Baiju the Mad")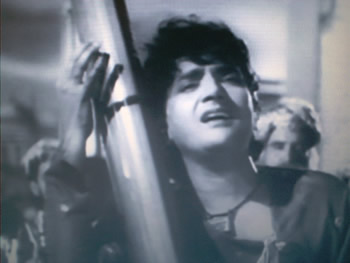 1952, Hindi, 168 minutes.
Directed by Vijay Bhatt
Screenplay: R. S. Choudhari; Dialogues: Zia Sarhadi; Lyrics: Shakeel Badayuni; Music: Naushad; Cinematography: V. N. Reddy
This film about North Indian or Hindustani music was hugely popular in its day and is now most famous for its soundtrack, which includes performances by (in addition to such inevitables as Lata Mangeshkar and Mohammed Rafi) the classical singers D. V. Palusker and Ustad Amir Khan of Indore. A costume drama set in the Mughal period, it interweaves legends concerning Tansen, the famous court singer of Emperor Akbar, with discourse about music as a Hindu spiritual discipline or sadhana (set in implicit opposition to Islamicate—but not explicitly Islamic—courtly culture and its ornate "classical" music), and a folktale-like romance culminating in a watery Liebestod. Needless to say, there are plenty of other ingredients: a bold bandit queen, a poisonous snake, pastoral lovesongs with Radha-Krishna imagery, a set of raga-mala tableaux (a "garland of ragas", in which the principal melodic modes of North Indian music appear personified as gods and goddesses, in imagery derived from 18th century Rajput miniature painting) and a climactic musical duel that generates sufficient emotion to melt marble. The film is both haunting and (by today's visual standards) hokey—e.g., with abrupt transitions from location shots to obviously-painted backdrops. Its large-hearted but temperamental and ultimately tragic hero Baiju combines the "mad" lover of Indo-Persian folklore, the moody artiste of the courtly (and bourgeois romantic) tradition, and just a trace of the thwarted subaltern hero bent on revenge. The uneven mix is held together by wonderful songs.
As resident musical superstar of the Mughals, the otherworldly Tansen (Surendra) lives in a palatial mansion where he performs on a marble dais amid clouds of incense; he also commands a troop of retainers who enforce, throughout the surrounding neighborhood, a strict policy of silence when he is composing new ragas. This policy is defied by the comical street singer Ghasit Khan (Radha Kishan) and by a troupe of Hindu bhajan-singers who chant "Ram, Your name is truth." When Tansen's guards try to silence the latter, a brawl ensues in which the troupe leader (Bhagwanji) is fatally wounded; before dying, he commands his son, Baiju (Rajan Kumar), to take revenge on Tansen. The traumatized but talented boy is eventually adopted by a village singer and meets pretty Gauri (Baby Tabassum) a boatman's daughter who rescues him when he falls in the river (provoking her portentous remark: "You don't know how to swim? Father, this boy only knows how to drown!")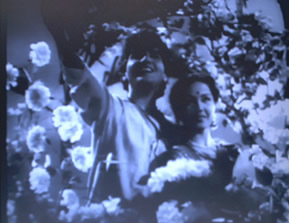 Baiju grows into a handsome young musician (Bharat Bhushan), who woos the adolescent Gauri (19-year-old Meena Kumari in her first important role) with joyous lovesongs (like Tu Ganga ki mauj main Jamuna ka dhara, "You are the Ganga's surge, I the Yamuna's flow"), but periodically lapses into dark thoughts of revenge—the latter always signaled by an ominous orchestral theme that appears to parody the opening bars of the old Liszt chestnut, Hungarian Rhapsody No. 4. Just to complicate matters, Gauri is engaged to the comical Narpat (Mishra), and Baiju is abducted by the amazonian dacoit Roopmati (Kuldeep Kaur), who falls in love with his voice. His interrupted quest to avenge his father's death eventually leads him to the pilgrimage town of Vrindaban and to Tansen's own musical guru, the aged Hindu saint Swami Haridas (another historical figure, memorably played by Rai Mohan), but it is not until his heart is pierced by intense grief—due to Gauri's aparent death from snakebite—that he is able to acquire the musical powers he needs to effectively challenge his courtly archrival. But after an imperially-witnessed triumph, and a gracious pardoning of the happily-humbled Tansen, there is no place for our hero to go but down, taking his beloved Gauri with him. Baiju thus joins the ranks of angst-ridden 50s film heroes (cf. the archetypal DEVDAS, and Guru Dutt's Vijay in PYAASA) who are Too Good for This World.

[Vijay Mishra, in his impressive study Bollywood Cinema, Temples of Desire (Routledge, 2002), offers a lengthy and fascinating segmental analysis of BAIJU BAWRA, which he treats as one of the "foundational texts" of the mainstream Bombay industry; see pp. 159-165, 168-171, 179-188.]