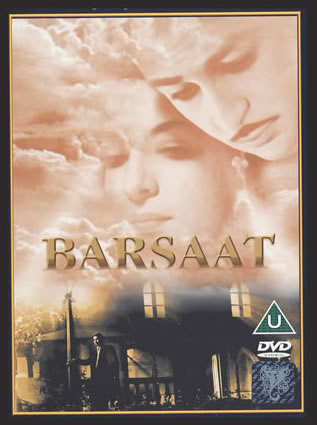 BARSAAT
("Monsoon," 1949), B&W, Hindi, 157 min.

Directed by Raj Kapoor, Music by Shanker-Jaikishen, Lyrics by Hasrat Jaipuri and Shailendra, Screenplay by Ramanand Sagar

Raj Kapoor's second independent production is an intensely romantic meditation spanning a year and two monsoons, centered around the adventures of two city boys who apparently have no worldly obligations beyond roaming the Vale of Kashmir in an enormous foreign car, hiring ostentatious bungalows, composing poetry, and breaking hearts. True to his name, Gopal (Premnath) is a dashing playboy who scores a conquest at every stop along their route; his friend Pran (Kapoor) is a poet and musician waiting for the true love in which he intensely believes. As the story opens, Gopal reconnects with a mountain girl, Neela (Nimmi, in her first role), whom he had wooed the year before; she has remained devoted to him and now again believes his promises of undying love. But he rambles on the next morning, giving her no further thought as he and Pran reach Srinagar. There, the latter falls in love with Reshma (Nargis), the daughter of the chowkidar of their bungalow, whom he woos with soulful violin strains (the film yielded the R. K. Studios' trademark of a violinist embracing a swooning maid). Life-threatening complications ensue when Reshma's father discovers the affair, but the lovers remain true to each other through every ordeal, including Premnath's mocking lectures on the realpolitik of love and Reshma's near-marriage to an oafish fisherman (K. N. Singh). Eventually even the cynical Gopal is converted, and rushes back to the hills to reclaim his faithful Neela, only to pay a bitter price for his callous infidelity. Although a good deal happens in the film -- a near-drowning, a car crash, a suicide -- the pace is often slow, with much screentime devoted to soul-searching closeups. Like other Kapoor collaborations with the talented Shanker-Jaikishen composition team, the film is essentially operatic, with a dozen songs interjected, aria-like, at every turn of the narrative to heighten a barsaati mood (the monsoon being associated both with romance and with the pain of separated lovers) built on images of pools, rivers, massing clouds, and misty, backlit sets. Virtually every song became a hit, from the exuberant opening Hawa mein udta jaaye, to the plaintive Ab mera kaun sahara.