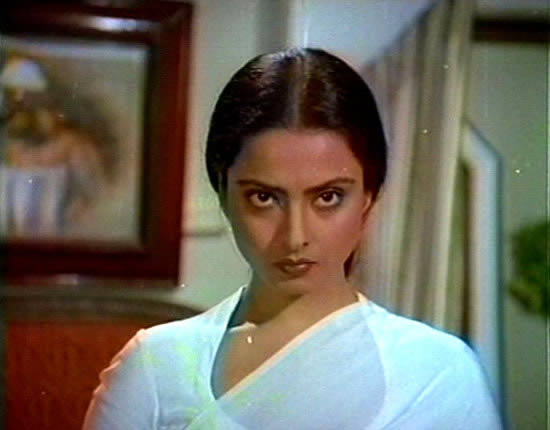 BASERAA
("the refuge")
1981, Hindi, 131 minutes
Produced by Ramesh Behl
Directed by Ramesh Talwar
Story: Leela Phansalkar; Screenplay: G. R. Kamat, Gulzar; Dialog and lyrics: Gulzar; Music: R. D. Burman; Director of Photography: Peter Pereira

One of the enduring strengths of mainstream Hindi cinema is its ability to take the ridiculously unrealistic—things that could not really happen—and to use them as a vehicle for getting at the psycho-socially real, things that Indian viewers know happen all the time: such as women being required to sacrifice their own happiness for the sake of others in their families. Hence the extraordinarily extenuating circumstances in this film, which cause two mutually-devoted sisters to end up married to the same man, really do not matter much; what matters is the amount of guilt, anguish, and self-denial the filmmakers can wring out of this situation for all concerned, and especially for the sisters themselves. Indeed, whoever coined the phrase "sisterhood is powerful" should have seen BASERAA, wherein it is industrial strength. And when two actresses of the caliber of Rakhee and Rekha dramatize it, one is not inclined to quibble over wee points like plot plausibility….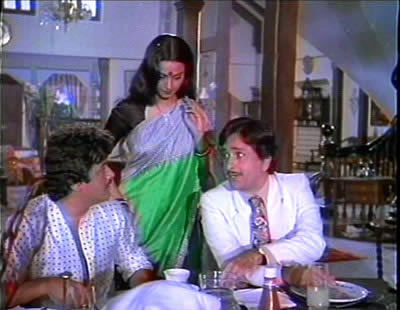 All appears well with the Kohli family as the film opens. They live in a posh bungalow in Pune, and their handsome elder son, Sagar (Raj Kiran) is head over heels in love with a pretty medical student, Sarita (Poonam Dhillon). She's from an equally well-off Delhi clan, so marriage negotiations are soon moving right along. Cute younger son Babbu (Master Vikas) is a lisping primary school kid, and dad Balraj (Shashi Kapoor) and mom Purnima (called "Nima" for short, played by Rekha) seem the perfect, loving couple. What's wrong with this picture? Well, for one thing, although Balraj appears old enough to be the father of both lads, his wife Nima looks much too young to be Sagar's mother, so we are not surprised to learn, in due course, that this is in fact a second marriage for Balraj. However, it turns out that Balraj's first wife was none other than Nima's beloved elder sister Sharda (Rakhee Gulzar), and that the latter is not deceased, but in a mental asylum. Not only that, we learn that Sharda's madness was precipitated by a nasty fall, itself caused by the shock of learning that Nima's own first husband had died tragically on her wedding night. Sharda's incarceration eventually permitted the tidy solution that, at one stroke, saved the family by giving the widowed Nima a husband, Balraj a beautiful young wife, and Sagar a mom. There's no hint of foul motives: everyone is loving and solicitous toward poor Sharda, and they even continue to visit her regularly in the asylum, though she does not recognize them. And so fourteen years pass.

But then unexpectedly, a blow from another lunatic puts Sharda into an eight-day coma from which she awakens…completely cured, though aged by years that she does not remember. This precipitates, to say the least, an awkward situation for the Kohli family, particularly since Sharda's stern physician, Doctor Gokhale, insists that she not be subjected to any "shocks"—such as learning that her sister is now married to her husband and has a child by him. Hence when she comes home they are all to act as if nothing has changed—though this necessitates concealing the effects of fourteen years of life, getting little Babbu out of the house, and forcing Nima to re-don her widow's white and to relinquish her husband and bed to her sister.

Given that such a scenario is not something one runs into every day, one might ask what this unnerving melodrama is actually about. Here I invoke Rosie Thomas's observation that "The Hindi film can be regarded as a moral fable that involves its audience largely through the puzzle of resolving some (apparently irresolvable) disorder in the ideal moral universe," and also that Hindi films "are centrally structured around contradictions, conflicts, and tensions primarily within the domains of kinship and sexuality…." (Thomas 1995:163, 159). Lurking behind the "irresolvable disorder" facing the family in BASERAA is of course the specter of polygamy, which, in some social contexts in India, and certainly in the recent past, would have made a man's marriage to two sisters no big deal at all. And despite the abundant familial love displayed here, "conflicts and tensions" over kinship and sexuality indeed surface obliquely in flashbacks that hint at Nima's attraction to Balraj even at the time of his wedding to Sharda—suggested by Nima's jealous pouting on her sister's wedding night and teasing of her bridegroom, and by Balraj and Sharda's anxiety to get Nima herself "married off" and out of the house. After Sharda's return it is clear (and understandable) that Balraj, despite his solicitude, is now more attached to his second wife, and incapable of responding physically to her restored sister. Yet none of these tensions can be frankly acknowledged within the film's "ideal moral universe." So everybody suffers in silence.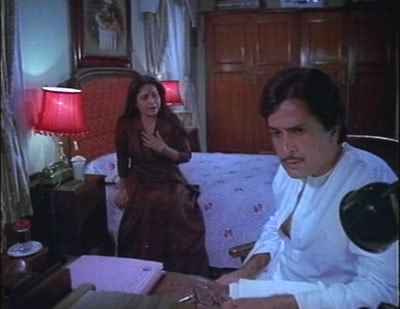 Is there a family therapist in the house? Alas no. Instead, there is white-coated Dr. Gokhale, the ostensible voice of scientific rationality (but really of bourgeois morality), who thinks that a couple of months of tortuous and bizarre subterfuge by other family members will help Sharda to gradually accept the Truth. Failing that, he prefers to suppress—often by tranquilizing "injection"—any awareness of trauma or its consequences in order to avoid "upsetting" people. Ultimately, although his treatment fails, its ethos of repression triumphs, though at the cost of almost superhuman sacrifice, performed by women, which the film invites us to admire. The men of the house—the two sisters' simpering father, the woeful Balraj, and the hunky but immature Sagar—are notably marginal to the story, permitting the women's suffering to occupy center stage. Even the bubbly ingenue Sarita quickly shows emotional depth, manifested in her concern for her fiancé's institutionalized mother, with whom she forges a link early on that will culminate in a climactic revelation.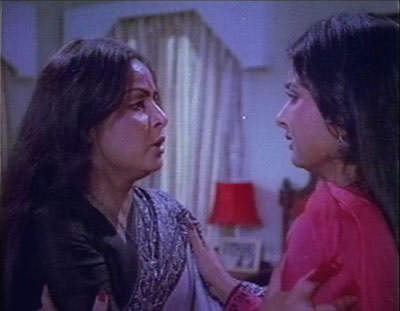 Stairs play a key role in the mise-en-scene: the stairs down which Sharda tumbles in her fall into madness, and those that her relatives progressively ascend as they finally reveal to her the unsettling truth about what has transpired during her absence. Six songs include several haunting Burman melodies, notably Sharda's Jahan pe savera ho("Wherever dawn breaks…that's where one finds refuge"—invoking the film's title), and Jaane kaise bhitegi ("God knows how I will endure"), picturized as the unspoken anguish shared by the two sisters and Sarita.

[The Star Entertainment DVD of BASERA offers only a mediocre, sometimes faded-looking print of the film. Subtitles are carelessly done, and are not provided for songs.]
Reference: Rosie Thomas, "Melodrama and the Negotiation of Morality in Mainstream Hindi Film." In Consuming Modernity: Public Culture in a South Asian World. Ed. Carol A. Breckenridge. Minneapolis: University of Minnesota Press. pp. 157-182.