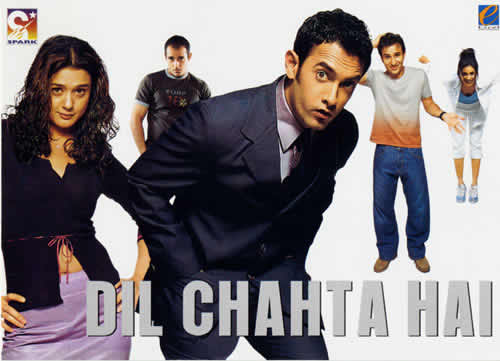 ("the heart wants")
2001, Hindi, 185 minutes

Directed by Farhan Akhtar
Story, screenplay, and dialogue: Farhan Akhtar; Lyrics: Javed Akhtar; Music: Shankar, Ehsaan, Loy (Shankar Mahadevan, Ehsaan Noorani, Loy Mendonca); Cinematography: Ravi K. Chandran

The directorial debut of Farhan Akhtar (son of famed script and lyric writer Javed Akhtar) was a huge hit, especially among young upper-middle-class urban viewers, who greeted it with an almost messianic fervor. Shouted The Indian Express, "Finally, a film that the youth of this country can unabashedly embrace!" (Translation: well, actually about 10% of "the youth," though doubtless the most unabashed among them.) And the Sunday Times of India trumpeted, "Dil Chahta Hai gives some substance to the contention that our films are coming of age…" (Translation: "Here is a Bollywood movie you can show your foreign friends without undue embarrassment or tedious cultural explanations." Of course, there are some of us who think Indian films "came of age" about ninety years ago, but that's another matter….) Yuppie media frenzy aside, this is an exceptionally well-made film about three urban upper-middle-class buddies who live in flats that are coolly modern but not glitzily ostentatious, wear trendy but "relaxed" clothes, speak authentically diglossic Hinglish, and relate to one another with a casual and endearing playfulness that celebrates good ol' Hindustani male bonding while avoiding the tear-jerking excesses (even when occasionally jerking tears) of typical dosti film plots. Moreover, it possesses an irresistible score, nifty camerawork, and stellar (but suitably understated) performances from all the leads. It is, in short…..a Bollywood movie you can show your foreign friends without etc., etc. And of course, you can also enjoy it yourself, as millions did.

As the film opens, a tense Siddharth (a.k.a. "Sid," played by Akshaye Khanna) arrives with an ambulance at a posh hospital, accompanying someone (yet unidentified) who is suffering from severe cirrhosis of the liver. He calls up his old pal Sameer (Saif Ali Khan), a computer programmer, who soon rushes to his side, but Sameer is unable to bring along their third buddy Akash (Aamir Khan), who apparently has had a rift with Sid. A flashback recalls happier days, when the three were in college together, or rather, at a trendy disco (one of those places with a strict dresscode mandating mylar and leather) celebrating their impending graduation from college with the rousing song Koi kahe, kahta rahe ("Someone may say [about us]…"), a driving, pumping, carpe diem hymn to youthful hopes that became an instant anthem for urban 20-somethings. The character of each of the three buddies is quickly but effectively sketched: sincere love-puppy Sameer (who falls for every girl he meets, then lets them dominate him—his pals soon engineer a falling out with his current bossy girlfriend, Priya), jaded and madcap operator Akash (who likes relationships that last two weeks at most), and brooding, sensitive artist Sid (who is waiting for that special someone to come along). Akash, though, is sufficiently attracted to a girl at the disco named Shalini (Preity Zinta) to mug a Hindi film love scene with her, and get punched out by her fiancé, Rohit (Ayub Khan).

The boys soon embark on a sun-n-fun trip to Goa, which gives them a chance to show off cool toys like a BMW convertible and Yamaha waverunner, their skills at sand volleyball, and their well-toned bods—but not before Sid has had a chance meeting with a new neighbor, Tara Jaiswal (Dimple Kapadia), an interior designer and divorcee. After helping her move into her flat, Sid invites her to come up and see his paintings (really), and she understands them, and him, as no one ever has. The trio's Goan idyll is backed by the film's catchy title song, which is performed, Hollywood-style, as a soundtrack by unseen singers and even broken up by several dialogue scenes (for which, incidentally, the film uses synch-sound throughout). In the artfully-interwoven adventures that ensue, the lazy and self-centered Akash is forced by his parents to face the Real World (but relax, it turns out to be Sydney, where the family owns one of those posh NRI businesses that involve suits, skyscrapers, secretaries, but little apparent work, and where he again runs into, and slowly falls for, the soon-to-be-wed Shalini). Meanwhile Sameer unexpectedly falls head over heels for a girl named Pooja (Sonali Kulkarni) whom his parents have actually selected for him to have an (anathema to both of them) arranged marriage with. And Sid grows closer to the worldly-wise and suffering Tara (now revealed to have a young daughter whom her cruel ex- has forbidden her to see) by painting her picture. Each hero gets an appropriate, surreally picturized lovesong. Sid's is the dreamy Kaisi hai ye rut ("What season is this?"), in which scenes of him painting Tara are intercut with digitalized imagery of butterflies, soap bubbles, and leaping porpoises. Akash's is (like his character: the type-A playboy who gets serious when he meets the Right Girl) the most conventional, showcasing exotic Australian locations. Sameer's takes the cake, picturization-wise, with Woh ladki hai kahan ("Where is that girl?"), a tour-de-force reflexive fantasy in which he and Pooja fall in love while watching a Hindi film in which they see themselves on screen, singing verses that brilliantly parody (and pay homage to) the styles and stars of successive eras in Bollywood romance (including the '90s, which are signaled by the couple done up as Madhuri and Shah Rukh, dancing in the Western Ghats amidst Yash Chopra-esque mist).

Sid helps Sameer confess his love to Pooja, who reciprocates, and Sameer in turn helps Akash to get his message across to Shalini (again, through a relatively conventional episode, involving an eve-of-the-wedding intervention). Two of the boys are now accounted for, and that leaves Sid, with his hopeless crush on a lady old enough to be his….well, old enough to have frolicked in a bikini with Rishi Kapoor. The filmmakers flirt (as Bombay filmmakers are wont to do) with breaking a Big Taboo here—but also open space for public reflection on such real problems as India's father-friendly divorce courts, and the enduring social stigma against single older women. But they stop short of going All The Way for Sid and Tara, and if you guessed that the critically ill alcoholic in the opening scene was she, you guessed right. Once she is out of the picture, there's a tacked-on feel-good ending in which, as Sid vacations in Goa with his two pals and their soulmates, a nymphet floats into his path, and we instantly know that she will be The One for him.

The songs to DIL CHAHTA HAI (by the "Amar, Akbar, Anthony" of Bombay composing teams) are not only memorable, but display the wildly syncretic, loot-the-world tendencies of contemporary Bollywood scores at their toe-tapping best. The title song is cool, international jazz-pop, while Koi kahe is driving disco rock. Kaisi hai ye rut is dreamy, almost New Age, Woh ladki jigs to frenzied Celtic and bluegrass fiddling, and Jaane kyon, performed at harborside in Sydney, is backed up by digeridoo and a mock-Aboriginal chorus. Javed's lyrics are in each case well suited to the occasion. Heck, there's even a bit of opera thrown in (a version of "Troilus and Cressida," in French, no less) and a lush symphonic backup, "Akash's love theme," composed by one Mike Harvey.

To a large extent, DIL CHAHTA HAI looks, sounds, and (almost) feels like a Hollywood movie. This is no doubt part of its appeal to its target audience. Another part, however, is that when all is said and done, DIL's dil remains Hindustani, with its three principals professing a dosti that they will never torenge ("I will always be there for you"), Sid's lap-hugging loyalty to mother —even after she says cruel and unfair things to the woman he loves, and (as in Dilwale Dulhaniya Le Jayenge and Pardes) benevolent paternal fiat the crucial ingredient for making Akash and Shalini's boat-rocking "love marriage" acceptable.

[The Spark 2-DVD set of DIL CHAHTA HAI ought to be as world-class as the film, and comes with all the usual perks, but my copy also arrived with a fatal disc error that made about a third of the film unviewable and caused my computer DVD player to crash repeatedly. Of course, this might only be a fluke…except for the fact that the same defect appears on the copy purchased by a colleague of mine. Perhaps there are other sufferers out there? (Hel-lo, quality control?) If you can avoid this problem though, the image quality is excellent and subtitles—mostly good, though occasionally sloppy—are provided for songs as well as dialogue.]