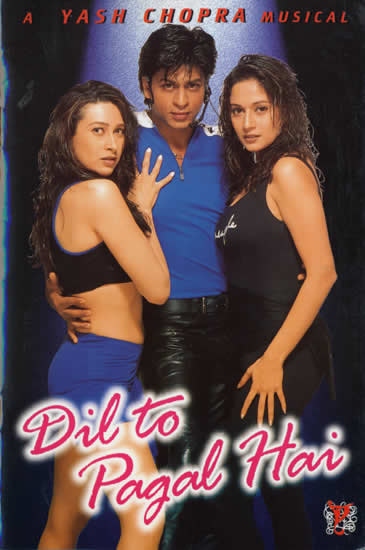 DIL TO PAGAL HAI
("The Heart is Crazy," 1999)
Hindi, 179 minutes
Directed by Yash Chopra
Dialogues: Aditya Chopra; Music: Uttam Singh; Lyrics: Anand Bakshi
Cinematography: Manmohan Singh

Like its predecessor among blockbuster-films-of-the-1990s-with-unwieldy-four-part-names-that-became-known-by-Romanized-acronyms, HUM AAPKE HAIN KAUN!.... (HAHK!, 1994; note also DILWALE DULHANIYA LE JAYENGE or DDLJ, and KUCH KUCH HOTA HAI or KKHH), Yash Chopra's dazzling DTPH is a relentlessly entertaining consumerist fantasy with a minimal plotline and phenomenally popular sountrack. But whereas HAHK!'s thin story unfolds within a milieu saturated with reconstituted Indian (and especially Hindu) Tradition and focuses on the protracted wedding celebrations of a large extended family, DTPH situates its characters in a surreal urban postmodernity inhabited by single and largely autonomous 20-somethings. Two of its three principal characters have no apparent family ties or life histories, and the third is an orphan raised by a devoted aunt and uncle. This is a striking, even bizarre departure from the Bollywood norm, but in this case it effectively contributes to the creation of an alternative reality that obviously resonated with millions of viewers as well as industry critics. The film swept the Filmfare Awards in nearly every category , and also won a pack of national and regional prizes.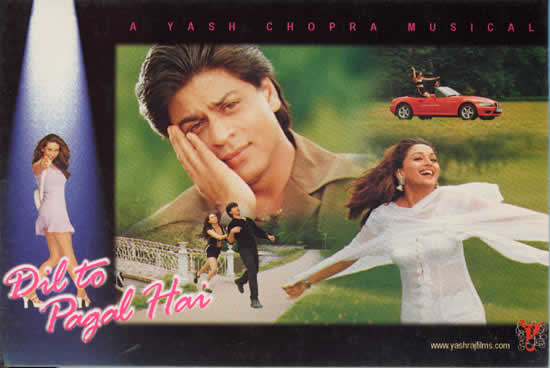 The film's hero, Rahul (Shahrukh Khan) is an Artistic Genius, a popstar producer-performer who stages spectacular "shows" that suggest a combination of opera, arena rock concert, and Las Vegas revue — that no such genre of entertainment actually exists in India (or perhaps anywhere) merely contributes to the film's fabrication of a realm, like that of Western sci-fi, for unfettered fantasy (though Rahul's closest model is undoubtedly Michael Jackson, whose touring show-concerts made a great splash earlier in the decade). Rahul has his own production company, housed in the playhouse-studio in which he lives: a capacious loft overlooking an urban dreamscape, and littered with oversized toys, Pepsi machines, custom cars, and firehouse poles. His devoted staff of smartly dressed young people (including a few who are suggestive of Indian regional types) seems to constitute his only family: a postmodern tribe oriented around conspicuous consumption and public display. One of its members is his key assistant and costar Nisha (Karisma Kapoor) who is clearly in love with Rahul, though the latter is, of course, entirely unaware of this and considers her merely a "friend." Is Rahul gay? No way! He dreams of that special girl who is waiting for him somewhere, picture-izing in his mind's eye her "innocent face and intoxicated eyes" (the song Bholi-si surat); one day she actually turns up while Rahul is (what else?) shopping, and before long becomes a member of his production company, and Nisha's replacement when the latter injures her leg. She is Pooja (Madhuri Dixit), and is likewise initially unaware of Rahul's infatuation with her. Assuming Rahul and Nisha to be an Item, she proceeds with a lukewarm engagement, seemingly endorsed by her aunt and uncle, to dashing businessman Ajay (Ashay Kumar)—the sort of guy who whisks a girl off to Europe for a weekend of shopping and theme-parking (sans sex, of course). Getting Pooja legally transferred from Ajay to Rahul, and smoothing over Nisha's hurt feelings, is the three-hour story's main preoccupation. The rest, as they say, is icing on the cake.

But what icing! DTPH features what is undoubtedly one of the most infectiously catchy scores of the '90s, with twelve songs that are unusually seamlessly woven into its storyline, and that share musical themes (e.g., the main melody of Are re are forms a sub-melody of Pyar kar) to give the whole a satisfying and almost symphonic quality. The aural feast begins with the credit sequence, as Ek duje ke vaaste ("Made for each another") is played over a collage of loving couples of all ages and (Indian) ethnicities. This is immediately followed by the eye-popping dance number Le gayi ("Love took my heart away"), which proves to be the climax of one of Rahul's stageshows (though —as in the grand Busby Berkeley tradition—it contains elements, such as rapid costume and set changes, that would be impossible to stage). Also deserving of mention is the nighttime love duet Pyar kar ("Fall in love"), sung by Rahul and Pooja in different locations, before they have properly met. Their falling in love occasions another show-stopping pictureization to accompany the song Koi larki hai("There's a certain girl…"), a joyous paean to the rainy season, evocative of children's nursery rhymes, and performed during a downpour in a roofless church with a chorus of (supposed) street urchins.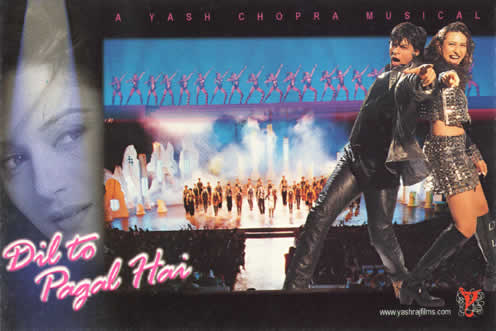 Publicity materials for the film proudly tout it as "A Yash Chopra Musical" — an unusual genre-designation for a Hindi film, the overwhelming majority of which have always featured song and dance. Indeed, the film seems to evoke a longstanding Broadway and Hollywood convention of crafting narratives—from Mickey Rooney-Judy Garland films to A CHORUS LINE—around people who are themselves involved in the production of shows. In America this theme has helped to make the eruption of song and dance more plausible within a dominant regime of stylized cinematic "realism." However, such a pretense has never been necessary in the "All-Singing, All-Dancing" world of mainstream Indian cinema, and its use here appears to be merely as another exotic and fantasy-inducing trope. Other familiar tropes are present as well, even within the film's radically decontextualized urban world: thus Rahul is another hero who is loved by two women, one of whom is more a vamp (Nisha, who always appears in Western fashion) and the other more "homely" (Pooja, whose name means Hindu "worship," and who has had classical dance training from a female guru, relates well to children, and alternates salwaar-churidaar outfits with halter tops and spandex). Yet this hoary theme, like that of the conflict between love and duty occasioned by Pooja's impending marriage to Ajay, seems merely vestigial here—just another prop on the glittering stage of Rahul & co.'s spectacular and eminently-consumable life.