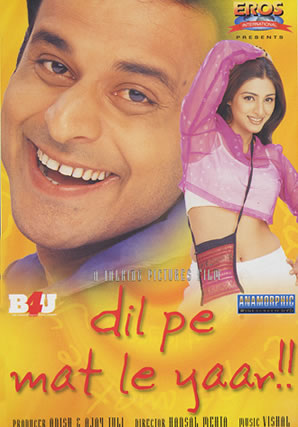 DIL PE MAT LE YAAR!
("Don't take it to heart, friend")
Hindi, 2000, 151 min.
Directed by Hansal Mehta, Music by Vishal.

If satya be told, here's another film that serves up a neo-realist on-location view of life in the mean streets of the Mahanagar of Mumbai, helped along by many of the same cast members who performed so brilliantly in the earlier picture. At times, it succeeds, adding to SATYA's tale of the criminalization of an urban newcomer a yet-more-cynical (but also more confused) subplot involving journalistic and cinematic exploitation and voyeurism.

A lovely credit sequence offers vignettes of pavement dwellers and pigeons, streets and seascapes, with a song "welcoming" both joy and sorrow. Like the hero of SATYA, Ram Saran (Manoj Bajpai) is a recent arrival in Mumbai, in this case a UP bhaiya from Jaunpur, who has found honest work as an auto mechanic and writes touching letters home to his mom and dad. Though he shares a tiny room with eight other men and rides a motorscooter with a broken headlamp, he dreams of cars, flats, and, someday, a blushing bahu to bring back home. He's made friends with the pudgy Gaitonde (Saurabh Shukla), a failing wedding videographer, and through him with the fast-talking, Dubai-returned Tito (Aditya Shrivastava), whose pals include real gangsters. He also meets the beautiful newspaper reporter Kaamya (Tabu), a jaded yuppie who is touched by his rustic manner and honest work ethic, though not by his growing infatuation with her. Their awkward maneuvers on the brink of the chasm of class and education that separates them make for some of the film's most poignantly accurate scenes -- culminating in the sheer revulsion she manifests when he openly declares his love. As if to definitively put him in his place as a subject of her pity and her gaze, Kaamya makes Ram Saran's "inspiring" story into a screenplay which she tries to sell to film director Mahesh Bhatt (appearing as himself). In a strange move, the story is at first rejected by Bhatt, then (revised by Kaamya following Ram Saran's attempted love scene) enthusiastically accepted.

From here on, the film gets murkier, blurring the line between Ram Saran's downward-spiralling life and its own (possible) filmi sur-realization. In the end, we see Kaamya accepting a Filmfare trophy, apparently for the tragic tale we have just witnessed, followed by a bizarre coda that alludes to GODFATHER II, with Ram Saran as Michael Corleone, though with unclear motives -- are we witnessing the ultimate filmi apotheosis of Ram Saran, or just a director who has run out of ideas? If there is a deeper meaning here, it would appear to be a deeply cynical one: at the turn of the millennium, the subaltern hero (to whom the Hindi cinema once devoted much attention) can get neither a date nor a life; the best he can expect is a representation of himself from those who have the power to portray, and he ends as a mere simulacrum of one of Hollywood's most exported icons. The so-so score resembles that of SATYA, by the same music director.