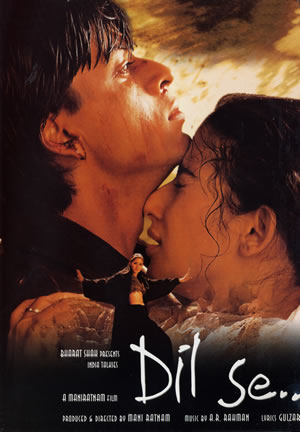 DIL SE ("From the heart")
1998, 155 minutes, Hindi.
Produced and directed by Mani Ratnam
Music: A. R. Rahman; Lyrics: Gulzar
If the state of the world has you on edge, why not escape with one of those famously-fantastic "Bollywood" extravaganzas, such as this one (complete with eminently-hummable score and some great dancing) about...a terrorist suicide bomber...?
Since becoming a crossover success in Hindi with NAYAKAN ("Boss," 1987, a dubbed version of his award-winning Tamil film starring Kamal Haasan) South Indian director Mani Ratnam has made a series of controversial mainstream films that touch on potent contemporary issues: the bloody Kashmir secession conflict (ROJA, 1992) and the Bombay Hindu-Muslim riots of 1993 (BOMBAY, 1994). His fourth Hindi film, DIL SE, is a spectacular and disturbing romance set against a background of insurgent and counter-insurgent violence in the eastern Himalayan region, and the threat of national disintegration, especially following the 1991 assassination of Prime Minister Rajiv Gandhi by a female suicide-bomber. Criticized by audiences for its highly-unorthodox denouement, it has also won staunch fans for this and other nonstandard features.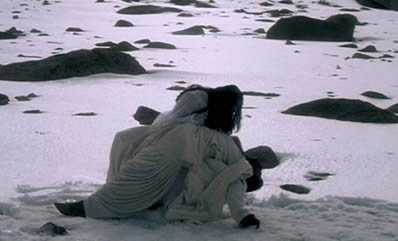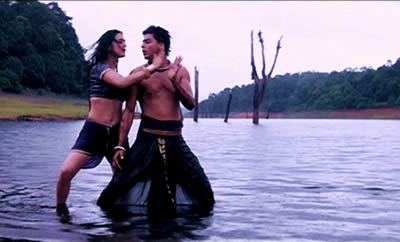 The stunning outdoor cinematography by cameraman Santosh Sivan spans the subcontinent from Himalayan snowfields and the high-altitude deserts of Ladakh to the palm-fringed backwaters of Kerala to offer, in a jarring counterpoint to the screenplay, a nakha-shikha ("head to toe") portrait of the body of Bharat Mata (the nation personified as mother goddess), evoking the Indian national anthem's sweeping catalog of geographic and ethnic regions. Similarly, A. R. Rahman's brilliant, hypnotic score melds folk rhythms, Indo-Persian ghazal imagery, and rap-style declamation into another parallel plot, here a portrait of obsessive and doomed love. The dreamlike song "pictureizations," brilliantly choreographed by Farah Khan—from the spectacular opening song Chala chayya chayya, set atop a train speeding through the mountains—seem dissociated, even by Hindi-film standards, from the screenplay, further heightening the overall sense of dis-location, and suggesting the impossibility of realizing romantic fantasy in the midst of oppressive contemporary realities.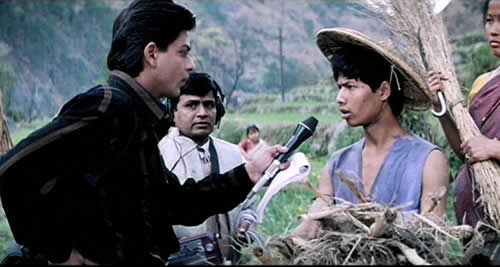 Shahrukh Khan plays a frenetic New Delhi yuppie named Amar (ironically, this means "immortal"), an All India Radio reporter dispatched to the hills to collect sunny news stories on the theme of "what 50 years of Independence [celebrated in 1997] have done for you." Instead, he finds barbed wire, bombs, bitterness....and secessionist ethnic rebels.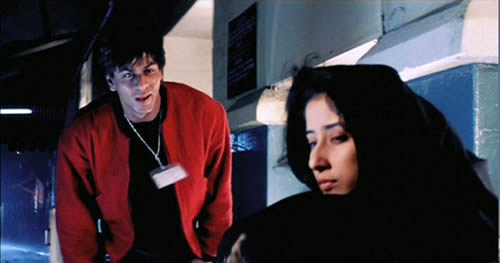 His hyperactivity is counterbalanced by Manisha Koirala's portrayal of Meghna, a brooding waif whom he encounters enroute, and whose coldness conceals past traumas and deadly secrets. The hero sets out, with sheer exuberance and ostentatious passion, to tame this beautiful and elusive shrew—a stock plotline in Bombay romances, but in this case, the results are unexpected and increasingly ominous. It seems that Meghna is already married—to a cause the hero cannot fathom.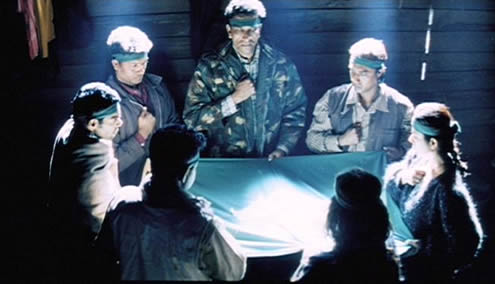 After the interval, the action shifts to New Delhi, where the infatuated reporter, still pursuing his dream woman and half-heartedly wooing another (Preity Zinta) who has been proposed by his parents, stumbles onto a plot to assassinate the President of India during the January 26th Republic Day Parade, and soon runs afoul of both the plotters and the heavy-handed intelligence team working frantically to stop them.
The film's explosive and haunting conclusion leaves a number of questions unanswered—one being whether its open-endedness is intentional or due to a failure of directorial vision. Assuming the former, one reading of the film is as a gendered anti-nationalist allegory in which "All-India" Amar represents the Hindu-majoritarian centre and Meghna the alienated ethnic and religious minorities and peripheral states. In this interpretation, Ratnam ingeniously turns Khan's trademark bouncy, self-centered screen persona against itself, to craft a political commentary on the hypocrisy and ultimate failure of centrist programs of "national integration." The hero labors manfully to lure the heroine into a lasting union based on (his) ideals, asking her to forget past injustices and (literal) violations; his implicit message—"Just love me and everything will be all right!"—appears increasingly idiotic as we learn more about her life. His love is as selfish as it is passionate, and both blind to and seemingly uninterested in the reality of Meghna's traumatic past. The result of his unrelenting pursuit of his romantic dream is not a happy ending, nor an optimistic portent for the nation.