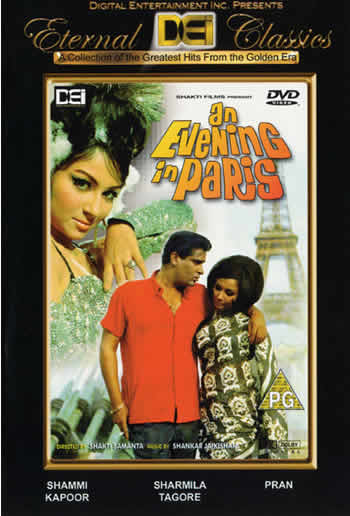 AN EVENING IN PARIS
1967, Hindi, 150 minutes.
Directed by Shakti Samantha
Music by Shankar Jaikishan; lyrics by Shailendra and Harat Jaipuri; story and screenplay by Sachin Bhowmick
Written by Ramesh Pant; cinematography by V. Gopi Krishna; playback singers: Mohammad Rafi and Asha Bhosle.
(film notes by Corey Creekmur)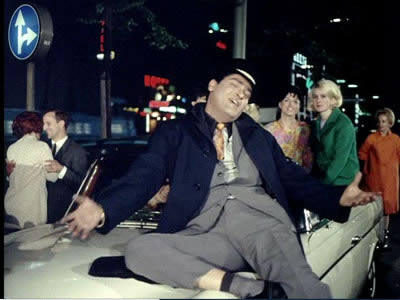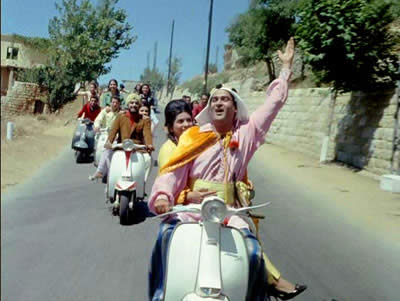 "Dehko! Dehko! Dehko!" ("Look! Look! Look!") Shammi Kapoor demands of his audience (and the baffled European extras surrounding him) while performing the title song to this mid-sixties hit amidst the unfolding credit sequence. And while there's indeed plenty to look at in this travelogue masquerading as a narrative, there's not much else to engage the viewer who might be seeking such middle-class accoutrements as plot, suspense, or character development. Clearly filmed in actual locations leaping (even within scenes) from Paris to Beirut to Switzerland before an action packed climax above and below Niagara Falls, this film seems most interested in displaying the tourist sites most Indian spectators could only dream of viewing in the flesh, and so AN EVENING IN PARIS provides faux Frenchman Sam (Shammi Kapoor) as their worldly relay to the wonders of not only gay Paree but, in effect, the whole world. This fantasy, of unlimited access to the world's scenic wonders and material pleasures, is one of the things that even the silliest popular films can help illuminate, and the regular suggestion that some Indians can only live the high life through international crime is a perceptive underside to the good Indians in such films who travel the world oblivious to budgets. (Among other things, the film is a tribute to travel's modes of transportation; the film starts inside an Air India jet, and across the film, Shammi will ride cars, scooters, helicopters, and speedboats, but when he needs to travel long distances, the invocation of a new location usually takes him there with an instant cut: there's of course no reference to the cost of any of this whirlwind travel.) Like many popular films, whether Hindi or Hollywood, this one relies on the persistent display of enviable fashions, fancy apartments, and decadent pleasures – cigarettes, alcohol, and those notorious Parisian night spots – to engage spectators in dreams of a luxurious, modern world which is also condemned as superficial when matters of the heart arise. And many of these visions are indeed eye-popping, especially in a few bizarre (even by Bollywood masalastandards) production numbers that define postmodern pastiche. But the film seems overwhelmed by its desire to demonstrate that the production company really did travel to all its locations to place its performers in front of actual monuments and natural wonders, all backed by gawking spectators who seem unimpressed with the admirable lip-synching the actors are performing on streets, buses, ski lifts, and raging rivers. (The audiences for the wild nightclub numbers, though described as "lustful," seem especially comatose.) In this way, the film paves the way for more recent films that focus on the cultural identity of NRI (non-resident Indian) characters and feature enticing side-trips to foreign lands, at least for song sequences. AN EVENING IN PARIS is unusual, however, in never returning its characters to Mother India, though part of the film's fantasy includes its characters finding Hindi speakers (or at least people who seem to understand Hindi) everywhere on the globe.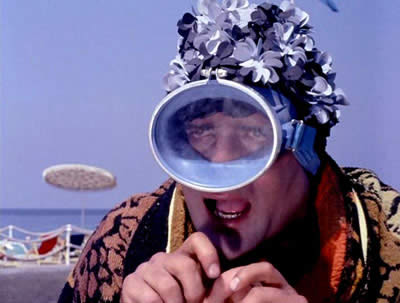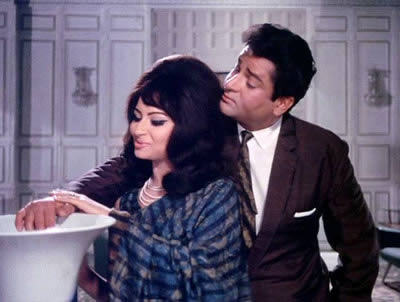 In addition to blatantly indulging in the montage effect Eisenstein termed "creative geography," AN EVENING IN PARIS is also, of course, a star vehicle featuring the often manic Shammi Kapoor in a performance that in this case begins with unusual restraint, but soon escalates to the arm-flinging, sudden-head-dropping physical abandon that so entranced audiences used to a previous generation of anguished and repressed male heroes. Gladly taking on outrageous costumes and impersonations (in one case as a Bengali stereotype) Shammi continues to mug and roll about with the glee that defined his screen persona following 1961's breakthrough hit JUNGLEE. As the period's embodiment of international youth culture for Indian audiences, he can look a little old and pudgy by Western standards – Shammi was at once the young and old Elvis -- but the difference he brought to Hindi cinema can't be easily dismissed, and Nasreen Munni Kabir is on the money when she notes that Shammi Kapoor, rather than Amibabh Bachchan, who would rule the Indian boxoffice in the 70s, is the real precursor to contemporary uninhibited stars such as Shah Rukh Khan and Govinda.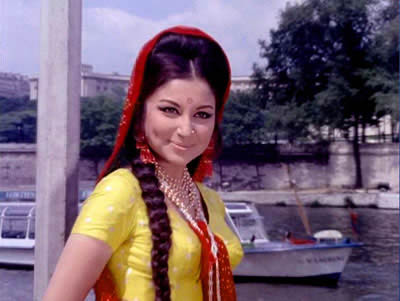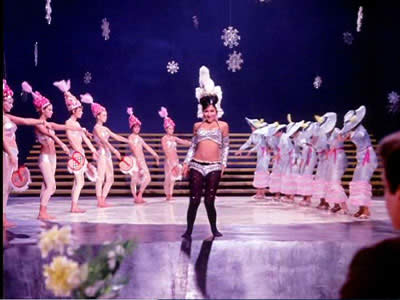 In AN EVENING, Shammi's frequent leading lady Sharmila Tagore plays a maddeningly incoherent character, whose motives and affections change without warning, but as a star she's the consistent embodiment of a notion of 60s cosmopolitan glamour, sporting the high hair and elaborate eye makeup common to Hindi heroines (and European models) of the period. Eventually taking on a dual role, she also gets to vamp and do really bad things like dance, drink, and smoke, the latter habit so shocking that it exposes her character's deception when she's pretending to be a proper Indian girl. (Drinking Coca-cola, however, seems OK.) Taking the film far more seriously that it wishes, she suggests the double standard, and even the internal tension, common to all popular depictions of (dull) good girls and (interesting) bad girls in film.

There is, in fact, a plot here, but it doesn't make much sense (not a major problem for certain Hindi films) or engage the viewer emotionally (a far more damning defect). Wealthy Deepa (Sharmila Tagore) arrives in Paris hating men, especially because they are only interested in her money. Pretending, with little effort, to be a poor Indian girl, while running around the Eiffel Tower barefoot, she meets an excitable French photographer who speaks a bit of Hindi, picked up from his friend Sam. When Sam encounters Deepa, the hapless Frenchman, now dressed as Air India's maharajah mascot and seeking (as the French will) an impetuous marriage, is set aside and the remainder of the film will involve Sam trying to woo Deepa by chasing and annoying her, a common seduction technique for Hindi film heroes, especially Shammi. Besides the clash of egos and sexes already hampering the main couple, other complications include an evil, gold-haired and decadent Indian named Shekar (Pran) out to nab Deepa while he dodges gangsters (the also blond Jack and the bald Jaggu) to whom he owes money. Late in the story, the revelation that Deepa had a twin sister Rupa (now a cabaret performer known as Suzy) allows for a series of masquerades that seem less significant as plot devices than for the way in which this allows Sharmila Tagore to, again, play both a virgin and a whore, coded of course by their contrasted Indian and Western manners. (A quick flashback to the kidnapping of little Rupa provides the kind of traumatic event that would begin many other Hindi films: in this case the troubling night has been more or less forgotten by everyone involved, though its recollection seems to encourage bad girl Suzy to eventually embrace a version of sisterhood: the audience is treated to the image of Sharmila hugging herself.) Indeed, the question of what kind of behavior defines a "good Indian girl" so far from home is one of the only cultural points the film really explores, and in this regard it looks forward to later investigations of the topic such as 1995's megahit DILWALE DULHANIYA LE JAYENGE. A few last-minute fights and a rescue wrap things up, but leave other points hanging, though no audience is likely to care to much about what's left unresolved. We've had a lot to look at, after all, and that's really all Shammi and the filmmakers promised.

[The DEI DVD of An Evening in Paris provides a quite good copy of the film, with vibrant colors; the film is fully subtitled, including songs, and the inclusion of the film's trailer reveals that the film's locations were indeed its main selling point.]