FIZA (2000)
Hindi, 168 minutes
Directed by Khalid Mohamed. Music: Anu Malik. Lyrics: Gulzar - Sameer. Cinematography: Santosh Sivan.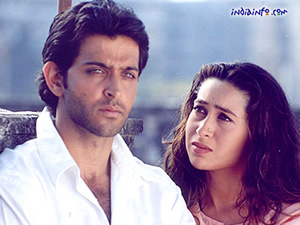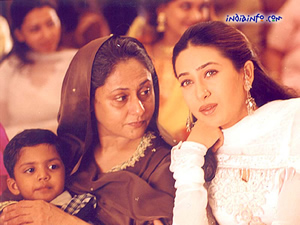 This glossy, uneven film promises a welcome break from recent feel-good saffron majoritarian narratives -- in which Muslim actors like Shah Rukh Khan or Salman Khan play a succession of upper-class Hindu boys named Rahul or Vijay -- by portraying the life, or rather demise, of a middle-class Muslim family in the aftermath of the Mumbai riots of 1993 (which were in fact largely anti-Muslim pogroms); it does so, moreover, with a cast of mainly Hindu actors, including current megastars Karisma Kapoor and Hrithik Roshan.
The film's opening hastily sketches the life of the small-but-happy Ikramulla family, Fiza (Kapoor), her aspiring-artist brother Aman (Roshan), and their widowed mother (Jaya Bachchan); in the first scene they are bantering affectionately while watching Raj Kapoor's Bobby on TV. Their comfortable world is abruptly shattered during a night of communal violence, when Aman heeds a friend's call to take to the streets and is drawn into a series of brutal encounters. He disappears and is presumed dead, though his body is never found and his grieving mother and sister cling to the belief that he could have survived and will one day return. Six years pass, and Fiza, now a college graduate, catches a glimpse of Aman on a busy street and resolves to go in search of him.
Up to this point, the story holds together fairly well; the poignant depiction of the women's abiding trauma and their callous treatment by government officials and calculating politicians and journalists echoes the reality experienced by numerous female survivors of communal bloodbaths, and the song sequences are at least peripherally relevant to the plot (A. R. Rahman's qawwali-style contribution, Piya Haji Ali, celebrates Mumbai's most famous Muslim shrine, to which Fiza's mother goes to pray for her son's return). But the gratuitously fantastic soon takes over, as Fiza follows a tip to pursue Aman to Rajasthan, where a group of Jihad-preaching Islamic militants lead by one Murad Khan (Manoj Bajpai) engage in skirmishes with Indian security forces...on the outskirts of Udaipur (!), a location apparently dictated by (a) its proximity to the desert that ultimately leads to the Pakistani border, and (b) the director's need to interject ersatz-ethnic spectacle in the form of camels, turbaned Rajputs, and veiled belly-dancing girls writhing under parachute-fabric.
From here on, the plot unravels into a series of poorly integrated anti-climaxes that are high on histrionics but low on plausibility and cohesion -- disappointing, given the premise with which the film began, and to which its surprisingly dark and understated finale returns. The message, overall, is bleak: police and politicians are beyond redemption, but even their violent punishment cannot save the minority community from a personal and cultural loss so total that suicide (of one kind or another) offers the only out.