HUM AAPKE HAIN KOUN...!
("Who am I to You?") 1994.
195 minutes, Hindi.
Directed by Sooraj R. Barjatya.
Music by Ram Laxman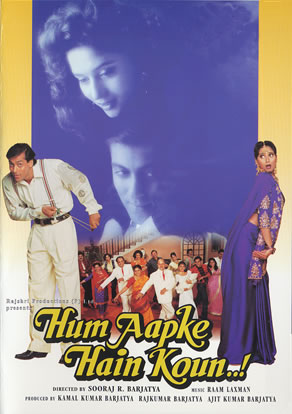 The early 1990s brought yet another spate of predictions of the imminent demise of the Bollywood film industry. The Indian television audience had mushroomed, multiple cable channels had broken the government programming monopoly, and audiences were being wooed by Zee TV and Star TV, Murdoch-owned and beamed from Singapore, offering slick "world-class" entertainment customized for South Asian tastes. Middle class homes increasingly boasted VCRs, and with new films turning up in pirated copies even before their commercial release, why should viewers patronize the proletarian picture palace?

As if to confirm the proverbial unpredictability of the industry, along came HUM AAPKE HAIN KOUN....! (hereafter designated by acronym, as is often done in the Indian-English press)-a blockbuster so big it broke SHOLAY's longstanding boxoffice record, and ushered in a new era of family-oriented bigscreen entertainment that brought the middle classes back into cinema halls. And back again, since it became famous for repeat viewings, the record doubtless being held by Bombay artist M. F. Hussaini, who reputedly saw it more than 80 times (and then produced a series of controversial paintings of Madhuri Dixit as various Hindu goddesses). The secret of HAHK!'s success eluded some critics, since the film contradicted longstanding conventions: e.g., it had no villains, no violence, no epic battle between good and evil. Why did gazillions of people fall in love with (what one writer termed) "a three-hour wedding video about a family with a house the size of a cricket stadium"?

The minimal plot is complex (for foreign viewers) only in its extended-family relationships: Prem (Salman Khan) is the younger brother of Rajesh (Mohnish Behl); during the latter's wedding to Pooja (Renuka Shahane) — which occupies much of the film — Prem falls in love with the bride's younger sister, Nisha (Madhuri Dixit). The girls are the daughters of Professor Chaudhury and his wife Kamladevi (Anupam Kher and Reema), who are drenched in Indian tradition, yet fun-loving and wealthy; the two brothers are handsome, rich industrialists with cool wardrobes and sensitive hearts. What could be better? Indeed, everything goes swimmingly until (as the DVD box declares) "fate strikes a cruel blow," Love runs afoul of Duty, and the family dog has to undertake a heroic mission.

What really seems to power HAHK! is its extraordinary score with roughly a dozen catchy tunes, some of which are modeled on traditional folksongs sung at weddings. The film's unprecedented highlighting of marriage rituals (mainly Hindu, but shared to some extent by other communities on the subcontinent) manages to simultaneously celebrate wholesome tradition and consumerist modernity. Within India, HAHK! was credited with upping the ante on flamboyant weddings, while some overseas Indian families have reportedly used its detailed gameplan to script "traditional Indian" nuptials in diasporic places like Southall and San Diego.