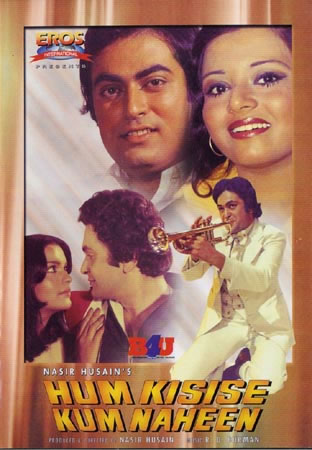 HUM KISISE KUM NAHEEN
("We are no less than anyone!")
1977, Hindi, 162 minutes.
Directed by Nasir Husain
Story and screenplay: Sachin Bhowmick; Dialogue: Nasir Hussain; Lyrics: Majrooh Sultanpuri; Music: R. D. Burman; Cinematography: Munir Khan

A bewildering plot, baroque costumes, baby-faced stars, and one memorable Burman hit (Kya huaa, tera vaada, "What happened to your promise?") mark this as a quintessential 1970s masala potboiler. The presence of international smugglers, a cross-border abduction, helicopter chases, funny cars, frenetic camera work, and jarring visual discontinuities is all likewise standard for the genre and era. The mix is entertaining, however, and spiced by occasionally highly-inventive moments — as when a bicyclist who has carried off a girl's red dupatta is suddenly pursued by a brahma bull to the accompaniment of Spanish toreador music, or when the heroine, in the middle of a song, stumbles onto a vast field of uniformed children doing calisthenics.

We begin with two troubled lads, one rich and one poor, but both with amazing, Elvis-in-Vegas wardrobes. London-returned Rajesh (Rishi Kapoor) is in love with Sunita (Zeenat Aman), but her cruel NRI father insists that she marry the son of one of his business cronies. Rajesh has been promised a fortune by his own father, an Indian businessman in Africa. When the latter dies of a heart attack enroute home, he entrusts his life savings (in the form of a black belt stuffed with diamonds worth 250 million rupees) to a fellow traveler, Kishorilal. However, Kishorilal is pursued, on arrival in India, by crooks who are after the diamonds, and slips the belt into a bicycle-mounted tool box belonging to lad #2, Sanjay (Tariq), who remains unaware of its presence. Sanjay has other problems: since childhood, he has loved Kaajal (Kaajal Kiran), who happens to be the daughter of Kishorilal. Though as children the two swore to love forever, they have become separated due to Kishorilal's rise to wealth. To make matters worse, Kaajal now falls in love with Rajesh, when the latter, still pining for Sunita, woos her at the behest of businessman Saudagar Singh, who is actually a notorious international smuggler in hot pursuit of the vanished diamonds (the role is diffidently executed by a tired-looking Amjad Khan). Not to worry; after eight songs and eighty-four crores of sequins, it will all sort itself out, sort of.