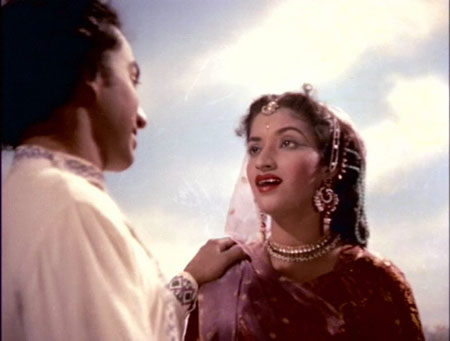 JHANAK JHANAK PAYAL BAAJE
("the anklebells ring")
Hindi, 1955, 143 minutes
Directed by V. Shantaram
Produced by Rajkamal Kalamandir, Ltd.
Story and dialogues: Dewan Sharar; Lyrics: Hasrat Jaipuri; Music: Vasant Desai; Choreography: Gopi Krishna; Art direction: Kanu Desai; Cinematography: G. Balkrishna; Audiography: A. K. Parmar

The work of a director whose critical reputation today mainly rests on earlier black and white films produced for Prabhat Studios of Pune (such as 1939'sManoos/Aadmi or "Man," made in both Marathi and Hindi), Jhanak jhanak was a successful attempt to win a mass audience for Shantaram's own Rajkamal Kalamandir studio in Bombay through a lavish spectacle celebrating (ostensibly) the glorious heritage of Indian classical music and dance. It became the director's most commercially successful film, was later re-released in 70mm, and remains justly famous today for its songs, dance sequences, and eye-popping fantasy sets, awash in exuberant Technicolor.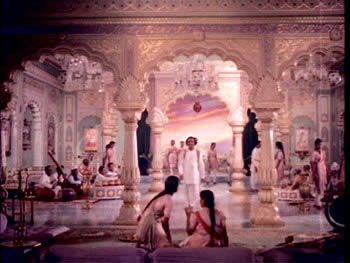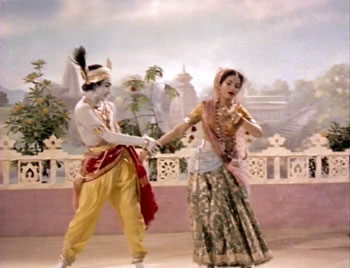 Its plot concerns the love affair between a male dancer named Giridhar ("the mountain lifter," an epither of Krishna; the role was played by the energetic young kathak dancer Gopi Krishna, who also served as choreographer for the film) and his partner, Neela (Sandhya). Their love develops while Giridhar is undergoing training in the hope of winning a "national" dance contest, held once in a decade at the Nateshwar Temple (a fictional shrine to Shiva as "Lord of dancers"). The winner of this competition will gain the coveted title of "Bharat Natraj" ("king of Indian dancers"), a title formerly won by Giridhar's father and guru, the venerable but crotchety Mangal Maharaj. Neela, a young danseuse living in great style thanks to the largesse of her rich patron, Mani Babu (who is in love with her), begs to be accepted by Mangal Maharaj as his disciple, after seeing Giridhar demonstrate the glories of "true" dance.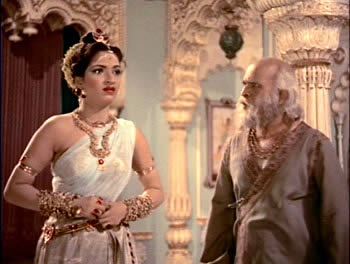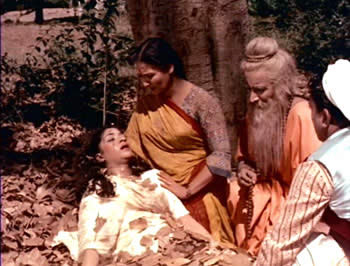 She then trains to accompany Giridhar in a crucial duet, but when romance begins to develop between them she runs afoul of Mangal Maharaj, who eventually denounces Neela as a "loose" woman out to ruin his son. Not wanting to distract Giridhar, and pursued by Mani Babu, whom she now despises, Neela flees to the wilderness and attempts suicide by leaping into a river. Rescued by a holy man, she briefly becomes an ascetic, adopting the outward appearance and lifestyle of Mirabai, the sixteenth century Rajput princess who renounced home and family in favor of a mystical "marriage" to Krishna (whom she usually hailed as the mountain-lifting "Giridhar" in her original songs). When this too earns her only abuse from her own Giridhar and his father, Neela again attempts to give up her life and is again rescued, this time by her comical domestics Bindiya and Badalu. Giridhar, though still in love with her, is goaded by his father into taking another partner for the duet that must form the climax of the Nateshwar contest. She is Rupkala, a former student of Mangal Maharaj who was earlier disowned for selling out to crass commercial promoters. When she ultimately accepts a bribe from Mani Babu to ruin Giridhar's chances in the competition, the coveted title appears lost—unless, of course, Neela can awaken from a comatose state, tie on anklebells, and dance her way back into her former partner's (and his father's) heart….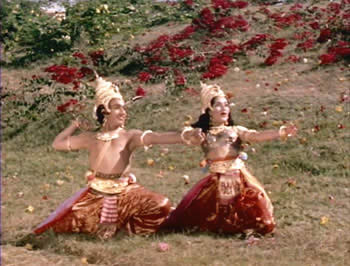 Though the film is preoccupied with and ultimately affirming of the value of romantic love—and the audience can readily sympathize with Neela's unjust treatment by Giridhar, Mangal Maharaj, and Mani Babu—it also seeks to endorse conventional ideals of both patriarchal family and nation. For Mangal Maharaj, love is a distraction from the austere path of art, which is closely associated with both family honor and "national culture," and which requires strict celibacy, at least during the student phase—the ideal of brahmacarya so prized by Gandhi and other nationalist thinkers. This celibacy is valorized within a patriarchal and sexist ideology. For although both Giridhar and Neela express their budding love, it is Neela alone who must assume responsibility for being a "distraction" to her male partner and must be chastened by asceticism and suffering nearly-unto-death.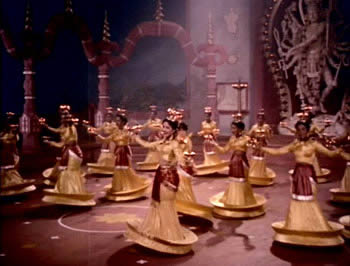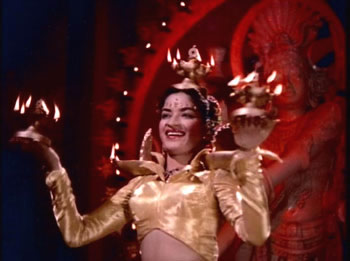 The film's representation of "pure, authentic" Indian dance as a religio-artistic discipline that is preserved through a male guru-disciple succession conveniently elides the historical fact that dance traditions like kathak were often transmitted by unmarried and independent professional women, who came to be despised in the Victorian period as sexually-loose "nautch girls"—a stigma that underlies the scorn heaped upon the film's female soloists by Mangal Maharaj. Yet ironically, the "tradition" of classical dance that the film celebrates is almost entirely invented and in fact heavily inflected by Western influences. Gopi Krishna's over-the-top choreography owes as much to Western ballet and modern dance (filtered through the balletic spectacles popularized by Uday Shankar) as to kathak, and the orchestra-like musical ensembles and synchronized chorus lines reflect the influence of Hollywood musicals. The stunning final "contest," set in an imaginary Shiva temple that contains a modern proscenium arch theater (on which, in the best Busby Berkeley tradition, spectacles unfold that could never actually be executed on such a stage) culminates in a Carmen Miranda-like number in which women are costumed as brass puja lamps—an apt metaphor for the female body as an accessory for (male) spiritual advancement.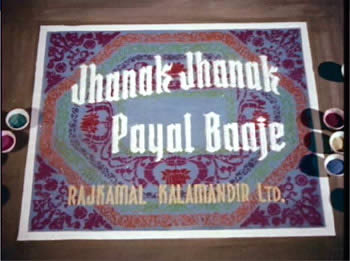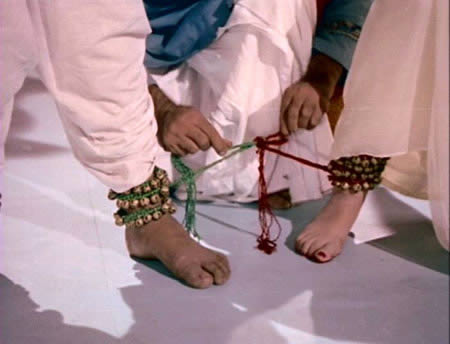 Visually and musically, Jhanak jhanak payal baaje is a feast from the get-go—an opening sequence in which the credits appear as variations on the elaborate ritual designs (sanjhi, rangoli) that women draw on the ground with colored powders. This is already a clue to Shantaram's visual program of selectively appropriating and revamping "traditions" in the service of a utopian modernity. So is Neela's pastel-tinted mansion, a riot of orientalist ornamentation that suggests a Rajput miniature conjured by Liberace. Even occasional outdoor locations succumb to the director's intoxication with color-saturated simulacra, which leads him to such excesses as dyeing the water in the famous dancing fountains of Mysore's Brindavan Gardens purple, red, green, and yellow—for a pas de deux in which Giridhar and Neela (in costumes and jewelry suggestive of Khmer royal ballet) dance the roles of Kama and Rati (the Hindu eros and his wife) in the song Nain se nain naahin milayo ("Don't let our eyes meet"). In all, there are nine memorable songs, mostly accompanied by dancing, including Kaisi yeh mohabat ki sazaa ("How this passion punishes me," a courtesan-style song of Neela's pre-Giridhar days), and the mythology-heavy Ahme gope gawal kahete hein ("I'm called a cowherd"), in which a blue-painted Giridhar-Krishna courts Neela as Radha in a set straight out of calendar art. Similarly the Mirabai-inspired number Jo tum todo piya ("Though you break our bond, Beloved [I will not break it]") invokes standard poster representations of the white-clad princess and her one-stringed lute (interestingly, this song was later resurrected by Yash Chopra in Silsila, for a scene in which Jaya Bhaduri's character pines for her husband, who is away with his mistress.)

[The Baba Digital DVD of this important film is of decent but not exceptional quality. Subtitles are passable, but songs are unfortunately left unsubtitled.]