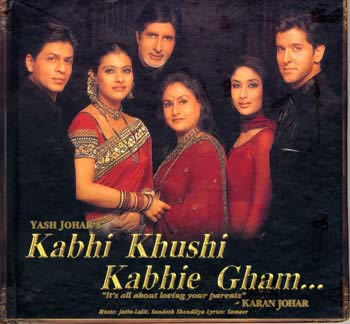 KABHI KHUSHI KABHIE GHAM…
(notes by Corey K. Creekmur)

("Sometimes happiness, sometimes sorrow")
2001, Hindi, 209 minutes
Directed by Karan Johar
Music: Jatin Lalit, Sandesh Shandilya, and Aadesh Shrivastav; Cinematography: Kiran Deohans

Patriarchy has not yet, to my knowledge, made the Endangered Species list, but Karan Johar seems to feel that it needs shoring up with this massive, opulent, yet oddly hollow film. Strange to say, KABHI KHUSHI KABHIE GHAM… — compressed as K3G by the press even before it was released — may now be the most successful Indian film ever made, at least in terms of initial revenue returns. A minor scandal was created when the film should have appeared within the top-10 box office in the United States on Variety's lists for late 2001, but was omitted because the editors apparently couldn't believe that an "unknown" film was doing "house full" business in American theatres (albeit those catering to Indo-American audiences); the film did appear high up on the U.K. charts at the same time. Meanwhile, K3G broke records throughout India, supported by a massive marketing campaign that included CDs and cassettes as well as a fancy gift book on its making. Inevitably, the film doesn't live up to the hype — could any film? — but this one seems an especially notable letdown: the storyline is rather simple and blatantly illogical at times, and the lavish sets and use of showy locations never serve much purpose; most of the songs aren't very memorable, and seem inserted rather then integrated, reinforcing a claim that is too often brought against Hindi films (unfairly in many cases — e.g., 2001's other big hit LAGAAN, which works to carefully combine song and story).

The film, through emphatically "big," treats a fairly narrow topic: the internal dynamics of the ostentatiously rich Raichand family, headed by Yashovardhan (a.k.a. "Yash," played by Amitabh Bachchan) and his wife Nandini (Jaya Bachchan). A flashback reveals that the childless couple adopted a son, Rahul (Shah Rukh Khan), but were surprised when Rohan was born a few years later, placing Rahul in the tricky position of being the "eldest" but not the "natural" child of his parents. The family is a model of love and respect until Rahul falls in love with Anjali (Kajol), a perky and comically clumsy Punjabi girl from Delhi's Chandni Chowk, whose younger sister Pooja is Rohan's classmate. (The development of the love between Shah Rukh's Rahul and Kajol's Anjali, which occupied most of the running time of DILWALE DULHANIYA LE JAENGE and KUCH KUCH HOTA HAI, takes mere seconds here.) Yash had a classier, business-minded match in mind for Rahul: Naina (Rani Mukherjee, left with little to do in the film); but Rahul chooses love over duty in order to marry Anjali, accepting banishment from the Raichand family and mother India.

All of this comes as news (in the form of a long flashback) to the adult Rohan (Hrithik Roshan), igniting his quest to reunite his broken family. Once a roly-poly and teased little boy, he's now a strapping, style-conscious hunk who plans to go to London and covertly work his way into Rahul's home and family, since his own brother, sister-in-law, and childhood playmate surely won't recognize him. Finally, he stages a family reunion at an upscale London shopping mall, and in a rather confusing ending, everyone quickly apologizes for previous bad behavior. (Rahul, it seems, should have simply disrespected Yash by not staying away and all would have been forgiven; Anjali was apparently right to ask for the blessing of the man who was banishing her from his home and family.) Karan Johar's chosen epigraph for the film, used in the script and in all its advertising — "it's all about loving your parents" — is in fact hard to apply to the film, since Rahul's adherence to his love for his parents generally brings him grief. Rather, the film seems to actually admonish stern fathers to trust and love their children — mothers, aunties, and grandmothers, of course, love their children unconditionally even while respecting the idiotic wishes of vain patriarchs.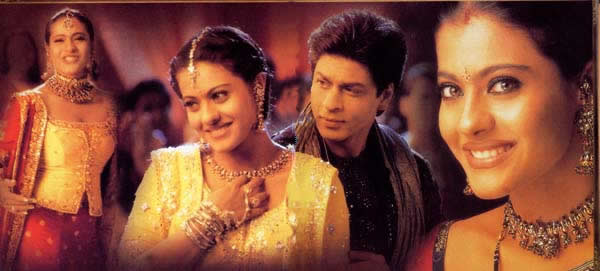 Such domestic clichés have been central to many of the recent family-oriented hits of Hindi cinema, and the promise of another treatment of similar material evidently paid off in ticket sales. But K3G doesn't bring much to the now familiar formula. Even one of the film's greatest draws, its casting coup of three of the biggest male stars of Hindi cinema, doesn't pay off as fully as it should: Amitabh Bachchan and Shah Rukh Khan had already been paired, in quite similar roles, in Aditya Chopra's lackluster MOHABBATEIN (2000), and the addition of Hrithik Roshan doesn't significantly alter the dynamic. Amitabh (who now plays the kind of unyielding fathers his career-defining "angry young man" used to get angry about) has a few nice comic scenes with Khan in the latter's London home, but they don't create the sparks one expects from an on-screen meeting of mega-stars. Shah Rukh, while still in the boyish persona that made him famous, effectively carries the emotional weight of the film, and is best when he registers the undeserved pain of his banishment. He's also convincing as a father himself, a career transformation that began when he played a widower in Karan Johar's hit debut KUCH KUCH HOTA HAI. The three female stars don't fare very well either: Jaya Bachchan is as impressive as possible in the conventional role of the Indian woman torn between her duties as mother and wife, and her final chance to tell off her (real-life as well as on-screen) husband is at least satisfying. Kajol, cute as ever, gives in to frequent mugging and pratfalls that become tiresome. Kareena Kapoor's grown-up Pooja is simply confusing: she's a spoiled NRI princess living in London who has apparently taken CLUELESS as a lifestyle guide (a decade too late), but is asked to gain sudden sincerity at the last moment. Paired with Roshan, whose emotional mission doesn't prevent him from partaking of fancy cars and the latest fashions, she can't seem to decide whether she's playing a sexy cartoon or a sympathetic co-conspirator in the rescue of a wounded family.

Like a number of recent films that depict (and address) so-called NRIs ("non-resident Indians), K3G is most interesting — but also most confusing — when it mixes the material pleasures of global consumerism with the nostalgic desire for Indian values: a transitional montage of the familiar sights of Tony Blair's "cool" London is accompanied by "Vande Mataram" (a hymn to the Motherland beloved of the Hindu Right) on the soundtrack, and patriotic feelings are aroused in the principals when they hear the Indian national anthem sung by…the blonde and blue-eyed children's choir of a posh English school (the British parents, understandably baffled, nevertheless stand and shed tears as well). Father Yash keeps harping on the importance of the rituals and traditions of his family (which apparently include an expensive foreign education), but it's often difficult to understand how his Anglophile lifestyle — including an English country mansion, personal helicopters, and finely tailored designer suits — reinforce the "traditional" Indian values he seeks to uphold (admittedly, the same might be said of some of India's reigning Hindu commercial families).

Logic is hardly the primary concern of this or any popular Indian film, but when the chemistry is right this may not matter. Here, where it's never more than lukewarm, a number of obscurities seem glaring: the source of the family's massive wealth is never clarified, and when Rahul is banished to life in London, he seems to have figured out how to maintain a tidy income, though we're never sure what he does for a living. The suggestion that fat little Rohan could transform into tall and buff Hrithik by going away to school for a few years (what an athletic program they must have!) perhaps explains why his "bhaiya" doesn't recognize him at all a few years later, leading even Rahul to wonder aloud how the little butterball lost all the weight (the answer is delicately avoided). But why must Rohan infiltrate Rahul's home and family anyway? The film never suggests any rift between the brothers (Rohan has apparently simply accepted his brother's decade-long absence without question), and so Rohan's clever deception seems altogether unnecessary. It's stubborn Yash who needs to be convinced to accept his banished son and daughter-in-law: Rahul, who honors a large portrait of his parents every day, is hardly reluctant to return to his family's arms.

Finally, given the track record of the filmmaker and his composers, the songs in K3G are also surprisingly lackluster, and massive sets and phalanxes of dancers tend to be the only notable contributions to their picturization. The blustery "Say `Shava Shava'" (with Yash at least loosening up for a bit) and the catchy "You Are My Soniya," are at least memorable, but the other songs fade quickly. Inside jokes and allusions — to Amitabh's new career as the television host of the Indian franchise of "Who Wants to be a Millionaire?", and a persistent use of the theme song from KUCH KUCH HOTA HAI — are clever but also serve little purpose. In the end, it doesn't seem a wise move on Karan Johar's part to keep reminding his audience of that previous, equally excessive, but far more effective film.

[The Yash Raj Films DVD of K3G is of excellent quality, and fully subtitled, but unlike other recent DVDs released by this company, offers no significant extras. Then again, after 3.5 hours with the Raichands (a family that has everything), you probably won't need anything more.]