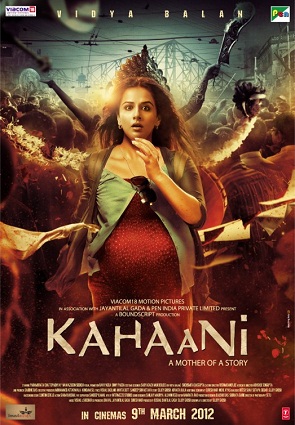 KAHAANI "Story"
(Hindi, 2012, 122 minutes)
Directed by Sujoy Ghosh
Screenplay: Sujoy Ghosh, Suresh Nair, Nikhil Vyas; cinematography: Setu; music: Vishal-Shekhar (Vishal Dadlani, Shekhar Ravjiani)
This taut, well-acted thriller stars Vidya Balan as an earnest and very pregnant young woman (also named Vidya, though she must contend with the Bengali way of pronouncing it, as "Bidya") who comes to Kolkata from London on the eve of the city's great autumn festival of Durga Puja—when Bengal's patron Mother Goddess is worshiped as the retributive slayer of a world-threatening demon, in elaborate but temporary pavilions erected throughout the city. Vidya is in search of her husband, Arnab Bagchi, a software engineer who has gone missing two weeks before during a business trip. A routine and somewhat lackadaisical police inquiry into a "missing person"—possibly a delinquent spouse fleeing the looming responsibilities of fatherhood?—leads to surprising twists, turns, and revelations, that climax on the final night of Puja, when the great clay tableaux of Durga, her divine children and sisters, and her demonic victim, Mahisha (pictured as a mustached strongman who passionately adores his divine slayer) are transported in raucous and carnivalesque procession to the Hooghly River and consigned to its waters in the ceremony of visarjan or "dismissal," amidst the ululation of Bengali women bidding their divine daughter/mother farewell as they streak one another's faces with sindur or vermilion powder.
To reveal any more about the plot would spoil its effectively surprising ending, but suffice it to say that the film's satisfying mythic overtones risk becoming unsubtle in the denouement (the worst excess of which is a "voice of God" voiceover commentary by—who else?—Amitabh Bachchan). Yet, despite this, the overall effect is powerful and satisfying. Balan's stellar performance is matched by a strong supporting cast, including Parambrata Chatterjee as Satyoki, nicknamed "Rana," a sympathetic cop from the Kalighat Police Station, and Nawazuddin Siddiqui as Khan, an overbearing intelligence officer from Delhi who intervenes in the case.
A low-budget exemplar of the "multiplex"-based trend toward more unconventional cinematic fare, the film lacks conventional song and dance sequences, though several non-diegetic lyrics periodically offer a kind of background commentary, and, within the diegesis, snatches of Hindi filmsongs (including some classic hits by R. D. Burman) are heard playing. The first full song, "Aami shoti bolchi" ("I speak the truth") which accompanies the credit sequence and Vidya's ride into the city from Dum Dum Airport, is a fast-paced mixed Hindi-Bengali-English tribute to the urban delirium of Kolkata, suggesting the bemusement of a newly-arrived visitor ("It's the heart's bazaar, and a bit bizarre; a mixed-pickle of dreams and desires…."). At the other end of the emotional spectrum, and of the film, is the somber and soulful "Ekla Cholo Re" ("If no one answers your call, then walk alone"), a 1905 song by Bengal's immortal poet laureate, Rabindranath Tagore.
Indeed, Bengal's cultural capital and capital city is another "star" of the film, nearly all of which was shot on location in Kolkata's often narrow streets and crowded bazaars. This should have allowed for a visual cornucopia, but unfortunately, the now-fashionable style of quick cutting and jumpy camerawork rarely allows viewers to linger on any sight for more than a split-second. Those who know the city well will find many fleeting glimpses of well-loved situations and locales; apart from this, the film best evokes the city through its more sustained character portrayals, which accurately evoke the (truly) friendly and good-hearted residents of this seemingly overwhelming and dystopian metropolis—a leitmotif that offers a pleasant counterpoint to a progressively darker plotline about terrorism, murder, and revenge.