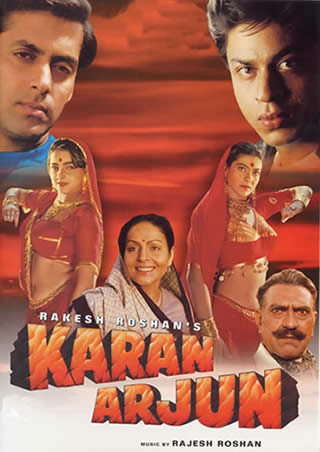 KARAN ARJUN
Hindi, 1995, 165 minutes. Directed by Rakesh Roshan. Music: Rajesh Roshan

Why are two strapping hunks like Karan and Arjun (Salman Khan and Shah Rukh Khan) laboring in a Rajasthani quarry among lines of scrawny extras? Earning paise, of course, with which to buy bangles for their adored and long-suffering mother, Durga (Rakhee), who, we soon learn, is actually the daughter-in-law of the local Thakur or feudal landlord, unjustly cast out years before by his terminally evil nephew, Durjan Singh (Amrish Puri), who also murdered her husband. All this is just for starters, in a riotously intertextual and quotation-ridden film that boldly hybridizes Hindu goddess mythology, the Mahabharata, and a range of pop classics including MOTHER INDIA, SHOLAY, DILWALE DULHANIYA LE JAYENGE, and INDIANA JONES IN THE TEMPLE OF DOOM.
Every Indian viewer will know that the film's eponymous loyal brothers are named for the tragically sundered half-brothers of the Bharata epic, here reunited, only to be separated (and reunited!) again — it fairly makes one's head spin, which seems to be the idea. Motherhood is powerful in Bollywood, and never more so than here (watch Salman and Shah Rukh make filial love to Rakhee's feet!). Moreover, Mother Durga is a devotee of Kali, (the goddess Durga's mythological sister/daughter/alter-ego), the black, skull-garlanded Devi who likes blood offerings, yet is also approached affectionately as "Maa." ("Mom"). But Durjan Singh is Her votary too, and seems to have Her favor for a time. When the dying Thakur tries to make amends and bequeath his sumptuous estate to Durga and her sons, Durjan's henchmen (played by the very actors who incarnated, for millions of viewers, the "Arjun" and "Duryodhan" of the epic TV serial Mahabharat) murder the boys before their mother's eyes.

Any Hindi film in which the principal heroes die, before Intermission no less, is likely to involve reincarnation. Sure enough, Karan and Arjun are speedily reborn, in two different families, as Ajay and Vijay, and grow up to look just like they did before, only with new wardrobes. These offer visual comment on Indian culture-change: murdered in Nehruvian white (suggestive of Gandhian non-violence and the romanticized village republic of the Congress five-year plans), they return as lean, mean fighting machines of the globalized consumer economy, in tight jeans and leather — one a street-smart boxer and the other a sort of rodeo cowboy. Each acquires a love interest: Sonia (Kajol) for Vijay and a reformed tomboy (Mamta Kulkarni) for Ajay, but despite some erotic musical numbers (such as the hit Main jaati hun, picturized with Kajol and Shah Rukh cavorting among snorting stallions), the emphasis is on getting the boys to remember their own intimate bond, rediscover their lost "mother," and take their revenge. Along the way there are comic interludes involving Vijay's wisecracking buffoon-sidekick (Johnny Lever in a typical vidushaka role), and a stuttering Munshi ("clerk") to the evil Durjan. The eye-popping Puri manages to recapitulate virtually every trope of Bollywood villainy — debauched feudal aristocrat, jack-booted sadist, evil tantrika, and foreign-returned, cell-phone-toting arms dealer-cum-smuggler — not to mention the cruel patriarch who threatened Kajol's happiness in DILWALE! In the end, both Mother and People rally round, and rights are wronged amid a careening chase that includes horses falling out of banyan trees (among many other things). There is also a spectacular Kali temple dance sequence that luridly quotes Spielberg but should cause Indiana to turn black with envy — proving once again that Bollywood can out-Orientalize Hollywood any day.