KUCH KUCH HOTA HAI
("These Things Happen"), 1998.
177 minutes. Hindi.
Written and Directed by Karan Johar. Produced by Yash Johar.
Lyrics: Sameer. Music: Jatin Lalit. Cinematography: Santosh Thundiayil.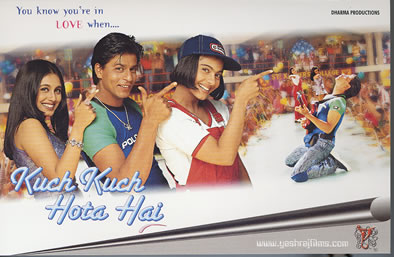 This heartwarming megahit swept the Filmfare Awards by taking prizes for best film, director, actor, actress, supporting actor, supporting actress, screenplay, and art direction. The film also won two National Awards, including in the category "Best Popular Film Providing Wholesome Entertainment." KUCH KUCH HOTA HAI follows in the popular tradition of Hindi cinema's recent "feel-good" blockbusters by reuniting the romantic team (Shahrukh Khan and Kajol) from its influential precursor DILWALE DULHANIA LE JAYENGE, but now extends the trend by introducing a few more serious elements (a widower, a motherless child, and a broken heart) to the model. The result is an unexpectedly subtle mix of light, sometimes silly entertainment built upon emotions that feel quite genuine.

The story of KUCH KUCH HOTA HAI is simple, relentlessly heart-tugging, and surprisingly effective: Rahul (Shahrukh Khan) and his extremely cute daughter Anjali are left alone following the death of the beautiful and wise Tina (Rani Mukherjee). But before her death Tina manages to prepare a lasting gift for her only child, a series of letters to be read on Anjali's first eight birthdays. The final letter provides little Anajli with a revelation and a mission: Anjali was named for Rahul's best friend in college, the tomboyish Anjali (Kajol) whose actual love for Rahul went unrecognized, and whose heart was broken when Rahul married Tina. The film thus initiates a secret pact between the female characters in the film, living and dead, to re-unite Rahul and his "best friend" and to reveal their long-suppressed love for one another. That might be easy enough were Anjali not engaged to all-around-nice-guy Aman (Salman Khan). Can hearts be reunited without hearts being broken? If the final results provide no great surprise, the film generates continual pleasure through the process that leads to a satisfying conclusion, a process that motivates the audience's joy, respect, laughter, and tears (b.y.o.kleenex).

Despite the heartbreaks that motivate the plot, KUCH KUCH HOTA HAI revels in the glossy, youthful world of mass consumption that has characterized the biggest hits of recent Hindi cinema, including HUM AAPKE HAIN KOUN ...! and DIL TO PAGAL HAI. Trendy logos on clothes abound, and flashbacks to Rahul and Anjali's carefree college days reinvent GREASE in a Bollywood vein. A colorful children's camp in the latter half of the film suggests a fantasy dreamworld where lives can be reinvented, and a little Sikh boy who acts as Anjali's co-conspirator challenges her for the dictionary definition of cuteness. Like other recent hits, KUCH KUCH HOTA HAI also features great songs that are instantly memorable and which dominated the pop music charts in India for months: playback singer Alka Yagnik won two major awards for her vocals, and is now considered the logical heir to Lata Mangeshkar's decades-long reign. Finally, the film's stars provide especially charming performances -- Khan and Kajol, as college chums, revise the brash and sassy roles that made them famous, but as adults who have both loved and lost, each relies upon a maturity and dignity that have not been evident in their previous characterizations.
(notes by Corey Creekmur, Department of Cinema and Comparative Literature, University of Iowa)