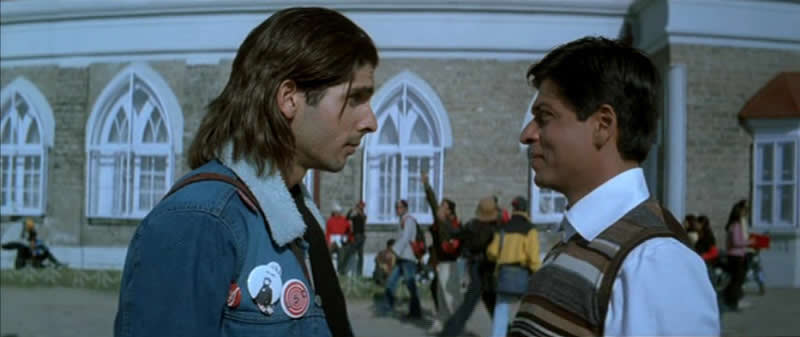 MAIN HOON NA
("I'm here now," Hindi, 2004, approx. 175 minutes) 
Directed by Farah Khan 
Produced by Gauri Khan and Ratan Jain for Red Chilies Entertainment 
Story: Farah Khan; Screenplay and dialogues: Farah Khan, Rajesh Saathi, Abbas Tyrewala; Music: Anu Malik; Lyrics: Javed Akhtar; Art director: Sabu Cyril; Costumes: Karan Johar, Manish Malhotra, & Sanjeev Mulchandani; Cinematography: V. Manikandan
Acclaimed choreographer Farah Khan's first foray into directing feels, indeed, rather like a graduation project in the College of Post-Digital Masala Movie-Making. All the required buttons—patriotic, erotic, familial, comic, violent, and so forth—are robustly pushed in the course of a Byzantine storyline with three main subplots, four stars, six songs, and plenty of explosions and bursts of automatic weapons fire (which, combined with pathological, hostage-seizing terrorists, seem harder to relish now, in the aftermath of the Bombay massacre of November, 2008). Khan is not averse to naming her influences, and there are nods to numerous films, from SHOLAY and 1942 A LOVE STORY to GREASE and THE MATRIX, but the presiding genii in her inspirational pantheon seem to be Subhash Ghai and Manmohan Desai, who might have dreamed up a similarly outlandish storyline and who would surely have loved to deploy, in its service, the computer-enhanced blue-screen effects to which Ms. Khan now has access. If the result is not total delight, it is solid and often clever entertainment, delivered with the kind of relentless visual wallop that has become A-list industry standard since the '90s. Indeed, this film seems, at times, like a speeding cavalcade of slick TV ads and MTV videos, punctuated by bursts of Emotion-laden dialog, all loosely strung on the stunt-wire of its comic-book-like plot.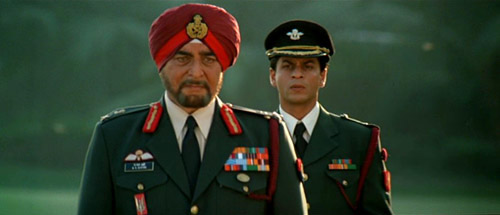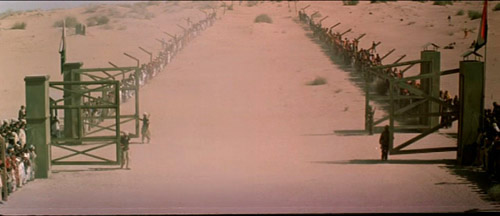 This concerns Operation Milaap ("meeting, unity, friendship"), a planned easing of tensions between India and Pakistan through the release of hapless villagers who have been imprisoned by both sides, sometimes for years, for the crime of straying across their respective borders. This exercise in photo-op détente, engineered by a visionary general in the Indian Army, is planned for Independence Day (August 15), but its execution is threatened, on the Indian side, by a psychopathic ex-army man nicknamed Raghavan (Suniel Shetty).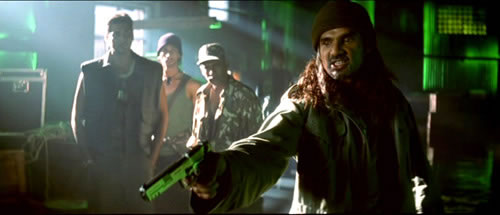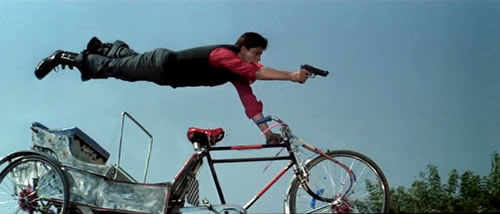 Driven by a personal vendetta against Pakistan, he has assembled a private corps of fanatical Rambo-esque guerillas, the better to use kidnapping and assassination to scuttle the peace initiative. To foil Raghavan's evil plans, Ram Prasad Sharma (Shah Rukh Khan), a heroic army captain, goes undercover for no less than three Missions Impossible: to protect Sanjana (Amrita Rao), the estranged daughter of India's highest-ranking general and simultaneously reconcile her to her father; to find and befriend his lost step-brother and step-mom; and to finish his own interrupted college education while simultaneously (and this is the hard part) mastering the hybrid sartorial and coolness codes of post-liberalization youth consumer-culture.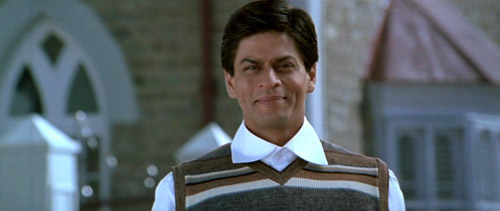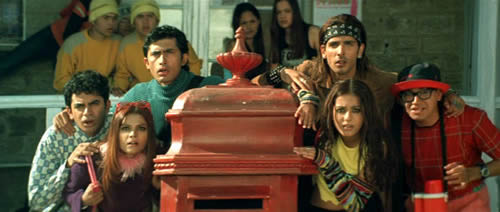 All this transpires in the setting of St. Paul's College, an improbable institution hugging a hilltop in Darjeeling, peopled entirely by Archie-esque types (jocks, beauty queens, nerds, and even cheerleaders) who have apparently migrated here from the first half of KUCH KUCH HOTA HAI. Although academic standards are apparently low enough to tolerate such party animals as the popular "Lucky" (Zayed Khan)—a.k.a. Lakshman Prasad Sharma, Ram's lost half-brother and a triple-failed student—dress codes are strict, and require, for each and every extra, almari-busting loads of designer denims, spandex, and sweats, which are displayed through the trademark F. Khan choreography of such item numbers as Main hoon na and Gori gori ("O pretty one").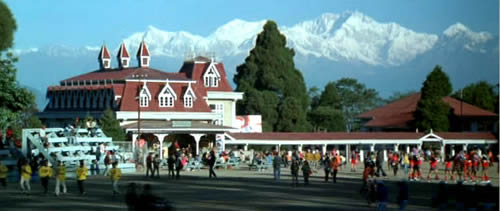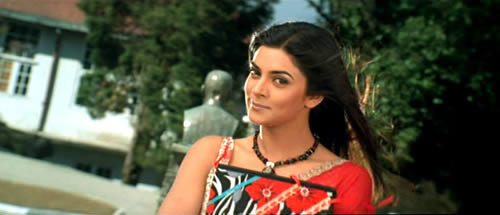 The teaching staff includes an assortment of predictable comic types—the absent-minded principal (Boman Irani), the bombastic spitter (Satish Shah), and the sexually frustrated and mongrel-English-speaking Hindi instructor (Bindu)—as well as the requisite bombshell chemistry teacher, Miss Chandni (Sushmita Sen), to whom Captain Ram promptly loses his heart.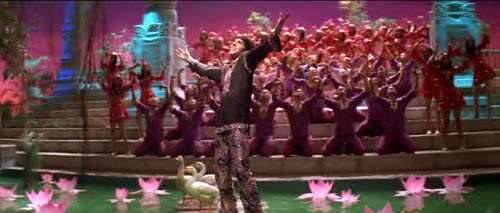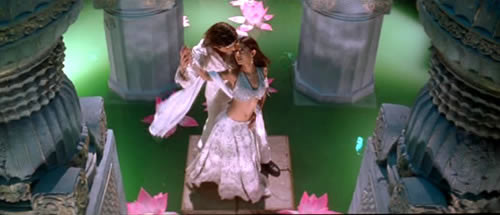 Amid a barrage of fashion fetishism, many Bombay cinematic clichés also get re-dressed—including an eye-popping disco-qawwali, replete with reflecting pools and live aquatic birds—though the reigning trope ultimately seems to be the teary-embrace-of-lost-brothers (named Ram and Lakshman, no less, and with other Ramayana references thrown in) as metonym for the healing-of-subcontinental-schisms.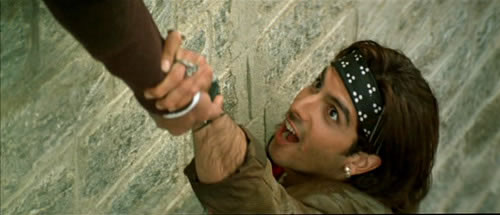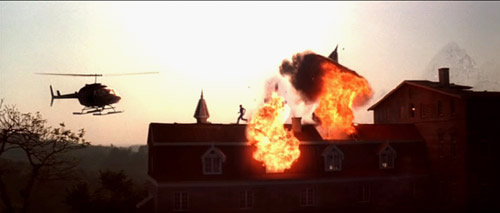 When the explosions die down, and a slightly-reformed Lucky finally matriculates together with Ram, there's a signature Farah credit sequence (in which you actually get to see the folks who did everything), set at an outdoor fair, that is about as good as the rest of the film. Maybe better….
Still, one has to admire Farah Khan's success in breaking into the Boy's Club of Bombay industry direction, and this commercially successful film shows her competence at tweaking one of its signature action-adventure/dosti-laden genres—certainly, no one could accuse her of making a "chick flick." But to see this plucky director's real genius, viewers are well advised to watch her extraordinary second film, OM SHANTI OM (2007).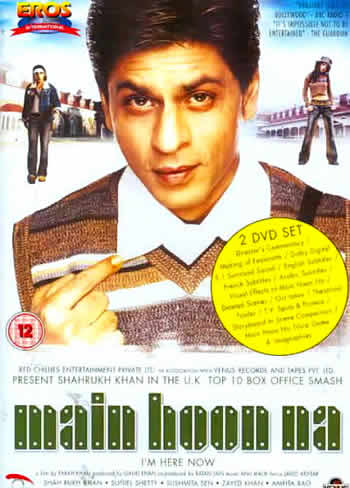 [The Eros International DVD of this film in my possession is the WORST Hindi film DVD I have ever seen. Although image quality is tolerable, and decent subtitles are provided for both dialog and song lyrics, the film is repeatedly interrupted by commercials for AKAI electronic equipment, apparently inserted during the actual running time so that short segments of the action are cut out. To make matters worse, song sequences feature a continuous scrolling ad for AIRTEL running across the top of the frame. This appalling imposition (reminiscent of the bad old days of Dubai-made pirated VHS tapes bearing the slogans of their cassette shops) on what is already a fairly messy film makes the DVD unusable for instructional purposes, should anyone be inclined in that direction. Farah and the Red Chilies folks ought to be ashamed to present their work in this format. (Eros, one suspects, has no shame.)]