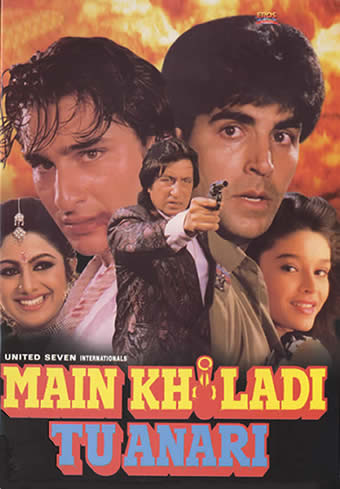 MAIN KHILADI TU ANARI 
("I'm cool, you're a chump")
1994, Hindi, 175 minutes.
Directed by Sameer Malkan. Music: Anu Malik

The special twists to this routine masala action flick are its selfconsciously clever parody of Bollywood and its fans, and its unselfconsciously over-the-top portrayal of dosti (male bosom-buddyhood). The hairy-chested Karan Joglekar (Akshay Kumar) is a hyper-macho police inspector, bent on avenging the murder of his revered elder brother (likewise a cop) by the arch criminal Goli (Shakti Kapoor). The baby-faced, long-haired Deepak Kumar (Saif Ali Khan) is a youthful cinema superstar who has grown bored with his adoring fans and generic romantic roles in "singing and dancing" (naachna-gaana) films (his first song here is a Grease-y sendup called "My Adorable Darling"). Each is a savvy "player" or operator (khiladi) in his own realm, but a naif or simpleton (anari) in the other's.

When Deepak witnesses law-unto-himself Karan trash one of Bollywood's notorious gangster-producers, it's dosti at first sight, and the beginning of an adoring apprenticeship to the older man whose ostensible purpose is to enable the star to win manlier roles ("like Sanjay, Shah Rukh, and Jackie!"). Prodded by a superior, Karan submits reluctantly, making no effort to conceal his disgust for the preening young "hero" who, moreover, quickly captures the heart of Karan's own sister Shivangi (Rageshwari). Enter Basanti (Shilpa Shetty), a buxom street dancer who is a dead ringer for Goli's murdered moll Mona, the only eyewitness to the elder Joglekar's slaying, and suddenly Deepak's expertise in the world of artifice comes in handy, as he proceeds to transform the rustic Basanti into the cabaret-dancer Mona, and then to convince her erstwhile lover that she survived his bullets, though without her memory. Basanti/Mona, now in love with Karan, becomes his mole in Goli's evil empire — a B-grade underworld of international arms smuggling (involving deals with bald foreigners named, inevitably, "Peter," as well as with a few salaaming sheikhs), corporate boardrooms with kitsch-moderne decor, and a machine-gun toting sadistic bodyguard who sports a mohawk.

Although each girl gets a romantic song with her respective hero, and the inimitable Johny Lever (as Deepak's servant Dhansukh) provides slapstick, the focus remains on the slowly-growing bond between the two men, each of whom offers the other a desired (unconsciously, in Karan's case) completeness; their budding dosti comes out (so to speak) in the climactic title song — a stamping, headbanging disco-duet that makes Amitabh and Dharmendra's famous motorcycle ride in SHOLAY seem like, well, just friendship. In the end, not even Goli's tortures can im-pair this pair. When all the knots are untied, each hero gets his girl, but perhaps more significantly, Deepak gets to don a police inspector's uniform and (literally) set his pants on fire.