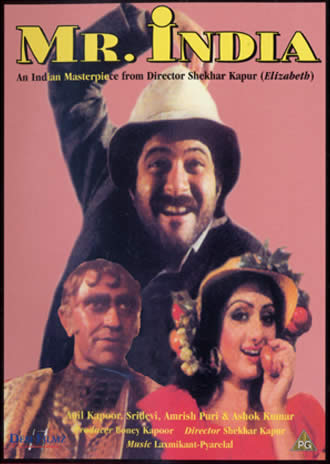 MR. INDIA (1987)
Hindi, 179 minutes.
Directed by Shekhar Kapur
Screenplay: Salim-Javed; Lyrics: Javed Akhtar; Music: Laxmikant Pyarelal; Cinematography: Baba Azmi.

This big-hearted and entertaining opus resurrects the "Fearless Nadia" era of stunt films while imaginatively parodying a medley of Bombay and Western hits—including, in the latter case, James Bond thrillers, Superman, Disneyesque fantasies like Chitty-Chitty Bang-Bang, and, of course, The Invisible Man. A huge hit, it helped launch two careers; Anil Kapoor's as a hero, and Shekhar Kapur's as the director who would go on to craft the international artfilm Bandit Queen, and the Western historical Elizabeth. Although fans of the latter two movies may be hard-put to imagine that this is by the same person ("So much for the auteur theory!," declared a cinema studies colleague), there is evident intelligence, as well as much tongue-in-cheek humor, at work in the hyperbolic sets, cool special effects, and frenetic camera work.

The film lays its hand on the table in the opening sequence: it will luridly combine harsh contemporary realities (foreign-funded terrorism, drug and arms dealing, the threat of national disintegration, adulteration of basic foodstuffs with pebbles and other fillers, and the presence of Mean People in positions of power) with ludicrous sci-fi fantasy. Within minutes of the credits we learn that all of India's latter-day woes are in fact due to the machinations of the megolomaniac Mogambo (Amrish Puri), who sports Napoleonic curls and an outfit suggestive of a Latin American dictator dressed by early-glam David Bowie. Mogambo is plotting the takeover of the Nation (and eventually the world) from an island fortress replete with zombie-like shocktroops, tinkertoy robots, and a bubbling acid pit. Like many a villain before him, he has a trademark line that accompanies evil tidings: "Mogambo khush hua!" ("MOGAMBO IS HAPPY!," scream the subtitles). He also has warhead-equipped missiles ready to launch at major Indian cities, but is holding off his assault in order to acquire a more subtle weapon: the formula for a device that makes the wearer invisible. This was discovered twenty years earlier by (of course!) an Indian scientist , Jagdish Verma, who was murdered by Mogambo's agents; his secret was preserved by an absconding lab assistant. Verma's orphaned son, Arun (Anil Kapoor), is now a threadbare violin teacher who uses his meager earnings from "tuitions" (private lessons) to run an informal orphanage of adorable ex-street kids. They all live in a to-die-for beachfront house in Bombay (okay, they're behind on the rent), assisted by Arun's comical cook, Calendar (Satish Kaushik). Although Mogambo doesn't know that Arun is Verma's son, he wants the beachfront house for smuggling and conspires to get the happy tribe evicted. To raise money, Arun lets out one room to a paying guest, landing beautiful Seema (Sridevi), a reporter with the newspaper Crimes of India (!) who, by the way, hates children. Not to worry; within three hours she will have a change of heart, Arun will get a fantastic legacy from his long-dead dad, and Mogambo and his evil empire—after wreaking much mayhem—will be toast.

Pleasurably contributing to this predictable denouement are clever sight gags, way over-the-top song picturizations, and excellent special effects in the invisibility sequences. That none of this is to be taken seriously (except, of course, at periodic moments of tear-jerking pathos) is signalled by rampant parody: an early song sequence in which Arun, Seema, and the children fight over a soccer ball, ingeniously weaves the melodies and doctored lyrics of a dozen previous filmsongs into an operatic duel, and Seema's impersonation of the cabaret dancer Miss Havaaii ("Breezy") invokes Carmen Miranda (among others); for another gang-busting adventure, she cross-dresses as Chaplin's Tramp. Mogambo's evil henchmen are named Captain Zorro and Dr. Fu Manchu. The voyeuristic fantasy of invisibility is milked for all its worth during the erotic song "I love you," when unseen Arun wooes the writhing and wet-saried Seema—who barely tolerates the scruffy violin teacher, but adores his mysterious and heroic alter-ego. Indeed, invisibility works wonders: Mr. India's echoey voice sounds a lot like Amitabh Bachchan's, and his physical strength is enhanced too, possibly due to the grace of Bajarangbali (the monkey god Hanuman as club-wielding folk hero), whose golden statue Arun rescues from an evil English buyer (this at a time when stolen South Indian Natarajas were turning up in Western museums). Although the songs are nothing special, the Salim-Javed dialogs do not disappoint, and the invisible director, like his visible monkey, manages to see (and show) much real social evil while providing a satisfying fantasy romp.