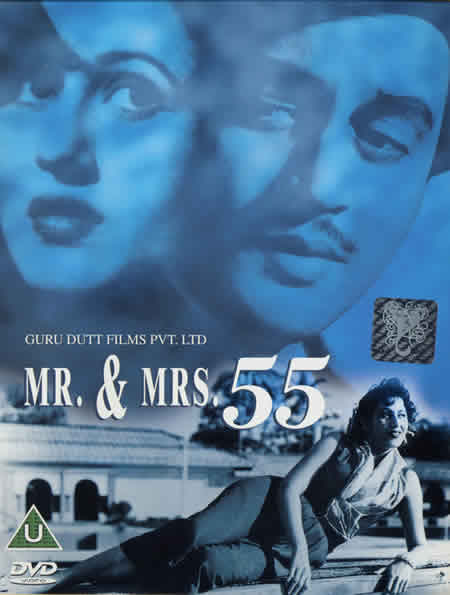 MR. & MRS. '55
(1955, Hindi, 157 minutes)
Produced and Directed by Guru Dutt
Dialogues: Abrar Alvi; Lyrics: Majrooh Sultanpuri; Music: O. P. Nayyar; Cinematography: V. K. Murthy; Art Direction: D. R. Jadhav

This clever romantic comedy is one of the lighter products of the Guru Dutt team that would later craft such heavyweight masterpieces as PYAASA and KAAGAZ KE PHOOL. Evoking debates over social legislation and women's rights in the immediate post-Independence period, the narrative pokes fun at upper-class liberal reformers who seek to impose their ideology on society at large. Since the reformers in question happen to be women, the film delivers an essentially reactionary message vis-à-vis gender: its Westernized, bespectacled feminists are man-hating harpies out to deprive "good" Indian women of the simple happiness they ostensibly derive from traditional roles as cooks, servants, and baby-machines for their menfolk. The predictability and (now) political incorrectness of this theme (for which the director perhaps atoned in his probing and female-centered meditation on gender inequity, SAHIB, BIBI AUR GHULAM), is offset by the witty plot, atmospheric mise-en-scène, fine ensemble acting, strong score, and inventive camerawork—all trademarks of a Guru Dutt production.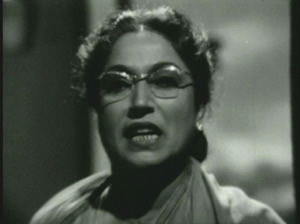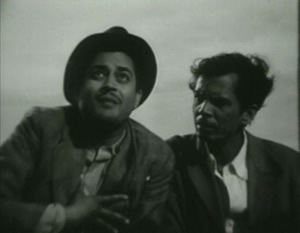 After the credits (superimposed over a newspaper front page that alludes to a climactic courtroom scene) the film opens with feminist firebrand Sita Devi (Lalita Pawar) presiding over a meeting in support of a proposed divorce bill that will give women more scope to terminate marriages. Though parliamentary passage of the bill appears imminent, Sita's cadre of upper-class housewives seem more interested in debating the relative merits of skin-softening facials, and her unmarried niece and charge, Anita (Madhubala), slips out at every opportunity to drool over a tennis pro named Ramesh. Anita's escapades lead to a chance meeting with the impoverished Preetam Kumar (Guru Dutt), who instantly falls in love with her. Preetam is an out-of-work cartoonist (the film's few glimpses of his drawings feature the handiwork of famous satirist R. K. Laxman) whose single rumpled suit and fedora, as well as his silence throughout the first two scenes (finally broken with the song Dil par hua aisa jadoo, "Such a spell has been cast on my heart"), contribute to the Chaplinesque quality of his character—though understandably Guru Dutt's version, unlike Raj Kapoor's "Raju," evokes the soulful and melancholic rather than the manic and clownish sides of the Tramp.

Sita Devi's plans to mold her niece according to her own ideology as an "independent" woman are further frustrated when it is revealed that Anita's late father—anticipating the aunt's designs—stipulated in his will that his daughter must marry within a month of her 21st birthday, or lose her inheritance of seven million rupees. With the deadline fast approaching, the would-be heiress eager for conjugal bliss (signaled by the song Thandi hawa kaali ghata, "A cool breeze and dark clouds," with which she attempts to woo Ramesh in a swimming-pool scene), and no Suitable Boy in sight (Ramesh having spurned Anita's proposal and departed for Wimbledon), the scheming aunt contracts a marriage of convenience—to be terminated after one month—with a hired groom, who is expected to be poor but educated, and willing to forego further contact with his bride after their cursory civil ceremony. In fact, he turns out to be Preetam, who is uninterested in the promised fee but hopeful that Anita will fall for him too. She of course does, eventually, but not before the plot has taken several unpredictable twists, in part through the machinations of Preetam's rakish friend and benefactor, the newspaper photographer Johny (Johny Walker). The latter has his own love interest—a secretary at the newspaper office—whom he woos with the song Jaane kahan mera jigar ("God knows where I've lost my heart").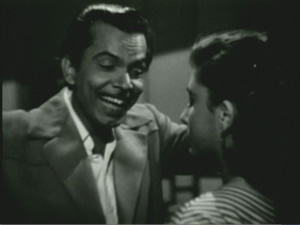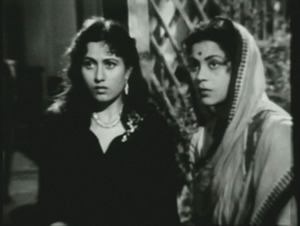 For those able to pardon (or laugh at) gender stereotyping and an implicit appeal to male fears that women's rights will threaten family values—fears that have not yet been laid to rest in the ensuing half century—there's plenty of good fun and good music here, including notable vocal performances by Geeta Dutt, the director's wife. Simple yet highly inventive song picturizations are enhanced by fine use of outdoor locations—Bombay teashops, bus stops, and a swimming pool. Madhubala looks radiant in Murthy's chiaroscuro framing, and Guru Dutt himself appears lovably wistful but not yet tragically doomed.

[The Yash Raj Films DVD of MR. & MRS. '55—like the company's other Guru Dutt offerings—features only a mediocre-quality print; one hopes that better footage survives somewhere. Though the subtitles miss the finer turns of Abrar Alvi's witty dialogue, they are otherwise adequate and are provided for song lyrics as well.]