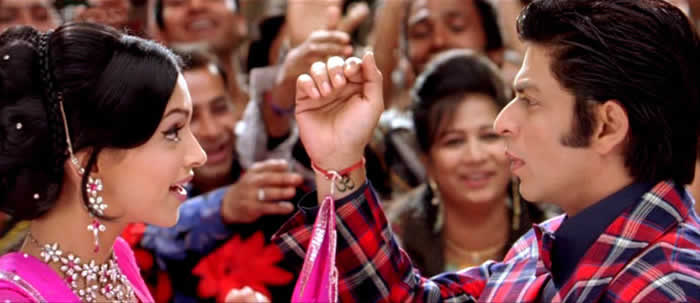 OM SHANTI OM
(2007, Hindi, 162 minutes)
Directed by Farah Khan; Produced by Gauri Khan and Red Chilies Entertainment Story: Farah Khan; Screenplay: Mushtaq Sheikh and Farah Khan; Dialogue: Mayur Puri; Lyrics: Javed Akhtar; Music: Vishal-Shekhar; Choreography: Farah Khan; Cinematographer: V. Manikandan; Sound Design: Nakul Kamte; Art Direction: Sabu Cyril; Costumes: Karan Johar, Manish Malhotra, Sanjiv Mulchandani
Farah Khan's second film as director is an extravagant tribute to the industry she grew up loving, and in which she has—after the massive success of this film—confirmed her position as a leading director (becoming the first woman to achieve this stature). Its complex and ingenious storyline manages to simultaneously succeed in three registers: as delicious parody, sincere homage, and (in its own right) powerfully engaging melodrama. Yet to say all this is barely to hint at the delights that OM SHANTI OM (hereafter "OSO") offers to Hindi cinephiles. Liberally peppering the screenplay, from the get-go, with allusions to films, stars, and directors of the past, with witty double entendres, and with fully-acknowledged tropes, the director and her team seem to wink at us and declare, "Now watch as, through the magic of Hindi cinema, we make you care about these timeworn clichés all over again!" That they pull this off, in spades, to the accompaniment of a uniformly memorable score and gorgeous visuals, is an amazing achievement that results in one of the most exuberantly entertaining films in recent memory.
  On the level of narrative, OSO is a story of betrayal, murder, and revenge featuring a reincarnated hero. Merely to say this, in the Bombay cinematic context, immediately brings to mind (at least) two watershed predecessors: 1958's MADHUMATI, starring Dilip Kumar and Vyjayanthimala, the most commercially successful film of the great Bengali director Bimal Roy; and 1980's KARZ, with Rishi Kapoor and Simi Grewal, one of the biggest hits of Subhash Ghai; indeed, both films are lovingly referenced. The latter was clearly a key text for director Khan as a youngster, and OSO opens with an imaginary and digitally-tweaked recreation of the shooting of one of its most celebrated musical numbers: the disco extravaganza "Mere umar ke" ("O youths of my generation!") performed by silver-lamé suited Rishi Kapoor and a bevy of item girls atop a giant rotating 33-rpm record, being filmed by director Subhash Ghai (in a Ghai-like cameo as himself), and with both Farah and Shah Rukh placed among the on-set crowd of adoring fan-extras singing along with the song's chorus (which is, of course, the mantra-phrase "Om shanti om"), and then dissing each other about the unlikelihood of one day becoming, respectively, a director and a star—and all this, mind you, in a five-minute teaser-plus-credit sequence. (Despite the Ghai tribute here, the film confirms that director Khan's work so far may fit best in the cinematic lineage of the great Manmohan Desai, and, as with one of his frenetic multi-starrers, you are well advised not to blink during OSO's opening sequence —or thereafter.)

 

The theme of the recurrent recycling of lives and storylines—a reality of the modern film industry that echoes Indian metaphysics and folk narrative—continues, and we will soon find our principal characters involved in shooting a spectacular movie titled "Om Shanti Om," a drama involving rebirth, the production of which will be aborted and then resumed three decades later by the reincarnation of one of them. Given that the duplicate hero is named, in both births, Om, and is in love with/haunted by a single heroine named Shanti, the title formula acquires yet another layer of meaning.

 

Hero number one is Om Prakash Makhija (Shahrukh Khan), a peppy, film-smitten "junior artist" (bit player or extra) in a late-'70s film factory called "RC Studios," the ostensible site of the soundstage location for the opening KARZ shoot. But the allusion, of course, is to Raj Kapoor's "RK Studios" of two decades earlier, and its campus is a wildly nostalgic evocation of the long-dead studio era in Bombay cinema, with fountains, gardens, and gorgeously-lit art-deco buildings and statuary: a pastel-tinted revivification of the "Ajanta Studios" of Guru Dutt's KAAGAZ KE PHOOL (1959).

 

Om and his indefatigable buddy Pappu (the charming Shreyas Talpade) wander blissfully through this theme-park in polyester-mod attire (Om's includes a Desai-like pendant of Hindu, Muslim, and Christian talismans), appearing as extras in parodied filmic scenes, while dreaming of stardom and, equally improbably, of a match-up for Om with his fantasied "girlfriend," the starlet Shanti Priya (radiantly incarnated by newcomer Deepika Padukone, albeit this successful fashion model is a good ten kilos too light for a '70s heroine), and interacting-cum-overacting with Om's adoring "junior-artiste" mom (Kirron Kher), who has never quite recovered from her failure to secure the role of Anarkali in MUGHAL-E-AZAM (1960). Om's dreams are stymied, Pappu feels, by his awkward surname (makhi means "housefly" in Hindi) and he urges him to assume the moniker "Kapoor," like that of their idol, the stocky and bouffant-coifed Rajesh Kapoor (Jawed Sheikh).

 

But Om's fortunes take a turn when he and Pappu, doubly impersonating Manoj Kumar (who briefly protested this satire of his patriotism and penchant for hiding his face behind one raised hand!), crash the premiere of Shanti's new film Dreamy Girl. Becoming entangled in her diaphanous dupatta, Om gets to gaze close-up at his beloved to the accompaniment of the lovely ballad "Ajab si" ("In your eyes, there's a strange magic"). This is soon followed by the film-within-a-filmsong "Dhoom taana," ostensibly from Dreamy Girl, but in fact a tour-de-force of period-parodying choreography and costumes, glittering sets, and digital effects that seamlessly pair Shanti with the appropriately youthful Sunil Dutt, Rajesh Khanna, and Jeetendra—whose place, in each sequence, is then assumed in fantasy by the spectatorial Om.

 

And when he subsequently saves Shanti from an out-of-control haystack conflagration during an outdoor shoot (recapitulating Sunil Dutt's reputed rescue of Nargis on Mehboob Khan's MOTHER INDIA set, which led to their love and later marriage), and then convinces her that he is a star of Tamil cinema (via a hilarious sendup of a Rajnikant-style "western"), she favors him with an evening of her company: a dream date that he and Pappu mount on a soundstage to the accompaniment of the romantic "Main agar kahoon" ("If I say…"), offering up another lavish bouquet of cinematic quotations (including, to my eyes at least, Gene Kelly's similar wooing of Debbie Reynolds in SINGIN' IN THE RAIN).

 

Too soon, Om's romantic hopes are shattered by the discovery, through an accidentally-overheard dressing-room conversation, that Shanti loves another: the dashing producer Mukesh Mehra (Arjun Rampal), an ambitious cad to whom she has unwisely given both her heart and her body, though he has kept their "marriage" a secret in order to pursue a more advantageous engagement to a film-financier's daughter.

Mehra dreams of making "Om Shanti Om," the most lavish Bombay talkie of all time, with a palatial set suggestive of the European baroque (and of Judge Raghunath's mansion in AWARA), but when this is thwarted by Shanti's revelation that she is pregnant with his child, the producer adopts the fiendish strategy of eliminating both her and the set of his now-doomed feature. In the truly breathtaking sequence that ends the first half of the film, Om tries heroically to save her, only to himself expire from multiple injuries—in the very hospital in which superstar Kapoor's wife is simultaneously giving birth to a son. Amazingly, the Desai-like climactic collision of wildly improbable coincidence and high tragedy leaves both unscathed, and ready for more action "thirty years later," after the Interval. 

 

 

 

 

 

 

 

 

 

 

 

 

 

 

 
 

 

 

 

 

 

 

 

 

 

 

Now, the hapless Om Prakash has become superstar Om Kapoor, a.k.a. "O.K.," the callow and self-centered scion of a film dynasty, ensconced in the very mansion outside which (in his former life) he delivered a mock Filmfare award-acceptance speech to a group of street urchins. His face looks the same, albeit with a less-greasy hairstyle, and his wrist tattoo of "om" has mysteriously endured as a shadowy burn scar.

 

His body, however, has morphed—as those of all Bombay heroes did beginning in the late '80s—into a Buff Hunk (a real physical transformation that reportedly took the forty-two-year old SRK six grueling weeks of training to effect). The results are shown off in the "item" song "Dard-e-disco" ("The pain of disco"), which O.K. insists on inserting as a "dream sequence" into the climax of a hokey melodrama in which he plays a blind and deaf cripple attending his beloved's marriage to another man. Costumed by SRK-devotee and director Karan Johar, this pounding take on Bombay cinema's recent fetishization of the male body is (like OSO in general) simultaneously hilarious parody and exemplary specimen-of-the-genre.

 

But like the "Om shanti om" song in KARZ, it also triggers the hero's frightening flashbacks to his former life and death, which intensify when he attends a location shoot—for a cheesy superhero flick called "Mohabbat Man" ("Love-Man")—in the burned-out ruins of RC Studios. The alternation of campy comedy and gathering drama continues through an amazing sendup of the Filmfare awards (complete with good-spirited cameos by Abhishek Bachchan and Akshay Kumar, spoofing themselves), at which O.K. wins "Best Actor," followed by a celebrity bash that (with thirty-one real stars in boogeying attendance during the wildly-danceable song "Deewangi deewangi" ["craziness"], with another reprised chorus of "om shanti om") considerably outdoes Manmohan Desai's similar party scene in NASEEB.

 

Yet this "item," too (which drove Indian theater audiences into a frenzy of cheering as each new star appeared), smoothly returns to the developing plot, with the sinister entrance of Mukesh Mehra, now gray-haired and foreign-returned (after a successful career as a producer in that Other big film industry) and eager to undertake Om's next project. The hero recognizes his and Shanti's nemesis, and soon finds his way back to Mother Makhija's flat, to reunite with her and with Pappu; Kirron Kher's teary performance here naturally evokes Durga Khote's in KARZ, as a seemingly demented old woman who has clung for decades to the belief that her long-dead son will one day return.

 

It remains to bring the villain to justice…but how? The evidence of a reincarnated witness will hardly hold up in court! Om and Pappu contrive a scheme that requires convincing the producer to bankroll a revival of the Om Shanti Om project, complete with a rebuilt set in the blackened studio ruins, and Sandhya/"Sandy," a clueless young thing from Bangalore, drafted to impersonate the ghost of Shanti.

 

The dazzling final song, "Daastaan-e-om shanti om" ("The saga of Om Shanti Om"), in which the hero recreates Shanti's betrayal and murder, occurs on the set's grand staircase, blending melody and lyrics that skillfully reference those of the comparable song sequence in KARZ ("Ek haseena thi," "There was a young beauty") along with visuals that seem to nod at Andrew Lloyd Weber's Phantom of the Opera. The surprising denouement that follows, however, amply displays the director's own karz ("debt") to the great Bimal Roy and his haunting MADHUMATI.
OSO as narrative and spectacle is such engrossing entertainment that its pure pleasure seemed, on my first few viewings, to overwhelm any critical reflection, yet some intriguing subtexts have since come to mind. Farah Khan's rise from innovative choreographer (e.g., of DIL SE and numerous other films, and of the London and Broadway musical "Bombay Dreams") to leading director, has been brokered by her friend Shah Rukh Khan, whose production company financed both her films. Their close relationship is palpable in the film's loving treatment of its star, and one may even detect a hint, in the respective incarnations of Om, of SRK's own biography: his metamorphosis from a Delhi-based unknown, lacking a film-dynasty pedigree, to King Khan, the dominant male star of Bombay since 1995.

Then, too, the film's insider parody of the Hindi film industry, densely intertextual and deliciously smart, stands in stark contrast to the cheap-shot satire of a film like Deepa Mehta's HOLLYWOOD-BOLLYWOOD (2002), which panders to every Western journalistic cliché about the alleged "mindless dream factories" of Bombay—the same sort of condescension exemplified by the odious chapter on the industry in Pico Iyer's pop-travelogue Video Night in Kathmandu (1989). Instead, OSO affectionately celebrates the energy and heartbeat of the cinema that billions love, and its principals manage to combine a kind ofdesi innocence with a plucky pride. Everything about the film exudes confidence: Farah Khan's in her director's role (ironically exemplified by her ongoing gags about the irrelevance of directors in star-driven Bombay, even as she crafts what is, from start to finish, quintessentially a director's film, with every frame carefully filled with remarkable details), and the industry's confidence in itself as purveyor of glossy and globally-consumed entertainment that occasionally, as here, rises to greatness. It is no secret that most people in the Bombay film business despise the media label "Bollywood," with its suggestion of a derivative phenomenon, and SRK has publicly stated this (in an interview in Nasreen Munni Kabir's documentary, The Inner World of Shah Rukh Khan). Yet the term has now acquired too much global brand recognition to be altogether avoided. And so it is a particularly nice moment in OSO when the slimy Mukesh Mehra, power-lunching with Om Kapoor in a restaurant looking out at the Bombay skyline, responds to the star's calling him "Mukesh" by saying, "Call me Mike. Everyone in Hollywood does." Then, when "Mike" directs a remark to "Om," the latter ripostes, "Call me 'O.K.' Everyone in …Bollywood… does"—with a slight pause that seems to both savor and distance this label—which is here strategically deployed in a verbal duel with a traitor who has abandoned both Shanti and the Motherland. Vah! How else to end than with: Jai Hind! and Jai Farah Khan!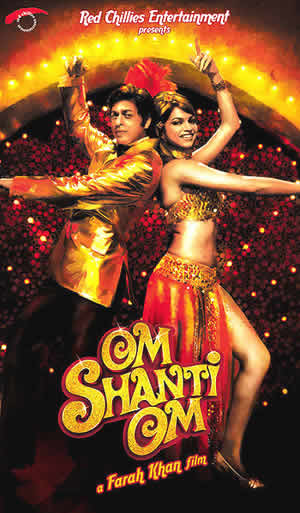 [The Eros Entertainment 2-DVD set of OM SHANTI OM features good sound and image quality, the usual "extras" disc, and, via the main one's "set-up" menu option, an audio director's commentary that is unusually interesting (though Farah sounds, as one might imagine, a bit tired). Subtitles accompany songs as well as dialog, and are mostly fine, though one inexcusable gaff (in the MOTHER INDIA parody scene) results in the unrecognizable butchering of the names of Satyajit Ray, Bimal Roy, and Guru Dutt! Whoever is responsible for this crime surely deserves retribution in a future life….]