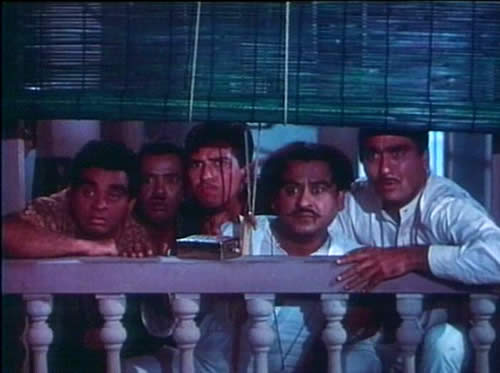 PADOSAN
("the girl next door")
1968, Hindi, 157 minutes
Directed by Jyoti Swaroop
Produced by Mahmood Ali and N. C. Sippy
Based on the Bengali story Pasher Bari by Arun Chowdhury; screenplay, dialog, and lyrics: Rajinder Krishan; music: Rahul Dev Burman; director of photography: K. H. Kapadia

The chief virtue of this screwball comedy (which the credits announce as the "first ambitious motion picture" of Mahmood Productions) is that it affectionately spoofs a world seldom seen in commercial films: the milieu of middle class, north Indian Hindus in a provincial town. As in a Shakespeare comedy, or a prahasana (farce) in Sanskrit drama, the various types portrayed—the good-hearted simpleton, the lascivious aging Rajput, the bumbling artistes of a low-grade theatrical troupe and their effusive, paan-chewing director, and the Hindi-butchering South Indian dance teacher—are all recognizable despite their exaggerated caricatures, and their language—richly spiced with (often sarcastic) folk idioms and humorous allusions to Hindu mythology—is likewise on-target. Add strong performances by a talented cast who all appear to be having a good time (including producer Mahmood as the much-maligned Madrasi), and you get a colorfully beguiling if light-weight entertainment.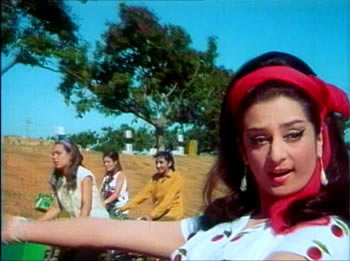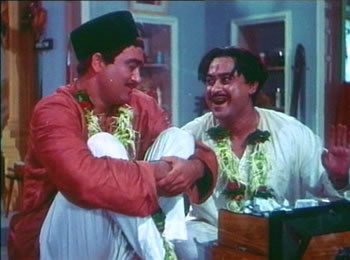 The aptly-named Bhola ("simple," "guileless," played by Sunil Dutt), a 26-year-old who draws his life-lessons from a pious Sansar Shastra("textbook on worldly life") written in Sanskritized Hindi, becomes disgusted with his Mama or maternal uncle (Om Prakash) when the latter, a weightlifting Rajput who is estranged from his wife, plots a second marriage to a young nymphet. Having realized that, according to the Shastra, he himself ought to be entering the grihasth ashram or life-phase of a married householder, Bhola sets out to find a suitable girl, and promptly falls head-over-heels for leggy, lashy Bindu (Saira Banu) through a chance meeting by a lake (this after Bindu's standout introductory song, Mein chali, "Off I go," sung as she and a chorus of girlfriends cycle through the countryside). Moreover, when Bhola moves in with his beloved aunt (his Mami, the estranged wife of the uncle) he discovers, to his delight, that bombshell Bindu is his padosan ("female neighbor"), and that their windows face each other across a narrow lane. Now the only hitch in Bhola's marriage plans is that (a) Bindu thinks (with some justification) that he's an idiot, (b) she is being assiduously courted by her obsequious dance instructor, a shaven-headed, idli-eating Tamil brahman named Pillai (Mahmood, invoking every politically-incorrect North Indian stereotype of southerners), and (c) she is the very girl with whom his dirty old uncle is negotiating a match.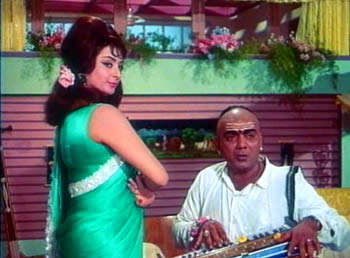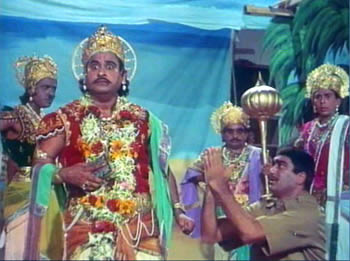 To overcome these obstacles, Bhola enlists the aid of his friend Guru Vidyapati (Kishore Kumar), the director of a tacky local drama troupe that alternates Persian romances like Majnu and Laila with Hindu mytho-historical plays. Guru decides that the way to this woman's heart is through her ears, but since Bhola is (among other defects) tone deaf, Guru must (via a charming spoof on the playback convention) provide his singing voice, as he woos Bindu across the alley with lovesongs like Mere samnewali khidki ("The window opposite mine," which became a hit, especially for urban boys singing to girls in neighboring buildings—a further novelty here is that, although this is obviously not synch-sound, famous singer Kumar is in fact providing the voiceover). After various plot twists (and eight songs, including a hilarious duel between the two maestros, Ek chatur naar—"a clever woman"—that parodies Hindustani and Carnatic styles of singing), Bhola gets his bride, and the hapless Tamilian is left playing the shehnai at what should have been his own shadi.

[The Sky Entertainment DVD of PADOSAN is of high quality, though its songs lack subtitles.]