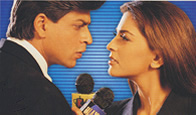 PHIR BHI DIL HAI HINDUSTANI 
("But still my heart is Indian")
2000, Hindi, 150 minutes
Directed by Aziz Mirza. Music: Jatin-Lalit. Lyrics: Javed Akhtar

After its titular nod to Raj Kapoor's famous themesong in SHRI 420, this stylish film plunges headlong (literally) into a video-saturated contemporary India in which everyone, it seems, is a "420" (a fraud). Its frenzied course veers erratically between dark satire of media manipulation and political corruption, horrific recreations of communal riots, a rape and murder and its coverup, and routine police brutality, and slapstick comedy and slick, predictable romance. The film's overall cynicism is leavened by glossy locations and a Capra-esque (and Kapoor-esque) feel-good ending, in which the Indian (middle class) Everyman, aroused by conscience-stricken TV journalists, marches en masse to defeat the forces of corruption and tyranny—and cheer the engagement of the two principals.

Ajay Bakshi (Shah Rukh Khan) is a celebrity reporter for upstart network K-TV, and the darling of its boss Kaka Chowdhary (Satish Shah), a self-made millionaire who once operated a teastall at rival network Galaxee. Through his frenetic one-upmanship and yuppie megalomania, Baksi succeeds in making himself a household word, until Galaxee chief Mr. Chinoy (Dalip Tahil) plots to outscoop him with his own glamorous anchor Ria Banerjee (Juhi Chawla). That romance will ultimately bloom between these high-adrenalin rivals is a foregone conclusion, but there are some interesting twists along the way. Both networks are shown working hand-in-glove with an all-too-believably amoral Chief Minister (Govind Namdev) as well as his principal rival Ramakant Dua (Shakti Kapoor—made up to resemble Bal Thakeray), and their brutal goondas. The ace reporters, bought off with shiny new convertibles and beachfront homes, have no scruples about lying on camera about instigated riots and rigged elections, but are eventually pushed over the edge by (tellingly) a middle-class father's tale of the violation and murder of his daughter by an influential "Gandhian industrialist," who happens to be Dua's brother. In this world in which the total criminalization of the government, police force, and mass media is simply a given, real criminals appear merely comical, and so the hero and heroine are assisted by a bumbling underworld don, Pappu Junior (Johnny Lever), with a ghetto-king wardrobe and a secret lair modeled (as he announces) on a set from a James Bond movie.

Despite its disjunctures, the film abounds in smart bits, often presented as fleeting visual and verbal vignettes: during the opening credits, Khan lip-synchs the title song against a fast-changing backdrop of contemporary Indian contrasts (vegetable vendors yakking into cell phones; models posing against stylish scrims that collapse to reveal villagers herding buffaloes); likewise, the climactic scheme to mesmerize the nation with a live telecast of a corporate-sponsored execution provides outrageous sight-gags (e.g., a barely-glimpsed billboard parodying the slogan "another Kodak moment!"). Hindutva gets knocked in an ironic send-up of Vande Mataram which plays over gruesome scenes of rioting and a Vedic sacrifice "for world peace" performed by the ruthless Dua. Then again, in a film in which only bad guys say "Jai Hind," the flag-waving finale seems (like a number of other jarring juxtapositions) a perhaps too-odd masala mix.