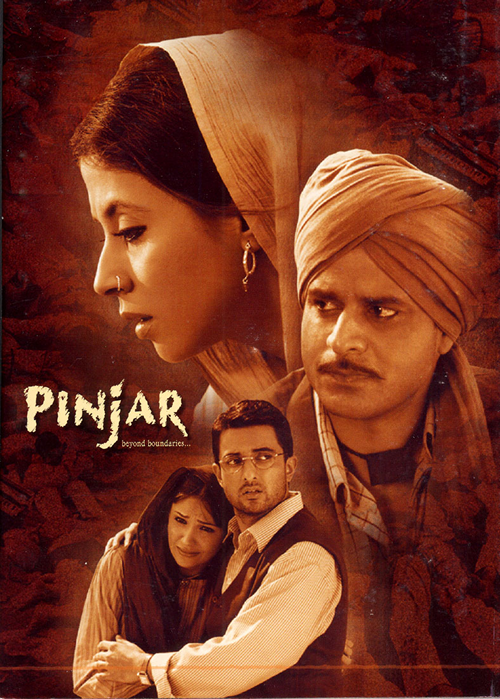 PINJAR
("the cage/ the skeleton")
Hindi, 2003, 183 minutes
Directed by Chandraprakash Dwivedi

Produced by Lucky Star's Entertainment Ltd.
Screenplay: Dr. Chandraprakash Dwivedi; Dialogues: Amrita Pritam and Chandraprakash Dwivedi; Choreography: Rekha and Chinni Prakash, Bhushan Lakhandri; Art direction and costumes: Muneesh Sappel; Cinematography: Santosh Thundiyil; Lyrics: Gulzar; Music: Uttam Singh

Based on a novel by Punjabi writer Amrita Pritam, this visually rich but ideologically and emotionally uneven film by a first-time director takes on a serious historical subject rarely treated in mainstream cinema: the abduction of thousands of Sikh, Muslim, and Hindu women by men of the "other" religious community, as part of the violence, looting, and "settling of scores" that accompanied Partition. The fate of these abducted women ranged from rape and murder to "conversion" and marriage, and subsequent efforts by both the Indian and Pakistani governments to locate and "repatriate" them did not always go smoothly: many families refused to take back "dishonored" daughters who would (in the context of dominant patriarchal ideology) allegedly bring disgrace to the clan (this scenario naturally evokes the Ramayana, and the film underscores this link with a character's name, a plaintive if ambiguous bhajan, and the motif of a ring presented as a token of recognition by an unlikely rescuer), and in some cases "rescued" women chose to stay with their abductors and new families. The anguished adjustment of survivors of abduction was thus an extreme magnification of the pain that women in traditional households routinely endure in the aftermath of "normal" marriage—their own personal and wrenching "partition" from the world of their birth, and their absorption into a new, challenging, and sometimes hostile environment. Although Pinjar's unusual focus on one woman's trauma and subsequent survival at times permits such an ideologically progressive and universalizing reading (e.g., in the folkish song Charkha chalati Maa, in which a mother laments the fact that daughters must leave their homes and take "a stranger's hand," while sons inherit "the upstairs suite"), the film's visual code and its adoption of a one-sided perspective on the abduction phenomenon also gives it (in the contemporary Indian context) a regrettably reactionary dimension. 

As the film opens in August, 1946, the gathering clouds of a rumored Partition of the Punjab cannot dim the sunny life of vivacious Puro (Urmila Matondkar) and her well-to-do family. Doted on by her brother Trilok (Priyanshu Chatterjee), who is a law student and Congress activist, Puro is betrothed by her stern but loving father Mohanlal (Kulbhushan Kharbanda) to Ramchand (Sanjay Suri), the son of a family friend. Bespectacled but handsome, the soft-spoken Ramchand is a musician and broadminded aesthete who is translating Valmiki's Ramayana into Urdu and Ghalib's Diwan into Sanskrit (the former project is commendable, the latter somewhat bizarre). Although thoughtful period details abound in the mise-en-scène, the emotional feel of the slick and saccharine idealization of family life in the film's first half (especially in the over-choreographed wedding numbers Maar udari and Chudiyon ki tokri) is anachronistic and unsettling, suggesting, say, Hum Aapke Hain Koun…! meeting Hey Ram. Ramchand's soulful rendition, accompanied by his sister Lajo (Sandali Sinha) of a devotional song about Sita's fire ordeal (Seeta ko dekhe)—a song that tactfully empathizes with Sita's suffering while not making Ram look too bad—prefigures the fate of the film's main heroine, as well as that of Lajo herself.

For alas, only days before her planned wedding to Ramchand, Puro is seized and carried off on horseback by the swarthy and brooding Rashid Sheikh (Manoj Bajpai), who is both infatuated with her and bent on avenging his family's honor. The Sheikhs (who are prosperous Muslim farmers, but clearly not of the same social or educational level as Puro's urbane Hindu-Sikh clan) claim to have been cheated out of land and to have had a daughter stolen and raped by Mohanlal's grandfather. Rashid however, is a gentler type who desires an honorable marriage with Puro and suffers mightily over her refusal to reciprocate his feelings, her verbal abuse of him, and his own gnawing guilt over her kidnapping. Although (like Ravana) Rashid refrains from forcing himself on Puro, Mohanlal (in a chilling scene) is summoned by Rashid's uncle and given to understand that she has been dishonored and that her family had better hush up the matter if they value her life. Outnumbered by menacing Muslims (for this is the western portion of Punjab that will soon become Pakistan), Mohanlal swallows the insult and tries to quietly substitute Puro's younger sister Rajjo (Ishaa Kopikar) as bride, spreading the story that Puro suddenly expired. The intended groom Ramchand, however, gallantly refuses to marry (a departure from the novel, in which he accepts the substituted bride) and instead gives Rajjo to his own younger cousin, even as Trilok weds Ramchand's sister Lajo. Puro, for her part, manages to escape from Rashid's house one night and returns home, only to learn (in what is perhaps the film's most powerful scene) that her parents will not take her back; in shock and horror, she numbly and unwillingly "accepts" a loveless marriage to Rashid and the hated Islamic name Hamida, which is tattooed on her arm.

Worse trials ensue: an unwanted pregnancy that ends in a painful miscarriage, an inevitably poisoned relationship with Rashid (and recurring fantasies of the comely Ramchand), and the ongoing pain of never being able to see her beloved family. And when Puro finds some solace in nurturing the infant son of a mad Hindu woman (a cameo by Seema Biswas) who died in childbirth, the baby is cruelly taken from her because the elders (here, of a Hindu-majority village) do not want the child to be raised by a "Muslim." Meanwhile, Trilok (who knows that his sister was abducted) makes his own inquiries and takes a kind of revenge on Rashid (who, ridden by guilt, refuses to fight back). Then comes Partition and the massacre and ensuing mass flight of Hindus and Sikhs. In the confusion of refugee caravans and camps, the surviving members of Mohanlal's and Ramchand's families endure the further catastrophe of a second abduction—that of the pregnant Lajo, Trilok's wife. Learning of this, Puro vows to find and rescue her sister-in-law and Rashid agrees to help her. This leads to a final, strained subplot culminating in an emotional reunion in Lahore, in which Lajo and Puro—unlike most of the abducted women of 1947—each gets to choose her own future.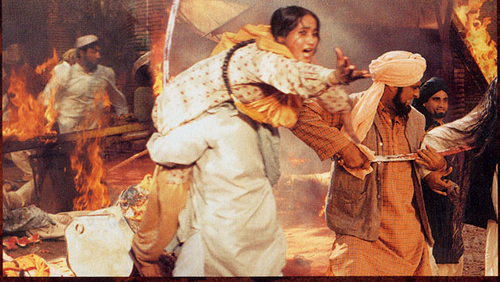 If Pinjar takes a step forward on the gender front, it is deplorably regressive on the communal one. That several (generally positive) Indian reviews of the film praised its "fair" and "even-handed" treatment of this issue seems to me sadly indicative of just how skewed "mainstream" perspectives have become in saffronized post-'90s Hindustan. Although the film accurately portrays the integration of Hindu and Sikh communities in pre-Partition (or indeed, pre-1980s) Punjab, and several of its characters lament the looming division of their homeland due to the machinations of politicians and their misguided followers, Pinjar is relentless in its negative "othering" of Muslims and their culture—e.g. by visually and musically juxtaposing (in the song Darda mariya) a color-drenched, fun-filled, and risqué Baisakhi festival (replete with the inevitable bhangra-dancing Jats and uninhibited wenches in shimmering dupattas), with the dour lamentations of a pair of qawwals at a Sufi shrine. Similarly, the only Muslim characters seen in closeup (Rashid and his immediate kin) appear as grim and brooding, with personalities as dour as their clothing and interior decor—in stark contrast to the flower-petal strewing, bhabhi-devar joke-telling, gushy and affectionate members of Puro's prem-saturated parivaar. Worse still, Pinjar begins and ends with gruesome sequences in which crazed, sword-wielding Muslim mobs slaughter defenseless Hindus and Sikhs (there is no hint that mirror-image bloodbaths are occurring elsewhere). The film thus underscores conventional and malicious stereotypes of Muslims as culturally "backward," religiously fanatic, temperamentally violent, and sexually predatory, even as it tosses in a two-generation old slight against a Muslim girl as a politically-correct (but, of course, emotionally unacceptable) "explanation" for Rashid's rash act (hence viewers can only side with Puro when she pleadingly asks, "But what does that have to do with me?"). The one exception (that, alas, proves the rule) is the tormented Rashid (ably acted by the versatile Manoj Bajpai), who properly suffers for his Ravana-like lust for one "Sita," and is ultimately redeemed following his Hanuman-like rescue of another and his final tearful embrace by…(who else?) a forgiving "Ramchand." Tellingly, this one (relatively) "good" Muslim character appears through much of the film with bowed head and contrite demeanor—a sight that might gladden the hearts of Hindutva-vadis, but that prevents this ambitious film from delivering the promisedsanjivani herb of true inter-communal healing.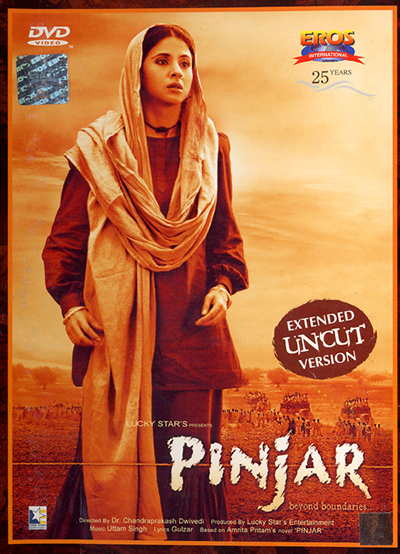 [The Eros International DVD of Pinjar is of high quality and includes decent subtitles for songs as well as dialog.]