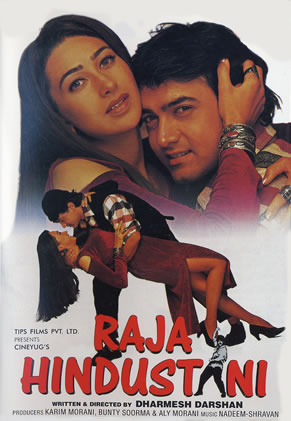 RAJA HINDUSTANI
(1996), Hindi, 170 minutes.

Directed by Dharmesh Darshan. Music by Nadeem-Shravan.

This poor boy-rich girl saga with a notably strong score (including the hit Pardesi, Pardesi, jana nahin, "Stranger, don't go...") swept the Filmfare awards in 1996, winning best actor and actress prizes for Aamir Khan and Karishma Kapoor. Khan plays the ironically-named proletarian title character, a scrappy orphan who plies a taxicab in the imaginary hill station of Palgam. His license plate number and general demeanor allude to Raj Kapoor's tramp character, Raju, in SHRI 420. He becomes the driver of a rich girl from the big city, Aarti (Karishma Kapoor), who has come to the hills to remember her deceased mother, who fell in love with her father there. She is accompanied by two comical servants: a dowdy male transvestite and butch maid. The love that slowly blooms between hero and heroine — culminating in a memorably torrid kiss during a thunderstorm — is complicated both by their class differences and by the scheming of Aarti's chilly, vampish stepmother and her sinister shaven-headed brother, who are looking for an excuse to get the girl disinherited by her doting but distracted businessman father. Their scheming nearly destroys Aarti's marriage-by-elopement, even after she gives birth to a son, leading to protracted suffering due to separation and parental angst, and culminating in a suspenseful high-speed chase through the forest. In a neat ending, both love and family are permitted to triumph.

In the midst of a crop of urban yuppie films, RAJA HINDUSTANI offered something of a throwback to earlier formulas that pitted an idealist rustic hero against the corruption of Westernized urbanites. The hero is a proud Indian who is unconscious of his (implied) poverty (though in fact he lives in a spacious if spartan bungalow). Apart from these few twists and the engaging songs, the film's chief pleasures lie in fleeting bits, like the Kapoor allusions and Raja and a pal's boisterous singing along to cassettes of filmsongs in their taxi. Though the gender-bending servant characters are affectionately rendered without apparent moral opprobrium (or even much comment), the butch maidservant ends up being tamed, feminized, and ultimately married by the hero's comical sidekick (played by the inimitable Johny Lever); needless to say, her swish male counterpart has no comparable romantic "luck," but remains an adoring "aunty" to Raja and Aarti's new family.