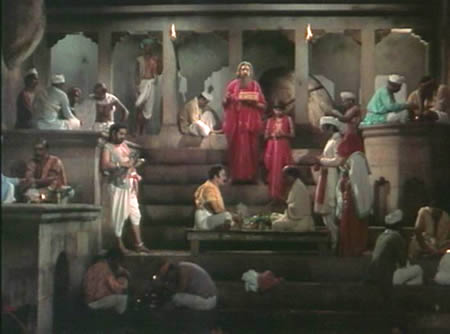 SUNGHURSH

(a.k.a. SANGHARSH, "Struggle," 1968, Hindi, 158 minutes)
Produced and directed by H. S. Rawail

Based on a Bengali novel by Mahashweta Devi; screenplay: Anjana Rawail; dialogs: Gulzar, Abrar Alvi; choreography: Gopi Krishna; lyrics: Shakeel Badayuni; music: Naushad; playback singers: Lata Mangeshkar, Mohammed Rafi, Asha Bhonsle; art direction: Sudhendu Ray; costumes: Anjana Rawail; cinematography: R. D. Mathur
This beautiful and unusual film, displaying great technical accomplishment and exceptional performances, deserves to be better known (the Encyclopaedia of Indian Cinema gives it a curt, dismissive paragraph under the spelling SANGHARSH). Belonging to the uncommon genre of "historical" and containing substantial religious subject matter, it is additionally uncommon in that it tells the story of no known figure of history or legend. Instead it uses mid-nineteenth-century Banaras—a.k.a. Kashi/Varanasi, north India's great Hindu pilgrimage center—as the backdrop for a complex tale involving such thematic staples as a multi-generational family feud, conflict between love and duty (centering on a "fallen woman"), and the glories of self sacrifice for the sake of dosti (male friendship), but also introducing the tension between the ritual violence of Shakta religion (requiring periodic blood sacrifice to a powerful mother goddess), and a nonviolent religious path of love and compassion. The film implicitly subscribes to the upper-middle class critique of the former and endorsement of the latter that is in part a legacy of colonial discourse, though it complicates this picture somewhat through its allegiance to family tradition (apparently, even a serial murderer has to be tolerated if he's your grandpa). However, its ultimate concern to reunite two sundered brothers (actually, as in the Mahabharata, first cousins, and played by a Muslim and a Hindu actor) suggests a subtext that isn't really about Hinduism at all, but about the communal divide that haunts post-Partition India, here projected into the past and disguised within an exclusively Hindu milieu.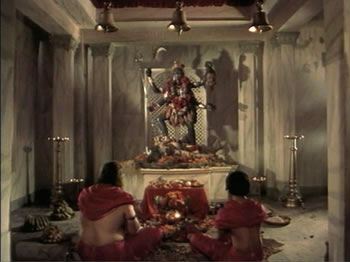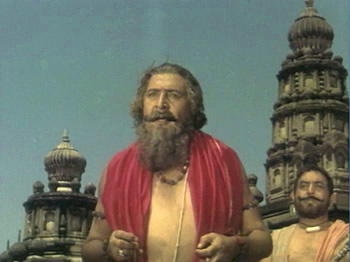 After a credit sequence that breaks the Bombay norm by using Devanagari rather than Roman letters (further underscoring the Indianness of the story), the film opens with the boy Kundan (Dilip Dhavan) being raised by his grandfather, the powerful Shakta priest and Big Man of Kashi, Bhavani Prasad (Jayant). A devotee of the black goddess Kali, Bhavani Prasad longs to initiate Kundan as his successor and head of a prestigious temple and pilgrim guesthouse (dharmshala) on the bank of the Ganga. There's only one hitch: Bhavani Prasad traces his lineage to the "thugs"—thieves who ritually murdered travelers as sacrifices to Kali, a practice ostensibly stamped out at the beginning of the nineteenth century. Yet when particularly wealthy pilgrims find their way to his guesthouse, Bhavani Prasad reverts to the Old Time Religion. Kundan is repulsed by this, as were his parents (from whom his grandfather has cruelly separated him) yet he lacks the strength to oppose Bhavani Prasad. (The question of calling the police doesn't even arise.) To make matters worse, Kundan is soon separated from his childhood playmate and sweetheart Munni (Rano), an orphan who loves to dance. She is "adopted" one day by a wealthy matron from Calcutta who looks kind, but one suspects (as they say) that there's "something black in the dal…." Meanwhile, when Kundan's father announces that he is taking the boy away from Bhavani Prasad, he mysteriously disappears and only his bloodstained shawl is found. Bhavani Prasad tries to pin the blame for the crime on his archenemy and nephew, Naubatlal, who has sworn to take revenge on Bhavani Prasad for the earlier killing of his own father, Bhavani Prasad's brother. But before Naubatlal can do so, he too is cut down. Despite their mother's pleas to let the cycle of vendetta cease, Naubatlal's two young sons, Dwarka and Ganesh Prasad, now swear to avenge their father's death. They grow up fast (turning into Sanjeev Kumar and Balraj Sahni) and move to Calcutta where they prosper as merchants, but continue to thirst for Bhavani Prasad's blood—and that of his young protégé, Kundan.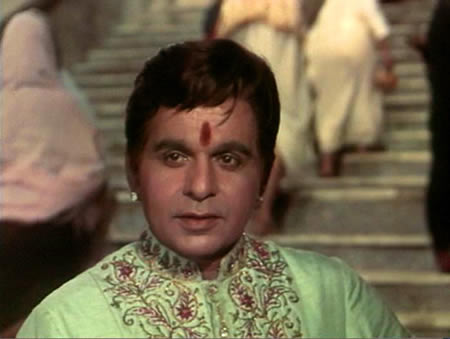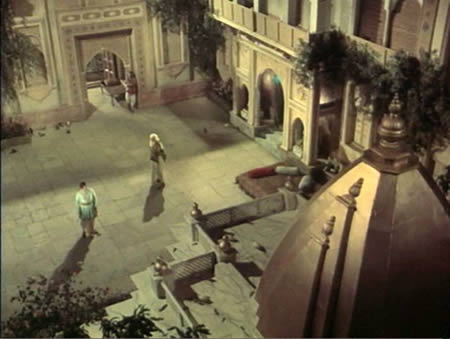 All this is just for openers. The adult Kundan (Dilip Kumar—a bit old for the role, but his consummate acting soon makes one forget this), whose mother and sister have long ago fled to his maternal uncle's village, continues to patiently serve his tyrannical grandpa in the Banaras temple, though he steadfastly resists taking "initiation" (which would involve committing ritual murder) and regularly preaches to the old man about a kinder, gentler dharma. Still, he has learned effective self defense against the regular assassination attempts mounted by his far off cousins. Then one day he meets a beautiful woman (Vyjayantimala) on the steps of the temple; though she appears to be a simple pilgrim, she is in fact a legendary courtesan named Laila, who has come from Calcutta after her madam's death. She is also, of course, Munni, but although Kundan doesn't know of either identity, he is sufficiently attracted to her to sing a lovesong in a misty, moonlit garden (Jab dil se dil takrata hai, "When two hearts collide"—the first of six fine Shakeel-Naushad songs).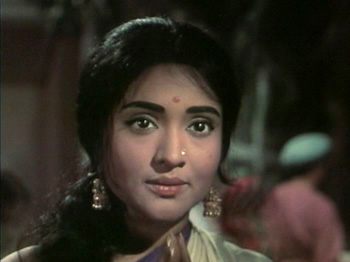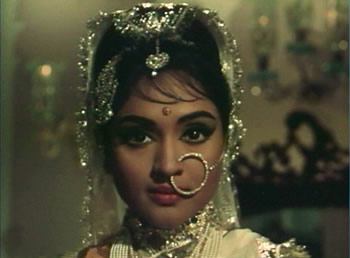 Enter comic interest in the form of Kundan's fast-talking mama or maternal uncle, who invites Kundan to his sister's wedding back in the village. Grandpa isn't invited, which is fine with Kundan, since this means he can really cut loose (his charming song and dance while ostensibly stoned on bhang, Mere pairon mein ghungharoo bandha de, "Tie bells on my ankles," seems a precursor to Bachchan's similar number in DON). That his Calcutta cousin Dwarka shows up is fine with Kundan too, and he doesn't even mind a few more assassination attempts, especially when the mysterious beauty from the garden reappears as well. She now reveals that she is his long lost Munni—but not that she is also the "fallen" Laila, who has been hired by the Calcutta cousins to seduce him and bring him back to them (though in fact she has taken the job only in order to protect Kundan). Kundan is overjoyed and is on the point of proposing marriage when Bhavani Prasad turns up and denounces Munni/Laila as a whore who is in league with their enemies. Because she is unable to refute these accusations, Kundan believes them and renounces Munni/Laila. Meanwhile Dwarka's elder brother, Ganesh Prasad, falls in love with her too. (Who wouldn't? Vyjayantimala is at her best here, in songs like the coquettish Agar yeh husn mera, "If I unleash my beauty," and the imploring Mere pas aao, nazar to milao, "Come to me, return my gaze.")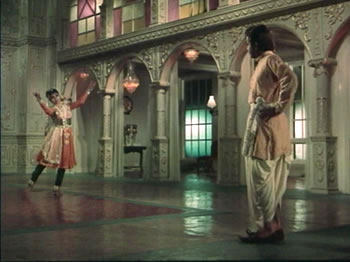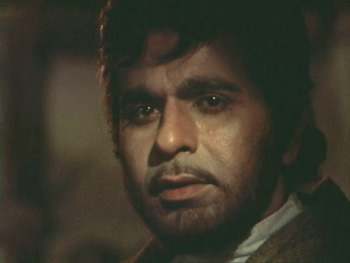 When the cruel Bhavani Prasad finally goes home to Mother (apparently unrepentant for his crimes), Kundan decides to end the feud once and for all, but his attempt to reason with Dwarka goes disastrously awry. He then resolves to go to Calcutta where, since his elder cousin has never seen him as an adult, he tries to atone for his grandfather's sins by assuming the identity of the manservant Bajrangi (an epithet of Hanuman, Ram's faithful monkey) and humbly waiting on Ganesh Prasad. But this effort too is threatened, both by the appearance of faithful old retainers of the two clans (who know his identity) as well as by Ganesh Prasad's plan to take a second wife—the lovely and heartbroken Laila.

Perhaps because both the story and the screenplay are by women, the film displays an unusual sensitivity to the sufferings imposed on women by men's obsession with honor and revenge. And although Laila shows some remorse over her years of residence in a kotha (a high class brothel), she remains spirited and assertive, convinced that she is deserving of Kundan's love. As the one man who tries to break the cycle of violence by assuming a pacifist, Gandhian role, Dilip Kumar delivers a performance of extraordinary range, restraint, and conviction. Everything else about the production shows similar quality, reflecting the work of some of the best artists of the period (e.g., dialogs by talented directors Gulzar and Abrar Alvi; choreography by Gopi Krishna of JHANAK JHANAK PAYAL BAAJE fame). Though a few scenes are shot in Banaras and environs, most of the outdoor locations utilize a Deccan pilgrimage site closer to Bombay (recognizable by architectural details and the dark stone typical of Maharashtra), but with similar temples and ghats. The numerous soundstage sets are unusually sumptuous and atmospheric and show a rare degree of attention to detail (e.g., Bengali style architectural motifs for a temple garden scene that is supposed to transpire in Calcutta).

[This film is a gorgeous treat, and the SKY Entertainment DVD is worthy of the occasion. Images are crisp, colors rich, and optional subtitles are provided for songs as well as dialog.]