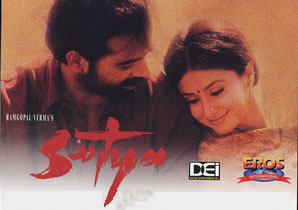 SATYA
("Truth"), 1998. 175 minutes. Hindi with English subtitles
Directed by Ram Gopal Verma. Starring J. C. Chakravarty, Urmila Matondkar, Manoj Bajpai

Imagine GOODFELLAS set in Mumbai and crafted as a musical tragi-comedy.... Ram Gopal Verma's sermon against gang violence is, paradoxically, one of the most disturbingly and realistically violent of recent Hindi films. Yet the revulsion aroused by its carnage is more than offset by the elegant crafting of its unpredictable storyline and the superb individual and ensemble performances by mainly young and little-known actors. Bihari newcomer Manoj Bajpai won a well-deserved Filmfare award (Bollywood's equivalent of an Oscar) for his portrayal of lumpen crimelord Bhikhu Mhatre, and Urmila Matondkar manages to be both urbane and innocent as the neighbor and girlfriend of the film's enigmatic anti-hero (Chakravarthy), a charismatic but troubled stranger ironically named "Truth." Grittily realistic throughout (with several fine songs unusually deftly worked into the storyline), the film alludes to then-recent sensational events — such as the gangland murder of media figure Gulshan Kumar, the bombing of a downtown office building by thugs with links to Dubai, and the ruthless rise to power of right-wing Hindu politician Bal Thakeray of the Shiv Sena or "Army of Shiva" party (the model for the film's Bhau Thakurdas, or "Big Brother" Bhau). The story reaches its chilling climax during the city's annual "Ganapati" festival, when giant clay images of the elephant-headed god of auspicious beginnings, Ganesha, are taken to downtown Mumbai's Chowpatty Beach for immersion in the Arabian Sea. Perhaps not surprisingly, Bollywood's beloved but troubled hometown emerges as one of the principal stars of this dark and suspenseful urban drama.
The film has parallels with Raj Kapoor's classic SHRI 420 (1955) that seem too numerous to be mere coincidence. Both concern orphans of uncertain background who come to Mumbai and initially take demeaning jobs, from which they gradually advance into more lucrative but illegal pursuits. Each falls in love with an innocent middle-class young woman named "Vidya" (knowledge), who is struggling to make ends meet as the sole support of her family. Each Vidya has a wheelchair-bound father to whom she is devoted, and each awakens in the hero the hope for a better life. Each man, at one point, takes his Vidya out to see Diwali illuminations and for a meal in a streetside restaurant. Each becomes involved with a corrupt politician who spouts Hindu nationalist rhetoric, and rises to a position of great power and influence, before ultimately falling. Each then has a final opportunity to flee the country before the police close in on him. Each one returns, in one way or another, to Vidya in the end. If these parallels are indeed the director's homage to the older film, then the gulf that also separates Kapoor's upbeat, Chaplinesque vision from Verma's dark and gruesome saga only underscores the tragedy of Satya as a "hero" for our times. For whereas Raju at his height merely deceives people through preposterous get-rich-quick scams, Satya's cronies openly trade in fear and savagery, and practice murder on a casual, daily basis. And whereas Raju ultimately exposes to the world the lie of his corrupt business partners, the "truth" about Satya, revealed to Vidya in the end by police officer Khandelkar, itself ironically proves to be lies, obscuring the one truth (known to the audience but, tragically, not to Vidya herself ) about this mysterious man: that Satya, such as he was, truly loved her. Beyond this, viewers are left to puzzle over possible explanations—not really all that hard to imagine in today's India—for what could have motivated this desperate and destructive man.