SHRI 420 ("The Gentleman Cheat," "Mr. 420")
955, B&W, Hindi, 177 min.
Directed by Raj Kapoor, Music by Shankar-Jaikishen, Lyrics by Shailendra and Hasrat Jaipur.

One of the masterpieces of 1950s Bombay cinema, this is the second film to feature Kapoor's trademark character Raju, a Chaplinesque Indian Everyman. The title refers to section 420 of the Indian penal code, which deals with fraud; in everyday speech, to call someone "a 420" is to imply that he is a cheat; "Shri" is an honorific prefix. As the film opens, the hapless orphan, Raju (his name means, among other things, "king" and "nation") is seen hitchhiking along a rural road. Feigning unconsciousness, he is picked up by a wealthy capitalist, Seth Sonechand Dharmanand ("wholesale-merchant, gold-silver, delighting in righteousness," played by Nemo), but is quickly thrown out of the car when it is perceived that he is a fraud; each man accuses the other of being "a 420!" Back on the road, he sings about his patchwork identity in Mera joota hai japani, ("My shoes are Japanese" — a song made famous by the film), using the refrain:

My shoes are from Japan,
my pants are English style,
on my head's a red Russian cap,
ah but still my heart is Indian!

Traveling by every sort of rural transport, Raj arrives, bewildered, in the great metropolis of Bombay, where a beggar informs him that the city is a heartless place, where even Raj's "BA-pass" degree and prize for honesty will not assure employment. He meets a kindly woman selling bananas who is so amused by his innocence that she gives him several for free. Entering a pawnshop, Raj sees Vidya ("wisdom," played by Nargis, then reputedly Kapoor's real-life mistress) pawning her bangles and is instantly attracted to her. He pawns the honesty-medal he received in college and gets 40 rupees, of which he is instantly relieved by a pickpocket. Crushed by the city's heartlessness, he is forced to spend the night on the street, but even the homeless pavement dwellers try to extract rent from him, until Gangamai ("Mother Ganges," Lalita Pawar), their collective "mother" (and the kindly banana-seller of the earlier scene) recognizes and adopts him. Raj then leads them in a song affirming their zest for life despite poverty.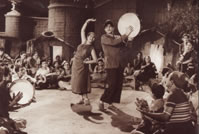 The tumult angers Seth Sonechand in his adjacent mansion, and he summons the police.
Raj awakens on a city beach and is harassed by a policeman, then insulted by Vidya, out for a stroll, who calls him "useless" and tells him he'd be better off dead. But when he throws himself into the sea, she leaps in to save him and he then follows her home, where he ingratiates himself with her crippled father, who has started a school for poor children which Vidya runs. Watching her teach the children to read, Raj loses his heart to her. Resolving to win her by proving himself a capable wage-earner, Raj gets a lowly job in the Jai Bharat ("Viva India!") Laundry, but sneaks away from work with someone else's suit to impress Vidya. Raj woos Vidya at a streetside tea stall and on the moonlit streets of Bombay, where they sing a famous duet, Pyaar hua ikraar hua("Love arises, a promise is made"). They talk of marriage and a home.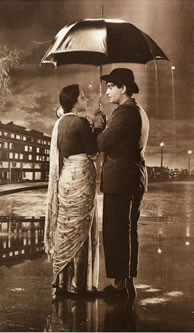 Delivering clothes from the laundry to a posh flat, Raj meets the voluptuous Maya ("illusion," Nadira) and accidentally reveals his extraordinary skill at cards. Maya dresses him as an urban dandy and brings him to a nightclub, where he dances with the showgirls, wins a tidy sum for her, and catches the eye of Seth Sonechand. Abandoned by Maya, Raj is back in the laundry, but Sonechand finds him and offers to make him his "partner." Captivated by the promise of quick wealth, Raj agrees. On the night of the Hindu festival of Divali (which honors Lakshmi, goddesss of wealth and fertility), Raj returns to Vidya's house with a stylish sari, and asks permission to escort her to "the temple of Lakshmi." This turns out to be the club, but the materialistic and sensuous (and "Western") atmosphere repulses Vidya, who is insulted by Maya and flees. Raj wavers, but Maya entices him to remain with a coy song that declares "Don't ever look back!" and Sonechand soon has him winning at cards. A drunken Raj stumbles into Vidya's courtyard late at night, clutching bundles of hundred-rupee notes. He curses poverty and honesty, even as Vidya denounces what he's become. As he leaves her, her divided heart sings an ironic counter to Maya's earlier refrain, "Look back as you go...."

Sonechand sets Raj up with a scam "The Tibetan Gold Company" for which he sells shares to the gullible rich, even faking phone calls from investors in America and Japan. While Raj amasses money, Vidya's fortunes wane, and she is forced to close her school and even to pawn her father's treasured books. Raj meets her again when he comes to reclaim his pawned medal and tells her that "honesty" is worthless, only money matters. Vidya denounces his crass materialism and returns home. Raj is torn by her rebuke. Weighed down with worry and questioning his new life, he briefly goes back to visit the pavement dwellers, who appear carefree as they sing a song in praise of romantic love.
Sonechand's latest scam is for "Janta ("people's") Homes: Your Own House for 100 Rupees"—aimed at the city's homeless poor. Raj is willing to cheat the wealthy, but balks at this new scheme; however his partner threatens to expose his past swindles if he doesn't cooperate. The new company is launched and the poor are thrilled and manage somehow to assemble the required cash, collectively amassing a vast fortune which they hand over to Raj. They anxiously await the groundbreaking of a "new Bombay" of low-cost housing, but Sonechand's plan is to divide the money with Raj and flee. Maya has a still better idea: that she and Raj cheat Sonechand too, and escape India with the entire fortune. As always, Raj seems ready to cooperate....but with whom?

Tightly constructed and with brilliant songs, SHRI 420 manages at once to epitomize the optimism of the early Nehru era, to anticipate the growing disillusionment of unemployed youths, and to portray the endemic corruption of a so-called "mixed socialist-capitalist" economy; one extraordinary scene on Chowpatty Beach (seen with hindsight) even anticipates the lure of Hindutva-style rightist politicians. As an often-whimsical parable of Indian modernity, the film bears comparison with Charles Chaplin's Modern Times(1936); indeed the opening and closing sequences present striking parallels as well as telling differences. Like Chaplin's a-social Everyman, Kapoor's Raju starts out on the road before venturing into a series of adventures in an urban dystopia, which he eventually flees to take to the road again. Kapoor's chosen Deccan landscape even looks a lot like the California hills of Chaplin's final shots. But whereas Chaplin's wilderness suggests the untamed and protean American West, from which the classic Western hero emerges and to which he ultimately returns, Kapoor's rural landscape in the opening sequence is marked with the classic visual tropes of Indian "tradition" and rusticity: cobras, village belles, gypsies, maharajas, elephants. This is the world that Raju leaves behind (entering Bombay, significantly, under the transnational emblem of a Coca-Cola signboard), and there is no returning to it. Chaplin's hero ultimately gets his girl, but she too must leave the blighted city with him for the uncertain future of the open road. Raju's effort to walk off into the sunrise is thwarted by the loving arms of Vidya, which pull him back into a now-utopianized urbanscape — a Nehruvian planned city of affordable (if drab) "people's housing" — and into the implied responsibilities of the inevitable "householder" (grihastha) stage of Hindu life.

Raj Kapoor (1924-88) is considered one of the greatest showmen of the "golden age" of Bombay musicals, and one of Bollywood's first megastars: producer and director, as well as star, of a string of box office hits. The son of Prithviraj Kapoor (who acted on stage and in films and played the Emperor Akbar in Mughal-e-Azam), he had his first role at age 11, then worked as a clapper-boy at Bombay Talkies Ltd. In 1948, he set up his own company, RK Films, and eventually brought his younger brothers Shammi and Shashi, and his son Rishi and niece Karishma into the business. Shri 420 and several other Kapoor films were also smash hits throughout the Soviet Union and the Middle East, and the director was lionized during a Soviet tour.