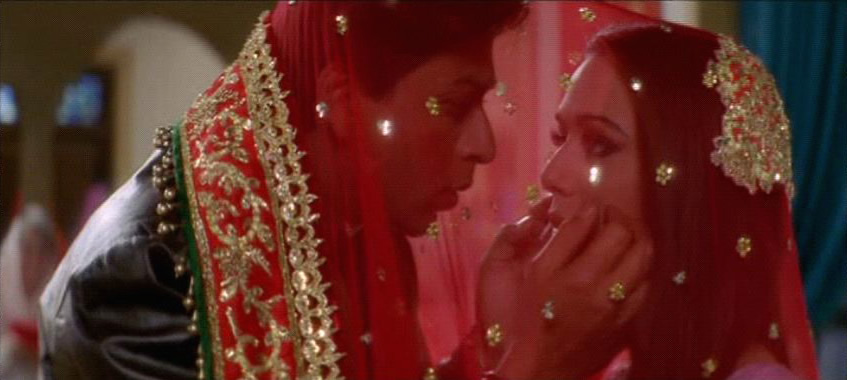 VEER-ZAARA
(2004, Hindi, 192 minutes)
Directed by Yash Chopra
Produced by Yash Raj Films, Ltd.
Story, screenplay, and dialogues: Aditya Chopra; Music: Madan Mohan, Sanjeev Kohli; Lyrics: Javed Akhtar; Cinematography: Anil Mehta; Costumes: Manish Malhotra, Karan Johar; Choreography: Saroj Khan, Vaibhavi Merchant; Production design: Sharmishta Roy
This lavish and impeccably executed fantasy draws heavily on the Perso-Arabic masnavi (romance) tradition, with its tales of star-crossed and long-suffering lovers like Majnun and Laila (Indianized in such tales as the popular Punjabi saga of Heer and Ranjha), but here with a modern setting, a (mildly) political subtext, and (in the best tradition of Hindi cinema) a wealth of allusions to earlier films.  Indeed, this eminently mature and polished work by Bombay cinema's reputed "master of romance" offers itself as a kind of meta-Yash Chopra film—a self-contained retrospective of his long and successful career, peppered with cameos by many of the stars with whom he has worked.  Lush, lyrical, and pleasantly improbable, it allows one—during its very ample duration—to not only be thoroughly entertained, but also to feel good about a whole gamut of intractable real-world problems: the fate of longtime political prisoners, the education and professional advancement of women, rural development, and even political relations between India and Pakistan.  Indeed, much of the film unfolds in that significantly Other country, which is as lavishly and lovingly fantasized as, say, the Punjab of Dilwale Dulhaniya Le Jayenge (though that is brought in here too), and although the film's sole (and brief) act of villainy is committed by a Pakistani man (tellingly, he soon emigrates to the West), the country and its citizens are generally positively presented and are even shown to be—in the final courtroom scenes conducted under a huge portrait of Muhammad Ali Jinnah—capable of both justice and "heart."  It's a small Subcontinent, after all.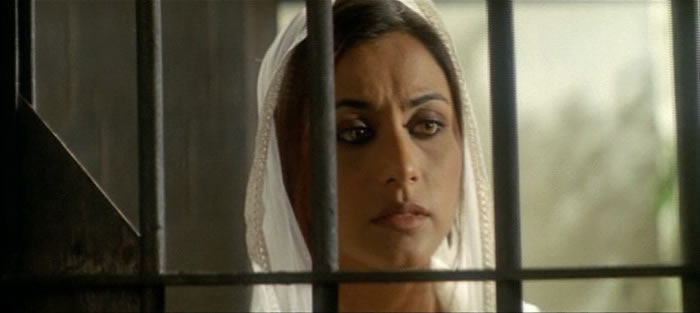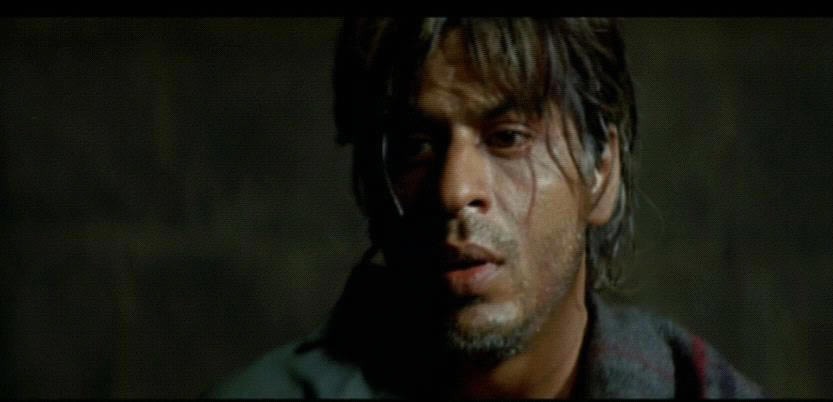 As the film opens, an aspiring human-rights lawyer in Lahore, Pakistan, Saamiya Siddiqui (Rani Mukherji) is preparing for her (seemingly impossible) first case: the reopened defense of a stubbornly silent prisoner (Shahrukh Khan), incarcerated twenty-two years earlier on charges of being an Indian spy, and now known only by his prison number "786."  Not coincidentally, this is a sacred number in Islam, representing the numerical equivalent of the Name of God, but perhaps equally famously to Indian cinema audiences, also the number of Amitabh Bachchan's auspicious and fateful coolie badge in Chopra's 1975 hit DEEWAR.  Taunted by a prison guard but inspired by the memory of her crusading lawyer father, Saamiya draws the prisoner out of his shell by calling him by his real name, Veer Pratap Singh (in effect, "hero" times three!), and the sound of an F-16 passing overhead causes him to break more than two decades of silence to recall his former career as a helicopter Squadron Leader in the Indian Air Force.  Thus begins a series of flashbacks that comprise much of the film.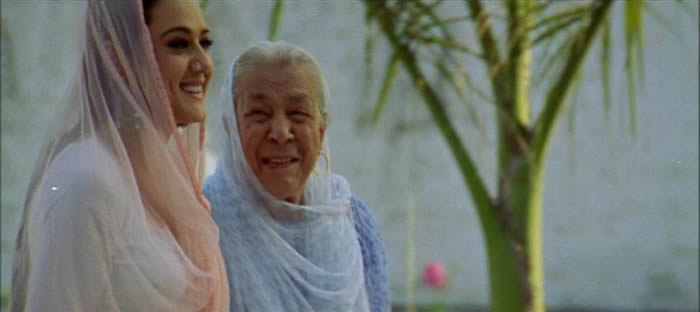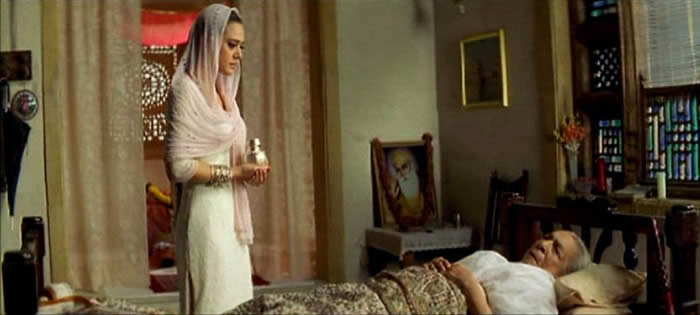 We soon meet our heroine-to-be, Zaara Hayaat Khan (Preity Zinta), only child of one of Pakistan's leading (and apparently more liberal and progressive) politicians.  Though she is engaged to be married to the scion of another prominent family in a convenience match that reflects the ambitions of both clans, Zaara gets an "establishing song" (Hum to bhai jaise hain, "I will stay just the way I am!"), that informs us of her spirited and independent nature (and also recalls Kajol's opening number in the Chopra-produced Dilwale; Veer's equivalent song, by the way, was the carefree and romantic Kyon hawa, "Why is the wind singing today?," which accompanied the credits and visually recalled Bholi si surat in Chopra's Dil To Pagal Hai).  Incidentally, Yash-ji apparently remains addicted to using Lata Mangeshkar for the singing voice of his heroines, despite the incongruity of a now obviously aging and husky voice being lip-synched by perky twenty-somethings; given the overall structure of his plot, however, this requires but a relatively small additional suspension of disbelief.  Zaara, who lives in an Indo-Saracenic mansion that makes Meena Kumari's "rose palace" in PAKEEZAH look like a gilded birdcage, is doted on by her parents but is herself devoted to her aged nanny Bebe (a cameo by ultra-veteran Zohra Sehgal), a Sikh orphan who accompanied the family to Pakistan at the time of Partition.   In case anyone supposes that Pakistan is less than fully hospitable to Sikhs, we see Zaara accompanying Bebe to a lavish Lahore Gurudwara, bowing respectfully before the Guru Granth Sahib (the Sikh scripture), and bringing amrit (holy water) from the temple when Bebe lays dying beneath a framed portrait of Guru Nanak.  Before passing away, however, Bebe extracts a promise from Zaara to bring her ashes back to India, to immerse them in the sacred waters of her native place in Punjab.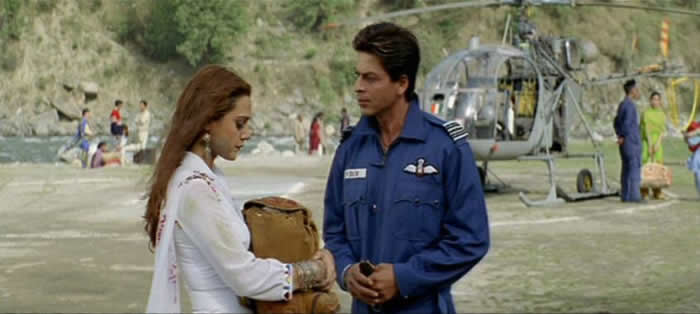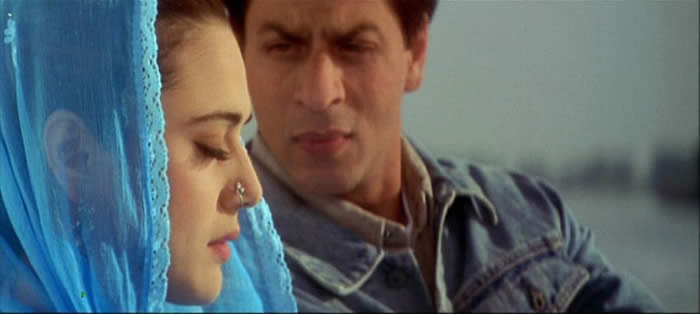 This occasions an impulsive trip by Zaara, without parental permission and only days before her planned marriage, to the Other Side; a convenient bus accident enroute (it looks bad, but a cheery voiceover informs us that no one was seriously hurt) allows the dashing Veer to rescue both Zaara and the precious cargo she bears.  After an initial misunderstanding, he becomes her guide to (what is evidently) the Promised Land: a multi-religious Punjab that looks even more idyllic than it did in DDLJ (complete with a bhangra-dancing cameo by famed Punjabi singer Gurdas Man) and that is celebrated in the rousing patriotic anthem Aisa des hai mera ("Thus is my land")—though the final verse adds "Thus is your land too," suggesting the unity of Punjabis on both sides of the border.  Visually, the song's portrayal of a rural paradise nods at Mehboob Khan's MOTHER INDIA, and its final shots of color-saturated tracts of flowers also evoke the famous tulip-field sequence in Chopra's SILSILA.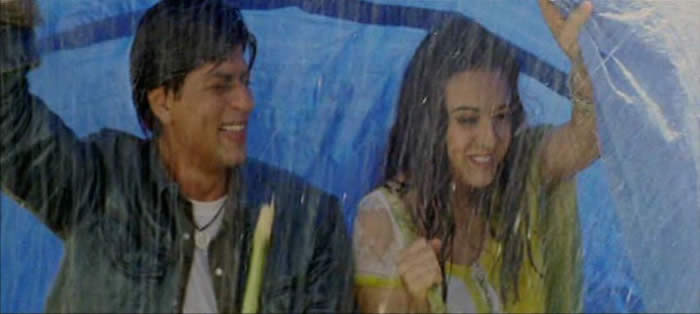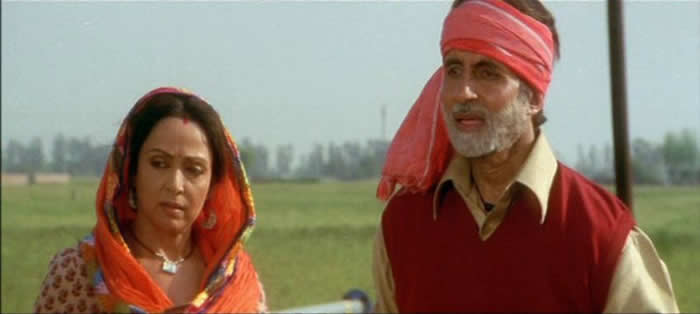 Her sacred task tearfully accomplished, Zaara accepts Veer's invitation to visit his own village, which turns out to be another happy rustic republic, presided over by Bauji and Maati (in wonderful cameos by Amitabh Bachchan and Hema Malini, speaking Hindi-ized Punjabi), the aunt and uncle who raised the orphan Veer.  Bauji (a.k.a. Chaudury Sumer Singh) is a sturdy Jat yeoman who is fond of both rum and rural development—he has already built a medical clinic and a school for the village's boys and will soon (at Zaara's urging) make one for girls as well.  Maati is, as one might expect, a kind of wizened and mellowed Basanti (see SHOLAY), and she jokes about hailing (like Hema) from Madras and having come to Punjab via a love marriage to Bauji.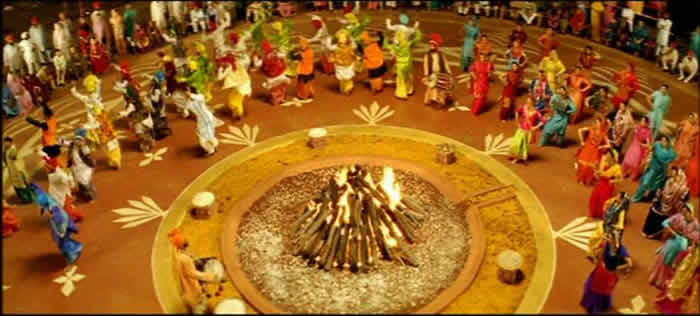 Indeed, love saturates the atmosphere; moreover Veer and Zaara's visit coincides with the festival of Lodi, when (in the film's world) gorgeously dressed young people dance and woo around a huge bonfire (in the spectacular folkish song Lodi, "the festival of Lodi has come, seize your beloved's wrist…").   It doesn't take long before Bauji and Maati recognize what Veer already feels: that Zaara is his beloved, now and forever; they urge him to pop the question, but he defers until he is helping her board a train back to Lahore.  There they encounter the chilly Raza Shirazi, Zaara's fiancé (Manoj Bajpai), looking appropriately menacing with angled sideburns and a black sherwani coat, who quashes Veer's hopes and reminds Zaara of her familial duties.  Realizing that Zaara can never be his, Veer and she sing the haunting ballad of their "two moments" (Do pal) together, as they part in slow motion on the crowded railway platform.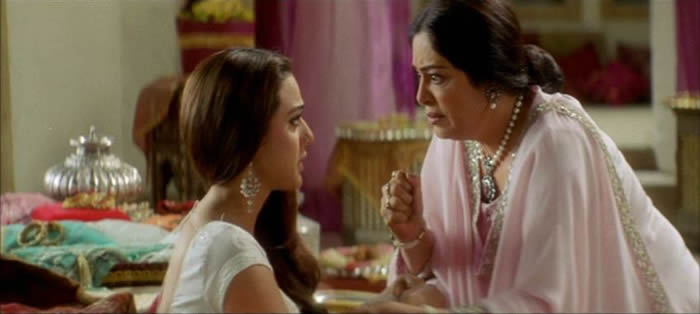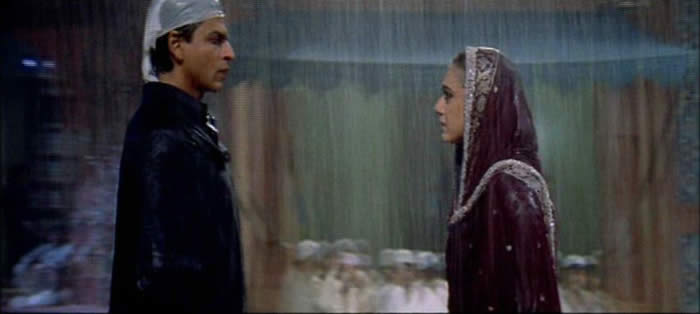 But while Veer pines for his lost love, Zaara, back in Lahore and in the thick of wedding preparations, realizes that she has lost her heart to him, even confessing this to her mother; she now sees Veer everywhere, singing to her Main yahaan hoon ("I am here"). Unable to bear Zaara's suffering, Shabbo, her perky servant-cum-confidante, boldly contacts Veer and urges him to come to Lahore and take Zaara away.  This leads to an all-stops-pulled-out encounter at a Sufi shrine on the very eve of Zaara's wedding; accompanied by a double entendre-laced qawwali performance (Aaya tere dar par diwaana, "Having broken all the barriers of society….your mad lover has come to your threshold," which has to rank as an instant classic in the realm of filmi qawwali) the lovers embrace on a rain-drenched causeway, in full view of both shocked families.  Since the Khan clan's future allegedly depends on Zaara's carefully-calculated match, the revelation that she loves a "Hindustani" boy wreaks havoc all around, causing Dad to suffer a heart attack and Mom to shed many tears.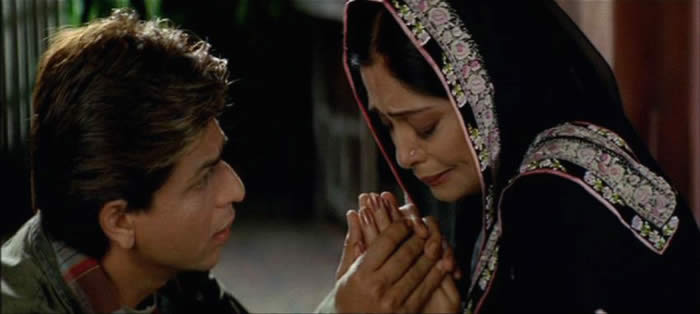 Visiting Veer in secret, the latter explains the gravity of the situation and extracts from him the promise that he will relinquish his claim on Zaara and return to India.  This Veer willingly gives, in a scene that inevitably echoes (as locus classicus) Rama's calm deferral to parental fiat (Veer: "A mother never has to beg of her son; she need only order him"), and (more recently) Shahrukh's similar speech as Raj in DDLJ. It concludes with the following memorable exchange:
(Zaara's mother, astonished):  "Are all sons in your country like you?"

(Veer, kneeling before her lovingly):  "I don't know.  But yes, every mother in my country is just like you."
This act of willing self-sacrifice is soon followed by another, more terrible one that is coerced: as Veer prepares to leave for India, he is seized by the police, who have been bribed by the angry Raza, on trumped-up charges of being an Indian secret agent named Rajesh Rathore who has been spying on Pakistan; moreover Raza informs him that unless he "confesses" to the crime, making no mention of Zaara or his real reason for being in the country, Raza will make his new wife's life "a living hell."  Faithful to his love, Veer accepts silence and the endless exile of a dreary jail.  Moreover, since the bus that he was to have taken falls over a cliff and explodes, charring all aboard beyond recognition, his family and friends in India believe him to be dead and his very identity is lost for twenty-two years—until the day when Saamiya (who has been studying his case) again calls him by his own name.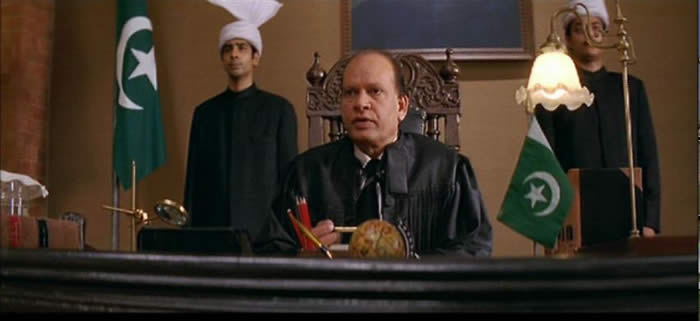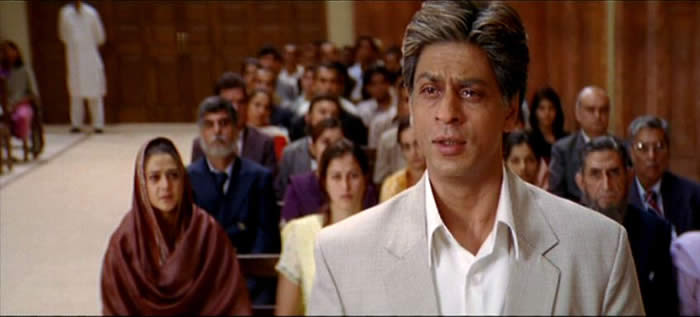 All this, of course, would have been more than enough for most (non-Indian) films, but Chopra adds roughly another hour of non-flashback subplot, detailing Saamiya's legal battle, against an unscrupulous prosecutor named Zakir Ahmed (the versatile Anupam Kher), to win Veer's release.  Even while evoking the emotional courtroom finishes of such classics as Andaaz (1949) and Awara (1951), but here in a surprisingly-just Pakistani setting, Chopra manages to save some surprises (not to mention one of the film's most romantic ballads, Tere liye, "For you….I live") for the tear-drenched finale.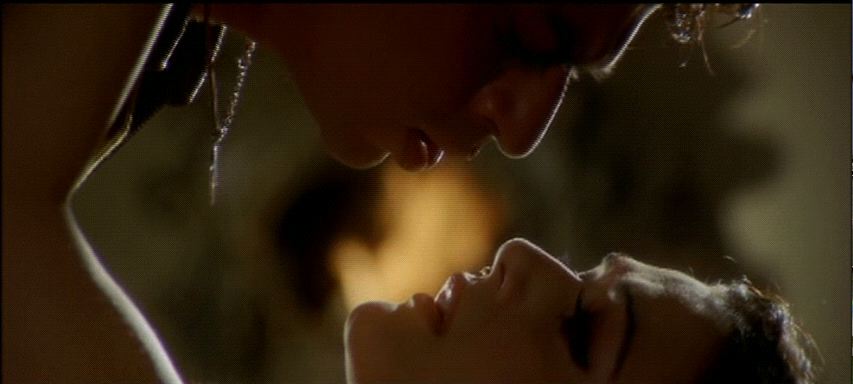 In the Sufi allegorical interpretation of the Majnun-Leila tale, the hero relinquishes his claim on Leila to allow her a socially-approved marriage to another, then goes mad and endures years of exile in the desert.  His ultimate reward, through the grace of a Sufi pir, is union—not with his worldly beloved, but with Allah Himself.  Veer's outcome is more mundane, but the film's neat tie-up of romantic, patriotic, and (in Indo-Pak terms) national-concilliatory subplots yields an apotheosis that is well worth waiting for.  Indeed, given the film's final moments, it is easy to read its epic romance as a parable of another long-sundered relationship: that between the two halves of the Punjab and indeed between their two nations and of accompanying processes of historical amnesia and then re-membering, here brought to a fantasied (and of course Indo-centric) resolution.  Unlikely though it may be that life will, in this case, imitate art, it has to be conceded that this is ambitious and visionary art all the same.  Slickly-satisfying, oozing cinematic self-confidence, and boasting beautiful camerawork, superb performances by all the principals (including a wonderfully subdued and subtle Shahrukh-Veer), lovely songs with lyrics by Javed Akhtar, and dazzling sets and costumes, VEER-ZAARA is Yash Chopra at the top of his game.
[The Yashraj Films DVD of VEER-ZAARA is of unusually high quality, with superior English subtitles (not to mention about a dozen other languages) for both dialog and songs.  It is worth the cost, and of course also includes a supplemental "making of" disc for hardcore fans.]